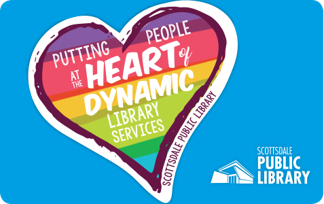 Erin Krause Riley is the Adult (and Volunteer) Services Coordinator at the Scottsdale Public Library and wants to offer some appreciation to an amazing team– Supervisor of Volunteers: Ray Ceo, Library Assistant for Volunteer Services: Anissa Phillips, and Citywide Volunteer Program Coordinator: Brandon Chapman–for all they've done to maintain and revive the volunteer program at the library tis year. 
---
It's National Volunteer Appreciation Week and that means celebration at the Scottsdale Public Library system. In years past, this has been a lovely, themed luncheon in a hotel ballroom or other special venue with a multi-course meal, a guest speaker, and a string quartet playing light classical medleys. Then, after a heartfelt speech from the library director highlighting the accomplishments of the hundreds of volunteers and the thousands of hours they've contributed to the library, we have raffles for the floral arrangements on each table, along with recognition of exemplary service and more thanks, and then everyone heads out to hand their tickets to the valets to collect their cars, still basking in the glow of gratitude for the people who give freely of their time to make our library, and by extension, our community, a better place to be.  
This year, as the library cautiously edges its way out of the shadow of the pandemic, we are beyond grateful to have some of our volunteers back on the job with us.  To honor those who have been able to return, and the few stalwarts who found ways to volunteer from home as computer instructors and career counselors, we've ordered trays of individually wrapped sandwiches for a socially distanced buffet. It's still a multi-course meal if you count the cookies and chips and a pickle tray—but we are doing it without string quartets, floral arrangements, and valet parking. We're handing out mugs emblazoned with our mission statement "Putting people at the heart of dynamic library services," to about thirty-five people instead of hosting a banquet for almost 350 where we recognize years of consecutive service with golden pins and gilded plaques. The pandemic has changed the scope of volunteer appreciation, just as it's changed volunteer services and let's just say it, everything else about working in local government and the public library. But our library director's speech will be every bit as heartfelt—maybe more so—because the past couple of years without our volunteers, have really reminded us of how much they do for us.
These are the people at the heart of dynamic library services. 
I could share statistics about hours worked and full-time equivalencies provided by the volunteers who supplement our staff's hard work, but the anecdotal evidence is worth much more. For years, the library has coped with budget cuts and the constant pressure to do more with less. In so many cases, the way to manage those demands was to gratefully accept help from volunteers who were willing to come and teach classes, sort returns, weed the stacks, prepare home-bound deliveries, digitize images to archive in our local history collection, assist with storytimes, work in our library shops, and do a multitude of other tasks to fill the gaps between our staff and our workload. And the multi-course luncheon, the valet parking, the floral arrangements—were provided by another stellar group of volunteer saviors, our Friends of the Library group, who fund-raised and advocated for us in the community to improve our facilities and supplement our materials budget. 
To be clear, it took a global pandemic and shuttered buildings to keep our volunteers from coming in every day and working.  And honestly, the pandemic didn't stop all of them. Just like some of our staff, there were volunteers who converted to a work-from-home situation, offering career counseling and computer instruction for people who couldn't wait for our buildings to reopen to make changes in their lives in response to the pandemic. Since our buildings reopened, we've had volunteers consistently checking back, asking month after month to see when they might come back and ply their trade again.
As we bring our volunteers back to the libraries strategically and intentionally, in support of our staff and library initiatives, many things have changed. But not our gratitude for our volunteers. We are more mindful than ever of how much they do to make our system work. As we look at the current challenge of doing even more with less than ever, we know we can't thank them enough. Whether it's a mug and a tray of sandwiches or a catered lunch and a string quartet, the tokens of our gratitude are just that—reminders of how much we appreciate our volunteers every day.