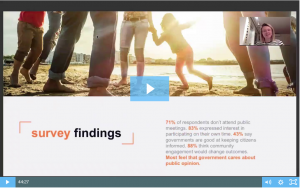 Webinar: Comprehensive Community Engagement Strategies
Friday, July 27, 2018
11:00 a.m. PDT
---
This webinar is cohosted by ELGL and Bang the Table
There are many reasons to launch a comprehensive Community Engagement strategy, including increasing reach and capacity, fostering equity, building trust, agency empowerment, creating a shared vision, and mobilizing a community.
A rather untold story of the community engagement sphere is how effective engagement can bring about sweeping policy changes, particularly at the local government level.
Learn more from Bang the Table about this concept in this recent blog post about how the cities of Austin, TX, and Boulder, CO leveraged their online engagement spaces to engage on paid sick leave and community broadband initiatives.
This free webinar provides even more case studies about how engagement can leverage policy change. We will talk strategy, ideas and best practices to activate your community utilizing online engagement tools.