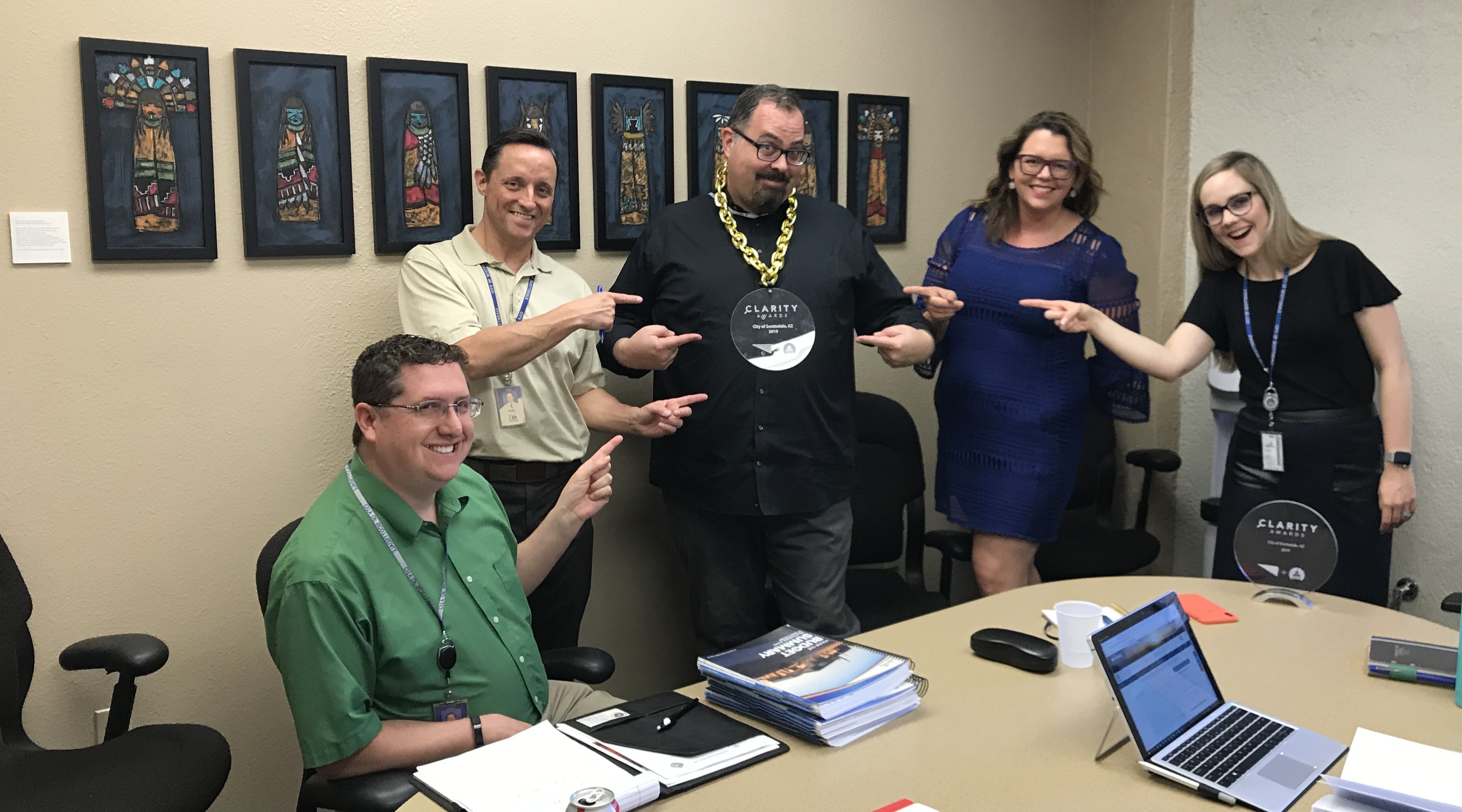 Photo: Clarity Award winners with Kachina Paintings on Back Wall
Today's Morning Buzz is by Brent Stockwell – connect with him on LinkedIn and Twitter!!!
---
What I'm Listening To: A Place In The Sun, Stevie Wonder (1967)
"there's a place in the sun, Where there's hope for ev'ryone"

What I'm Reading:  Sapiens: A Brief History of Humankind (2015)
My ELGL Birthday Book from Kathy Thake
What I'm Watching: The start of the English Premier League season (Go Chelsea!)
---
What's important to you? Really important?
Leaders must know what's truly important to them and to their people – a few words that describe "how" they behave and "how" they work. As Brené Brown writes in Dare to Lead: "A value is a way of being or believing that we hold most important." She goes on to say that "living into your values requires a clear understanding of your core values, having a strong sense of the behaviors that are in alignment with those values, recognizing when your behavior is out of alignment, and course-correcting as needed." In her book, establishing clarity of values, and living into those values, is one of the four essential skill sets of being a daring leader.
Probably unsurprisingly to those who know me, or those who read my #MorningBuzz post, What's Your Purpose?, I've had a set of core values to guide how I do what I do for more than 20 years. I remember intentionally thinking through and identifying those that best represent what's most important to me personally and in those I lead. My core values are humility, openness, patience and encouragement. They conveniently create the acronym HOPE which serves as my fifth core value (I've been described as a "glass half-full kind of person," and coincidentally, that's also our puppy's name (although I did not choose her name – my youngest did).
These values have served me well as companions through the years, through three different organizations and through three-months of unemployment as I transitioned back into local government nearly 20 years ago. Humility is about being others-centered, openness about sharing willingly with others, patience about willing to hold on and hold out for the best possible outcome, and encouragement a dogged persistence to help others be successful.
The linkage to my purpose statement (which describes actions, rather than behaviors) should also be clear, "I communicate clearly, think strategically and provide excellent response. I serve with compassion, advocate for others, and connect people with resources to help them succeed." For example, being a compassionate advocate relates to humility, clear communicator with openness, and resource connector with encouragement, and patience is a key to working with other people since you can neither control them, nor make them change, unless they are willing, and that takes time. I avoided work-related social media for a long time, until I realized it provides a great platform for encouraging others if used wisely!
Brene Brown has a great list of values on her website. When I first developed my values, I reviewed a similar list and picked those that were most important to me personally. I reviewed and winnowed the list until I found the core few (which also made an acronym that serves as my fifth value).
Values are important for organizations, very important.
Values are important for organizations as well to reinforce culture. Ideally, the number of values should be relatively small, no more than three to five, so they are truly core. Patrick Lencioni lays out a three-step process for organizations wishing to identify core values in his 2012 book, The Advantage, Why Organizational Health Trumps Everything Else in Business (page 102). These steps are:
Identify employees who already embody what is best about the company and figure out what is it about these people that make them so admired. These qualities form the pool of potential values.
Identify employees who, though talented, weren't a good fit. Identify what specifically made them a distraction and a problem. The opposite of these traits are potential core values.
Leaders need to be honest and evaluate whether or not they embody those core values.
Lencioni also distinguishes between aspirational, accidental and permission-to-play values (p. 93) and distinguishes them from core values. "An organization knows that it has identified its core values correctly when it will allow itself to be punished for living those values and when it accepts the fact that employees will sometimes take those values too far. Core values are not a matter of convenience. They cannot be extracted from an organization any more than a human being's conscience can be extracted from his or her person. As a result, they should be used to guide every aspect of an organization, from hiring and firing to strategy and performance management." (p. 94)How we reinforce our employee values?
Employee values are an important part of our organization's culture, and one big way that we reinforce them is when we recognize employees for results that demonstrate the values in our annual Employee Awards Ceremony. The city provides Hopi Kachina carvings for awards. To increase intentionality, we worked with the native artist to identify the connection between each Kachina and our values, and a series of paintings was commissioned for each value and is displayed in our conference room.
Another @ELGL50 #ClarityAward sighting in @scottsdaleazgov at a meeting to plan our next report! This time it's Brian the graphic designer on the award-winning citizen-friendly annual report!!! #BigLocalGovBaller pic.twitter.com/CcFshPH96Q

— Brent Stockwell (@brent4cities) May 31, 2019
In all, 160 employees and one volunteer were honored in 2018. The winners were among more than 550 employees nominated to receive Kachinas, based on the city's eight employee values.
It's time for breakfast before my favorite event of the year. The @scottsdaleazgov Employee Awards Ceremony. Excited to find out which employees & volunteers will be honored with Kachina, Schrader, Donaldson & Drinkwater awards! @ELGL50 Can you see the @WhatWorksCities slide? pic.twitter.com/PhSnnryd2b

— Brent Stockwell (@brent4cities) December 5, 2018
Assisting a disabled resident. Developing advanced, computerized system for customers to easily report & request services. Restoring neighborhood calm near Preserve. Just some actions by employees honored for outstanding performance. https://t.co/2hjLjigNra

— City of Scottsdale (@scottsdaleazgov) December 6, 2018
The annual employee awards ceremony, held in an 800-seat theater, is Scottsdale's version of the Academy Awards. Individual and team achievement is recognized along with lifetime achievement (years-of-service awards). It's wrapped up with a series of fun videos that model an informal slogan to take "your job seriously, but don't take yourself too seriously."
What do Scottsdale employees have to say about this tradition? These responses were provided in the post-event survey conducted after the most recent employee awards ceremony.
"The event is a great way to remind us all why we are public servants and why we do what we do. It's not only a great way to recognize our employees, but also a wonderful way to motivate and re-energize folks to keep doing a great job."

"I am a new employee from [another local city]. I truly felt Scottsdale was for all the employees and that those employees matter. I like how you acknowledge all the nominees versus just the winners… For me this sets a tone of how I am viewed as a valuable asset to this city."
For more than 30 years, Kachinas have been a symbol of recognition for the City Manager's Awards of Excellence. Kachinas (sometimes called katsinas) are hand carved wooden figures representing various Hopi ceremonial dancers. Initiated Hopi carvers spend about four days carving cottonwood root to create just one Kachina. These intricately carved figures are highly regarded by the Hopi people, and are each a hand-crafted work of art.
These figures with their rich cultural background have been presented to select employees at Scottsdale's winter celebration – the Scottsdale Employee Awards. The tradition continues and each December, special employees or teams of employees are honored with a Kachina for outstanding achievement in exemplifying Scottsdale's Employee Values.
Kachinas were selected because they uniquely relate to the Southwest and its native peoples. Each Kachina "spirit" has an importance in the community. Each role interacts with the next to ensure a better quality of life for the people, wildlife and the land itself. As employees, we also have specific jobs to do, yet like the Kachinas, there is a great amount of cooperative interactions. The hard work and commitment that is evident in terms of what has been accomplished embodies Scottsdale's commitment to "Simply Better Service for a World-Class Community." For example, the Kachina "Butterfly Girl" that helps all insects cross-pollinate all the crops was selected to represent the Employee Value "Focus on Quality Customer Service."
Each Kachina is hand carved by local Hopi artist Kevin Horace-Quannie. The Employee Values and pictures of each of the Kachina carvings may be viewed online at ScottsdaleAZ.gov, search "Employee Values." Kevin and his art were also featured on an episode of "How It's Made." As noted, the artist has painted Kachinas representing each of the Employee Values and they hang in the City Manager's Conference Room as a reminder of their significance.
These values in various forms have been a part of our organization for 40 years. They were last revisited through an employee focus group process in 2004. We are undertaking a process to revisit those values, as 75 percent of our employees are new to our organization since then. We are also working to reconnect them more closely to our annual performance evaluation process.
I hope this was helpful and an encouragement to you. Reach out via LinkedIn, Twitter or Email to let me know your thoughts, ideas for improvement, or tell me your values!
---
Brent Stockwell is an assistant city manager for Scottsdale, Arizona, where he has worked since 2002 in a variety of roles, and also worked for Mesa, Arizona and Federal Way, Washington. He earned degrees from Kansas State University and the University of Washington. He's happily married with three kids and Hope the Goldendoodle. Brent's on Twitter, Instagram and LinkedIn.
All views and opinions expressed in this post are solely those of the author and do not reflect the views and opinions of his employer.