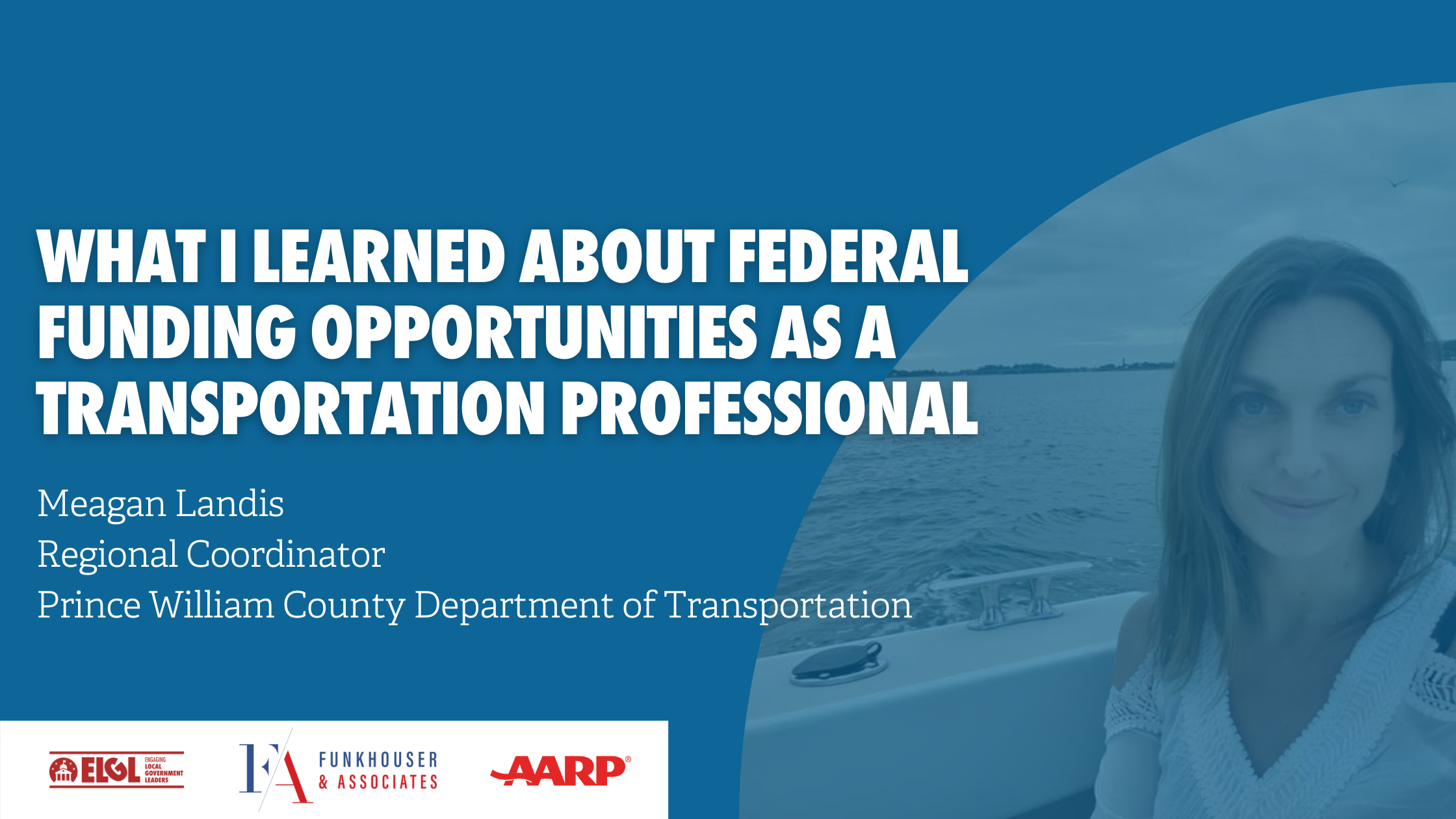 This article was written by Meagan Landis, Regional Coordinator at Prince William County Department of Transportation, as part of the Federal Funding Opportunities to Create More Livable Communities cohort. Connect with Meagan on LinkedIn.
---
As a public sector employee of a rapidly growing and urbanizing County grappling with the ongoing impacts of the global pandemic, leveraging resources to not only address the challenges at hand but create an equitable, sustainable blueprint to improve quality of life represents the single greatest opportunity and challenge to my community.
That is why I was thrilled to be accepted into the ELGL Federal Funding Opportunities to Create More Livable Communities Cohort and join peers from across the nation and different professional fields in identifying key quality of life factors, learning about successful programs and policies, and sharing resources.
A little background on me, I am the Regional Coordinator with the Prince William County Department of Transportation. Prince William is the second-largest and fourth fastest-growing county in Virginia and is part of the Washington D.C. Metropolitan Region. As an outer jurisdiction of the D.C. area, we have historically been a "bedroom community"; offering comparatively affordable housing in the region but lacking in job opportunities resulting in approximately 70 percent of our residents leaving the County each day for work, embarking on long, congested commutes primarily by Single Occupancy Vehicles.
There has long been a desire on the part of the County to establish Prince William as a destination for not just living, but work and play, but it has only been in recent years that there has been growing acknowledgment that achieving that goal means not just relying on traditional economic development incentives and taking a more comprehensive approach towards creating livable communities.
The cohort did a fantastic job using a data-driven methodology to identify the key quality of life factors and highlighting how integrated each of these factors is in creating a livable community. As a Transportation professional, I came into the course with an appreciation of the role of mobility but left with a much greater understanding of how I can use that to more proactively support and influence County policies to facilitate mutually beneficial outcomes. For example, including broadband infrastructure as part of road projects to enable greater telework to reduce traffic congestion or encouraging zoning allowance for smaller-scale multi-family housing developments to support more affordable housing that will allow people to live closer to their employment.
With the historic amount of federal funding available through the American Rescue Plan and Infrastructure Investments and Jobs Act, there is an enormous opportunity to translate the understanding gained into action. Leaving this cohort, I will be taking the resources and knowledge gained to share with my fellow County professionals and advocate to leverage the funding to initiate larger multi-department initiatives that will lay the groundwork for greater collaboration moving forward.
Additionally, I will be using the resources to support the County's efforts to enable residents to age in place. Prince William's 65 years plus a percentage of the population is significantly smaller than that of Virginia and the United States and the resources from the cohort will be valuable not only in establishing the case that creating more livable communities for older adults create more livable communities for all but in putting in place the action strategies to achieve.