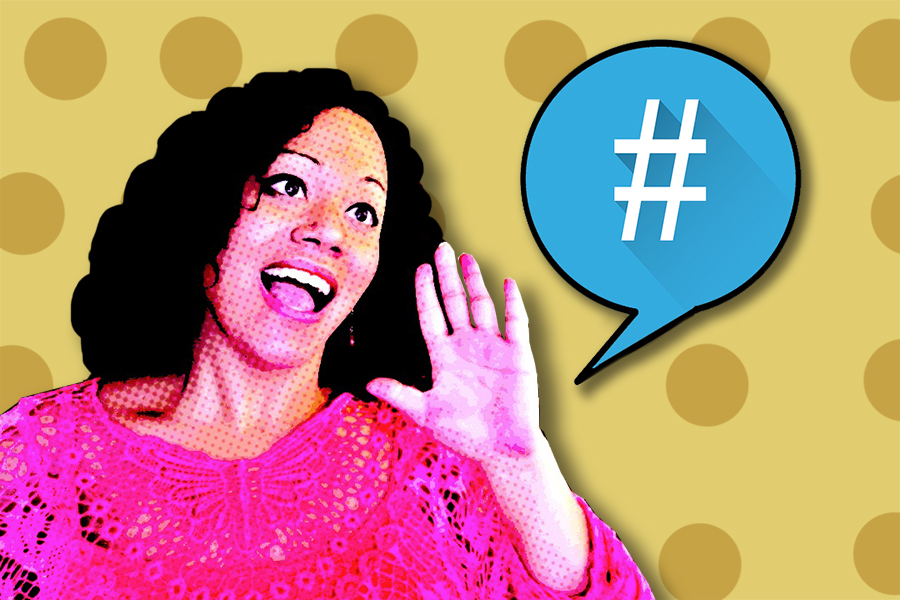 Angelica Wedell brings more than eight years of experience in multimedia communications to her role as marketing and business development coordinator and editor-in-chief of The Civil Review at National Research Center, Inc.

By Angelica Wedell – LinkedIn and Twitter
What do you call this symbol:  # ?
I'm guessing half of you said "pound sign," a few of you called it the "number sign," and the rest are going with "hashtag."  Surprise!  The official name for # is octothorpe.  You can log that away for your next Trivia night.
But today I want to talk about hashtags.  Hashtags are everywhere now.  Millennials even use them in daily conversations when they are not posting to the Internet.  (#What? #Why!)
Hashtags have evolved into useful tools for organizations to increase reach on social media and boost engagement.  On the other hand, hashtags can crash and burn when used without purpose and strategy. Over the last couple years, businesses have caught on to the hashtag potential and smart web marketers have begun to develop a few best practices that local government organizations can also use to maximize the usefulness of this popular Internet symbol.
Okay, so what's a Hashtag?
Hashtags can be thought of as conversations. Attaching the # symbol to a word or phrase creates a link which will display all other posts containing that same hashtag, creating an online community around that topic. Hashtags are commonly used to categorize posts and find new audiences.
Hashtags are not equal on all platforms.
Hashtags have varying degrees of success on different social media platforms such as Twitter, Facebook, Instagram and LinkedIn. They go bananas on Twitter.  They are easy to search through, easy to contribute to and they go #viral all the time.  However, tempting it may be to use lots of them in every tweet, it's best to avoid using more than three in a single post.
Pick 1-3 most fitting hashtags that your target audience is also using. If possible, sprinkle them throughout the sentence instead of listing them all out in one big, blue chunk at the end.  While every post is different, the trick is to visually arrange them in a way that helps you get clicks where you want them.
Hashtags also work great with Instagram, turning photo posts into massive picture albums all depicting the same theme (#localgov).  Hashtags work wonders with helping to grow your following on Instagram.
While hashtags are also common on Facebook, audiences don't respond as well to them there.  Use hashtags more sparingly on Facebook, but don't be afraid to use them when the time is right!
Hashtags are not supported on LinkedIn, though the platform does use keywords for categorizing.  Some social media experts will use hashtags on LinkedIn simply to add in keywords in a way that won't put off their audience.
How to Create a New, Successful Hashtag for your Own Organization
Hashtags for organizations and companies are powerful tools, but there is a catch: they do nothing if others aren't also using, clicking or aware of them. Here are some tips on how to launch a new viral hashtag:
Use Them for Events and Campaigns – Public events, conferences and campaigns make for perfect hashtags.  Most organizations will use the name of the event (or organization) with the year in building their hashtag (#ELGL16.)  This is a great way to create some buzz for your event long before it even starts.  It creates a container for all posts related to your event so you can share updates, see who else is going and create a sense of community around your event.  Attendees can use this hashtag to share their photos and thoughts with others who may also be there.  After the event, you can use the event hashtag feed for follow up content and ideas.  Make sure you have ample signs at the event showing the hashtag so attendees can easily join in!
Keep Them Short and Simple – The less characters, the better. #NYNewYorkCheesecakeFactory is way too long and will not fit into most Tweets. (Remember tweets are 140 characters or less – including hashtags!)
Be Specific – Nebulous hashtags get lost because they are hard to tack onto concrete ideas and messages.  ELGL often uses #13Percent to contribute to the conversation supporting women leaders in local government.  It works well because those who click this conversation know exactly what type of content they are going to see.
Research the Hashtag – Check if your new hashtag idea has been used already, or maybe see if there is a popular hashtag already out there that you want to attach yourself to.  It's a good idea to make sure that others aren't already using the hashtag in a way that you don't want associated with your organization.  You can always type in a hashtag in the Twitter search bar to see what people are doing with it right now.  And there are a plethora of hashtag research tools available.
Claim a Theme – Hashtagging your organization's name is only effective if others are inclined to do so as well. People will likely rather tag your organization using your handle than make a hashtag out of it.  I will note, however, that city and state names make for popular hashtags with residents (#NewYork.)  The most successful company hashtags usually do not include the name of the company, but rather the message/ideal that the company stands for or wants to communicate (like #PutACanOnIt from Red Bull.)
Promote It – a hashtag only works if people know about it, so it's important to promote the new hashtag in some way.  Paid Twitter promotions, newsletters, blog posts, videos, advertisements, email campaigns, inclusion with press releases and word of mouth will help grow your baby hashtag.
What hashtag does your #localgov organization use?
Supplemental Reading