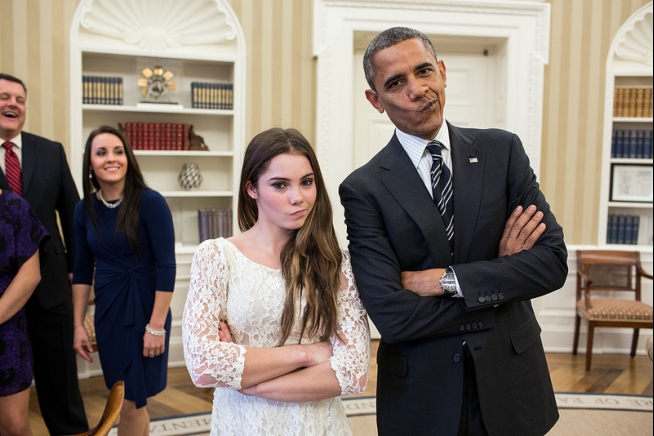 Angelica Wedell brings more than eight years of experience in multimedia communications to her role as marketing and business development coordinator and editor-in-chief of The Civil Review at National Research Center, Inc.
White House Social Media Strategies You Can Use
By Angelica Wedell – LinkedIn and Twitter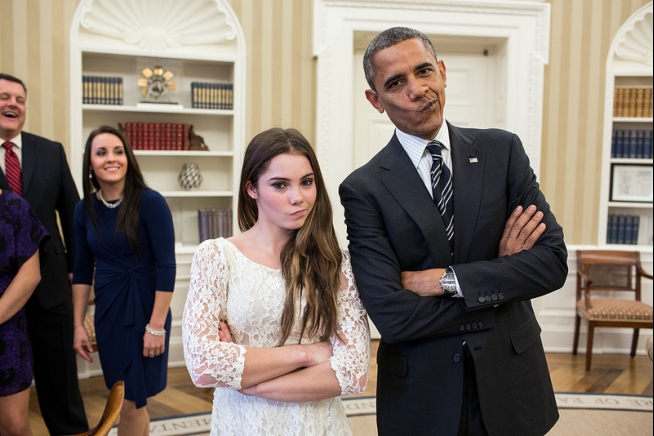 It's no secret that the White House has been "winning" the Internet over the last few years.  The Obama administration has been viral on Facebook, Twitter, Instagram and YouTube.  We've seen the president engage with supporters with open chat sessions, podcasts and videos.  We've even seen him pictured beside a slew of comedians, athletes and mentoring young men of color.  Web analysts and historians have likened Obama to Social Media as Kennedy was to Television.
We continue to see a steady stream of news highlighting Obama's meme-iest moments and lauding his use of new media.  His social strategy has been considered hugely successful in promoting White House initiatives.  The Washington Post, for instance, reported that the Affordable Healthcare Act received large boosts as a result of social media campaigns; healthcare.gov showed increases in traffic coming from Obama's BuzzFeed spoof video.
President Obama made a BuzzFeed video: Things Everybody Does But Doesn't Talk About
As sights like Twitter found their stride, media psychologists looked at not just how the White House uses social media, but why it works so well.  Dr. Pamela Rutledge indicated in her blog that clever social media strategy helped Obama win reelection and expand the president's reach by the millions.  "The real drivers of an effective social media campaign, however, are based on the psychology of social behaviors not the current technology," Rutledge wrote.
Research has shown that government and social media naturally fit together.  A 2015 study by Pew Research Center found that 41% of voters who follow political figures on social media do so as a source of breaking news, and that this percentage has doubled over the last five years.  And 35% of the same group said they follow politicians for the feeling of personal connection.  This means these same people likely look to their local government social media pages for news and engagement.
The current White House administration has had more than a decade to dial in its social media strategy.  Digital media personnel have grown the administration's reach most by consistently creating shareable content.  After studying the White House social pages, I've gleaned a few smart techniques that you can also use in your own social media strategies.
Use Humor
How They Use It: President Obama regularly guest stars on comedy web shows and podcasts.  Videos like the famous appearance on "Between Two Ferns with Zach Galifianakis" broke the Internet with millions of views.  Humor is regularly used with fun imagery and light-hearted posts on Facebook, Twitter and Instagram.  Internet memes are often referred to, even supported, with a few memes started by the White House itself.
How You Can Use It:  Drop in a friendly joke or two.  Write up an entertaining blog post.  Use a humorous image of a mascot or a cat to highlight your community.  Try creating your own memes.  If you are like me, and are not very funny, try picking the brain of someone who is funny to help you craft a few clever messages.  Get creative, have fun and stay on message – remember that every single tweet reflects you and your organization.
 Get Personal
How They Use It:  White House social pages don't summarize dry, detached press releases.  Instead they feature smiling faces, family photos and activities.  Messages from the president seem to be crafted casually for you, the reader.  Content may call for political support or aim to entertain in a relatable way.
How You Can Use It:  Your organization is made up of good people, and your social following wants to see them.  Consider writing blog articles featuring staff and their accomplishments (and don't forget to share all your blogs on Facebook and Twitter).  Use images of community events showing people and not just buildings.  Drop in a few quotes and messages of gratitude, and don't forget to wish everyone Happy Holidays.  Your readers will appreciate the personal touch.
Use Video
Comedian Key shows up at 14:35
How They Use It:  The White House uploads hundreds of videos to YouTube, Facebook and Twitter.  Video content proves one of their most effective communication tools with each video receiving thousands of views.  The YouTube channel features short, snappy updates of news and entertainment.  They even stream speeches live online and make them easily available to watch later.  In 2015, the White House used video and social media to garner buzz for the State of the Union address for weeks.
How You Can Use It:  If you aren't already, start posting short videos to YouTube, Facebook and Twitter.  Post to YouTube to help expand your reach and host video articles for your blog.  Use Facebook to directly reach your regular following and Twitter for ads and short updates.  Keep most content sweet, snappy, personalized and engaging.  Make longer presentations watchable online for those who want it.  You can learn more about how to create web videos here.
Hire a Pro
How They Use It:  Obama is busy being president and doesn't do all this stuff by himself.  There is an entire production and promotion team behind it all – content creation is their full-time job.  They create strategic social campaigns, produce videos and craft messages.  There even is an official white house photographer.  Having an in-house team ensures that the White House has limitless content available for any purpose and that they have the copyrights to use/share them however they like.A professional content creator.  Image Public Domain.
How You Can Use It:  local government organizations often hire web managers to update the website, tend the blog and build a social media presence.  The more multi-media you want, the more staff you may need to hire.  Look for people who can write well and know their way around web technology.  Those with marketing or journalism backgrounds make excellent choices.  And although a college kid may be a "low cost" wiz at using Snap Chat and Twitter, a professional content creator will give you a strategic and polished edge – making your organization a bigger contender in the content marketing game.  And generating your own professional content means you don't have to worry about copyright limitations.
Collect and Analyze Data
How They Use It:  The White House social media team is purposeful with each campaign.  They use research and analysis to help them guide their messaging and target channels.  To reach Millennials, for example, The White House will learn about how young adults choose to communicate and what their interests and needs are.  Then once a social campaign has been launched, they will look over the analytics to gauge success and give them direction on the next campaign.
How You Can Use It:  Who is your audience?  How can you best communicate with them and what do they need from you?  These are the first questions to ask when assessing your goals and following.  My company, National Research Center, Inc., is one available resource that provides community data through survey research and evaluation.  Also, how do you know if your social media campaigns have been successful?  Social media marketing experts advise not to get hung up on only seeking large numbers of views.  Also check analytics for average time spent on your webpages.  Look at engagements and shares.  See if your target audience is responding, what content/strategies did best and what can do better.  The data will let you know!
Supplemental Reading