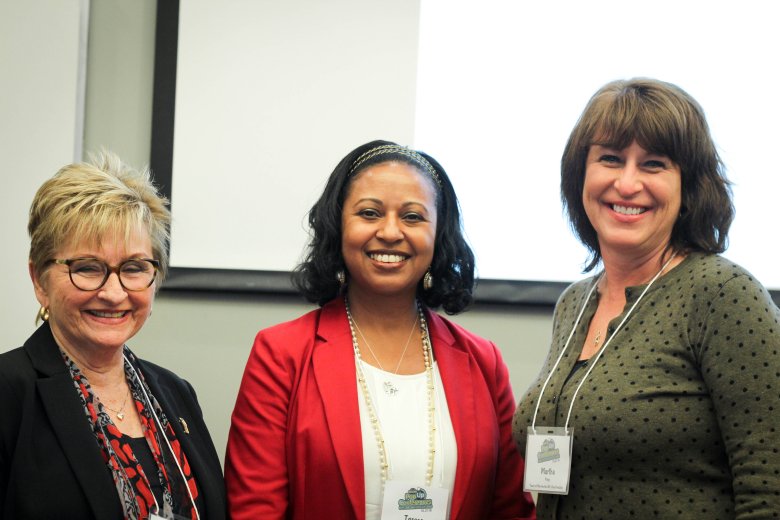 The 2017 Women's March is for any person, regardless of gender or gender identity, who believes women's rights are human rights. ELGL will show our continued support for women's rights by highlighting our #13Percent series throughout the day on Facebook and Twitter. This post is one-stop shopping for articles written by ELGL members about women's rights. We encourage you to share your favorite article from the #13Percent series by sharing it on social media or the comments section below.
Two other options for getting involved:
---
Articles
Glacial Pace: State of Women Managers in Local Government
Our Missing Leaders by Mark Funkhouser, Publisher of GOVERNING
On Momentum & Progress: #13Percent to #GenderBalance
Breaking the Gender Cycle in Local Government Leadership
Looking Local for Inspiration to Overcome the Blanket of Darkness
"You're Cute When You're Angry…"
#ELGLWorkLife: Returning to Work After Childbirth by Marissa Grass
#ELGLWorkLife: "To and Fro the Pendulum Throws…" by Rebecca Olson
#13Percent: Fight Like Hell Dammit, and Win! by Ashley Jacobs
#ELGLWorkLife: In It Together by Julie Underwood and Todd Fiala
Life as a City Manager's Child with Will Norris, Long Beach (CA)
#13Percent Club: Keep Advisors Close
#13Percent: Seek Challenges and Shape Your Network by Amy Jauron
#13Percent Club: You Know More Than You Think You Know
#13Percent: I'm a 36-Year Old White Male
#13Percent – Reflections on the Hashtag
13 Percent: Creating Dynamic Leaders Through Mentorship
#13Percent Club: Male Mentors Make a Difference
From My Perspective: #13Percent by Bonnie Svrcek
#13Percent: The Role of the Elected Official with Rafael Baptista
13 Percent and Organizational Management Theory: You won't be bored by this (probably, maybe)
#13 Percent: Engage, Rather Than Assume, Minority Groups Feel Supported
#13Percent: Passing the Buck Article Lands On Route Fifty
#13Percent: Women in the Holler: Fixing the 13% Problem in Rural Areas
Continue reading #13Percent articles.
---
Data
Data Download: Measures to Meaning
Data Download: Measures to Meaning – Part 2
Data Download: Measures to Meaning – Part 3
Break it Down: Increasing Women in Local Gov Leadership
#13Percent: Using Data to Improve Diversity and Inclusion
Push/Pull: Opening the Door to Survey Responses
Pushed or Pulled? Responses to the Push/Pull Survey
Push/Pull: Closing Out the Push/Pull Analysis
---
Podcast
Exclusive: ELGL Executive Director Discusses Discrimination Suit
GovLove: Glass Shattering Police Chiefs
GovLove: The Stories Behind The Start-Up City with Leah Treat and Gabe Klein
Podcast: You (Yes You!) Can Run for Local Office
Podcast: Bonus! The League of Women in Government
Podcast: #13Percent Measures to Meaning
---
Webinars (Must be an ELGL member to view the webinar recordings.)
Follow Up Reading From CCCMA Women Leading Government Conference Call
ICMA Recap: Expanding Diversity and Inclusion in Local Government
Webinar: Women in Local Government
California's Glass Ceiling, Watch the Webinar
Watch the #13Percent Webinar with Heidi Voorhees and Rachel Lange-Skaggs