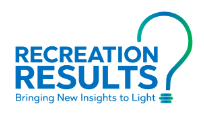 This is the company information page for the 2019 #ELGLHaverford award.
Learn more about the award program, and read about all of the honorees.
---
About Recreation Results
---
Engagement With ELGL:
Blogs, Webinars, Podcasts with ELGL? Yes

Events, Activities with ELGL? Yes
---
Working with the Company:
Describe your work and interactions with the nominee – how have you worked with them, on what projects, in what capacity?
I first met Bobbi Nance while she was working for the Park District of Oak Park, IL. We were both serving on an assessment team for NRPA. I was so impressed with her knowledge and skill set that I invited her to come to Texas and train my staff. Shortly after that, she began her consultant/training business called Recreation Results. I believe she took up this new career due to the many similar experiences she was having with agencies asking her to share her valuable expertise. Since then, I have watched as Bobbi/Recreation Results has presented at many local, state and national conferences. She has also worked directly with various local governments providing on site training and coaching for staff. For our agency, she provided training on Creating Better Surveys. I have also attended sessions with her on topics including Data Collection and How to Use Data at conferences. Her sessions are always well attended, and mostly standing room only.

Since Bobbi was previously a recreation practitioner for a local government, she is keenly aware of the demands and opportunities for our agencies.  She shows us how to use data, trends, and strategy to drive real change within teams whose mission it is to change the world.

I also serve on a Board of Regents with Bobbi for the Revenue Development and Management School for NRPA. Here, Bobbi provides leadership in curriculum development and teaching.
What was the product/outcome of your relationship with the company?
Following our agency training with Bobbi, our staff was better prepared to create meaningful surveys and use the data for improved services. We are now working to schedule a training for all City of New Braunfels Department Heads and Managers on the topic of data collection, customer retention, and using data to tell your story. Her expertise in these areas is very timely for our agency as we are a rapidly growing community and need to express our needs in measurable and understandable ways.
What are three words you'd use to describe the company?
relevant, innovative, relatable
Describe the on boarding process for your work with the company – either when you personally started working with them, or when your organization did. What could someone else in local government know about starting work with this company?
As described earlier, I began working with Recreation Results due to my personal interactions with Bobbi Nance. I have continued working with her based on her extensive knowledge and skills, as well as her interpersonal relationships. She is very relate-able and makes our staff feel at ease while they are learning. She has a knack for taking complex information and making it clear and easy to understand. Bobbi is very flexible and works to make sure the training content will turn ideas in to actions. She is easy to reach and quick to respond!
What is the company's pricing structure? Please be as descriptive as possible.
Pricing is based project by project. She works hard to make sure you get the most for your money, and to work within your available budget. 
What's the most interesting or fun aspect of your work with the company? 
I love that Bobbi uses creative approaches and examples to teach. As her website describes: "workshop attendees have built with LEGOs, conducted science experiments, played customized board games, and other interactive activities to drive home key learning objectives in fun and memorable ways." She uses everyday examples that students can get their arms around to understand. These are some of the reasons that students love learning from her.
How has your relationship with the company evolved or changed over time? How has the company reacted to or addressed any changes that your organization has requested in the scope/focus of your work together?
Recreation Results is able to track and understand trends in the field – in fact that is her specialty! Even though we had worked out an agenda for our training, Bobbi very graciously spent time in areas as noted by our staff that they had additional questions or concerns. She easily adjusted the day to insure that our staff felt confident in their approaches at the end of the day.
Anything else to add about the company that we haven't already asked you?
Bobbi is just an amazing person, and she shows you that in every training session. Personally, she has been a bone marrow donor, and raised over $100,000 by hosting a 5K run in honor of her brother. She also works with inner-city teens introducing them to the great outdoors!