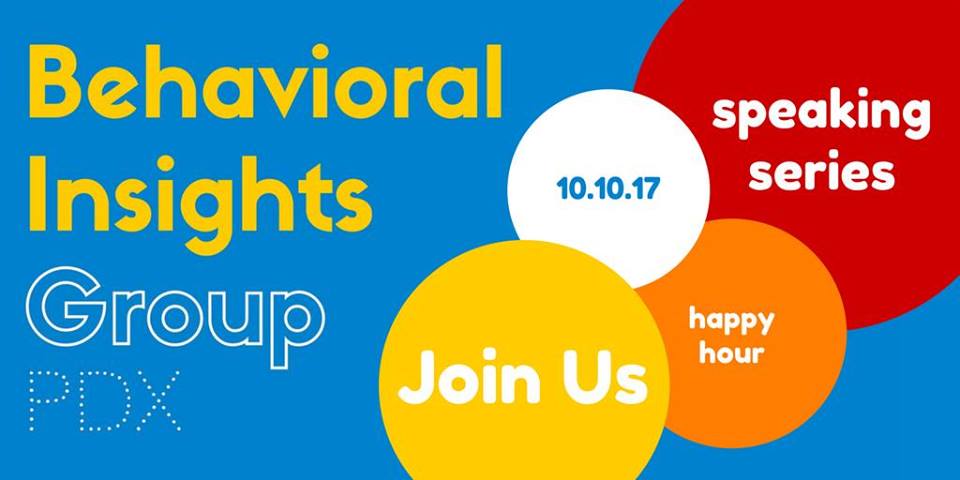 Hat tip to John Horvick (DHM Research) and Lindsey Maser (City of Portland) for extending an invitation to this Behavioral Insights PDX event. The cities of Portland and Gresham have been working with the Behavioral Insights Team for the past year, via the What Works Cities program. ELGL members may be familiar with What Works Cities through the GovLove episode with Zach Markovits, What Works Cities.
---
Behavioral Insights: Lessons from the Field | Happy Hour Speaker Series
Tue, October 10, 2017
McMenamins Ringlers Pub (side room @ 14th & Burnside)
1332 W. Burnside
Portland, OR 97209
Arrive at 5:00 to connect with other Portland professionals interested in influencing behaviors for greater social and environmental good. At 5:30, we'll start with a presentation and move into an exercise to workshop your behavior change idea.
Presentation
Hear highlights of the Behavioral Insights Team's behavior change successes from around the globe, and an overview of their EAST framework: Making behaviors Easy, Attractive, Social and Timely. (Presentation by Lindsey Maser, City of Portland)
Card exercise
After the presentation, we'll do a card exercise at each table, using card decks from the Behavioral Insights Team: Each EAST card has a different behavioral 'insight', or intervention, like Peer Influence, Goal Setting, or Prompts. The exercise works like this:
Each person takes a few cards.
One person says the behavior they're working on.
Everyone else looks at their cards, picks the one they think could be useful, reads it to the group and suggests how it could be applied.
Then repeat, with the next person sharing their behavioral effort.
Bring your behavior change effort, and get some behavioral insights ideas from your tablemates.
---
Behavioral Insights Group PDX (BIGpdx) is a Portland area forum for professionals interested in sharing successful behavior change techniques, especially within the environmental and health fields.