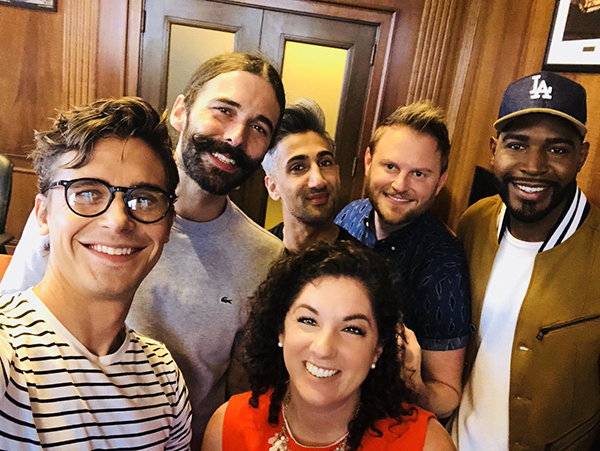 What I'm watching: "Big Little Lies" — HBO's atmospheric, sudsy meditation on life (and death) in Monterey, CA — where Laura Dern's Emmy-winning turn as a member of the Monterey Planning Board amid a municipal free speech controversy serves as a key plot point in Season 1.
What I'm listening to: The incessant buzzing of mosquitoes from a recent hike to alpine Eunice Lake at Mount Rainier National Park. No matter the number of bug bites, the view is always worthwhile.
---
In less than 24 hours, government workers and #LocalGov fans will gather outside, atop and inside municipal buildings from coast to coast and around the globe to celebrate the biggest holiday in public service.
#CityHallSelfie Day is back.
Latest on #CityHallSelfie Day:@CityofFontanaCA jumps to early lead.@CityPortland > City of Portland, OR#CityHallSelfie Day is on Georgia's mind.

Rocky Mountain High on #CityHallSelfie Day.https://t.co/eaBqbZPILO pic.twitter.com/7PUrHJdjZ3

— ELGL ? (@ELGL50) August 8, 2019
Of course, #CityHallSelfie Day is also the time to make the case — and a plan — for celebrating a year's worth of hashtag holidays through your agency's official social media channels.
Why should you observe hashtag holidays? In short, you can easily humanize your agency, and in the process, help to educate your audience.
As communicators, hashtag holidays offer a useful way to share updates about our various lines of business, did-you-know facts about our communities, and of course, throwbacks on Thursday and flashbacks on Friday.
Another advantage of hashtag holidays is how the list of observances can serve as ready-made inspiration for your organization's content calendar.
The constant churn of content creation can overwhelm even well-staffed, highly experienced communications teams. Using hashtag holidays as the foundation for a content calendar helps provide some clarity. Once the framework is in place, add dates important to your organization and milestones in local history.
Where to start your research? The official-sounding National Day Calendar recognizes almost 1,500 national days, weeks and months, so you're all but certain to find more than a few to celebrate your agency and community.
An interesting factoid: public libraries first appeared during the Middle Ages and apparently theft was such a problem then, books were chained to the library desks. #NationalBookLoversDay https://t.co/LPFX35cVrc pic.twitter.com/wf092Fiztg

— NationalDayCalendar (@NationalDayCal) August 9, 2019
Sprout Social also offers a popular resource highlighting major hashtag holidays (though #CityHallSelfie Day is notably missing).
Disclaimer: For the sake of your sanity, your followers' patience, and fiscal responsibility, please, please do not celebrate every hashtag holiday. Remember the 1,500 observances — about four per day — I mentioned earlier? And, if at all possible, tread lightly into the rabbit hole of international observances.
The every-day-is-a-holiday observances predate social media, of course.
National Doughnut Day — or is it National Donut Day? — goes back to the early 20th century. And Valentine's Day, perhaps the most widely celebrated manufactured holiday, traces its origins to a Roman festival. The list goes on and on.
Brands create hashtag holidays all the time. The earliest I remember is Starbucks' #FreePastryDay in 2009. (What a quaint time!) Mashable created Social Media Day, a.k.a. #SMDay, a year later. The phenomenon reached full zeitgeist a few years later, when in 2013 Campari and Imbibe magazine willed the Instagram-ready phenomenon #NegroniWeek into existence.
Happy Social Media Day! – http://ow.ly/25fUq #smday

— Mashable (@mashable) June 30, 2010
How do you do get a holiday added to the quasi-official National Day Calendar anyway? Apply now.
And, as with everything social media, hashtag holidays inspired inevitable backlash and spoofs. In 2015, The Washington Post roasted National Best Friends Day — a possible hashtag hoax-liday turned actual hashtag holiday.
In some ways, though, hashtag holidays help connect to a time when social media felt lighter, with lower stakes and more opportunities to experiment.
If still you're wondering whether we, as public servants, should care about participating, remember another important point: Yes, hashtags still matter for public agencies. Using hashtags correctly can prove daunting, even for communicators who otherwise feel comfortable on social.
In 2018, Zach Navin wrote in this space about how #CityHallSelfie Day is about more than a reason to take a break from work — and often inspires conversations that help his family and friends better understand his career. Think of other hashtag holidays the same way.
While I may not celebrate the #CityHallSelfie as much as my peers, I try to commemorate out-of-the-way locations as a way to keep the conversation going.
Couldn't make it to #ELGL17 — but I did make time for a #CityHallSelfie in Toontown. pic.twitter.com/WN3PPwoe1k

— Warren Kagarise (@wkagarise) May 12, 2017
As the regional government in King County, WA, we may not have a city hall, but you can bet my colleagues and I plan to break out the selfie stick tomorrow.
Your agency should embrace hashtag holidays too, beginning with #CityHallSelfie Day. Time to get started.
? accounts to follow so you don't miss a second of #CityHallSelfie fun on Thursday:@ELGL50 @NWELGL @CALELGL @SWELGL @MountainELGL @ELGLSconnie @MidwestELGL @SEELGL @NEELGL #ELGL members are managing these accounts on the happiest day in #localgov!

— Kirsten Wyatt (@kowyatt) August 13, 2019