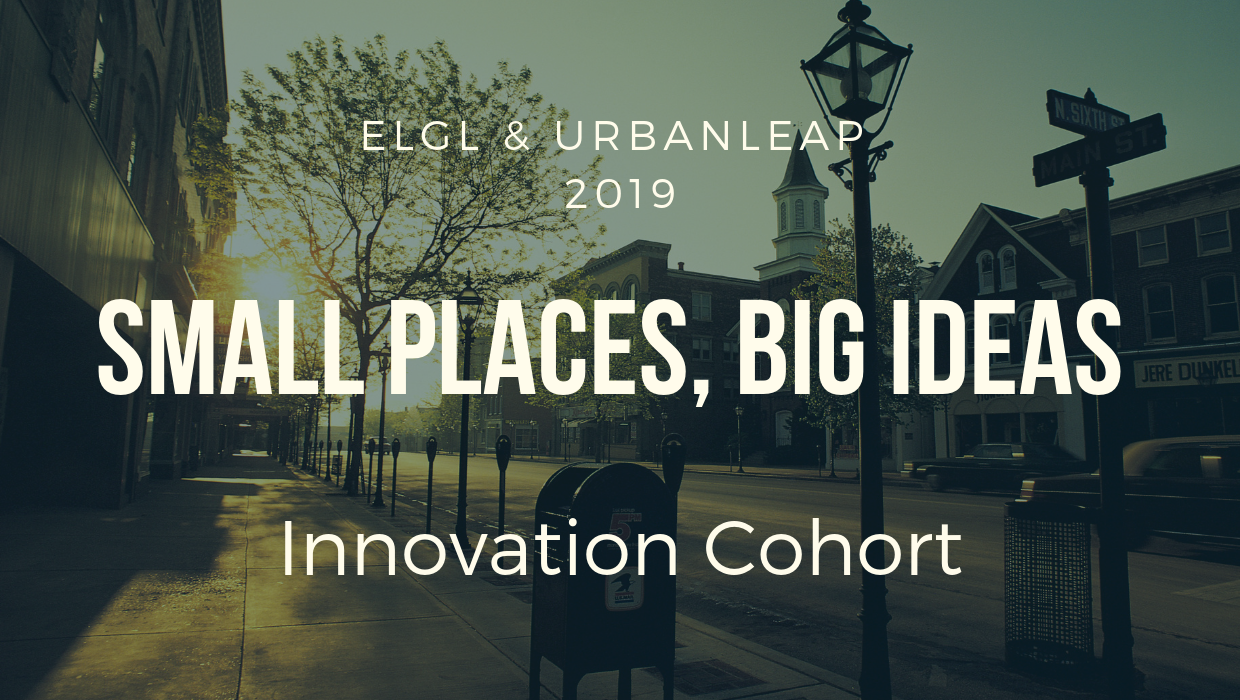 ELGL and UrbanLeap announce the inaugural Innovation Cohort for 2019, focused on small places with big ideas.
This project brings together innovators from smaller cities, counties, and towns to utilize the technological resources of UrbanLeap.
Together, the group will identify a common local government issue to address, discover potential solutions, select a subset to pilot, and then share results, learning and best practices garnered from the development, implementation and evaluation of these pilot programs.
The Innovation Cohort is your opportunity to tap into the collective energy and intelligence of the ELGL network with the assistance of the UrbanLeap experience.
You'll work with your Innovation Cohort to learn about new solutions, test them and learn from the experiences, and then figure out how to put those solutions into action in your small or rural community.
Along the way, we've built out a support network founded in camaraderie, public service, good intentions, and best practices.
Cohort participants will work together to identify and prioritize the issues under consideration in the yearly program, and then to experiment with different solutions, share feedback, and discuss new approaches.
The cohort will be required to fully engage in the ELGL subnetwork created for this Innovation Cohort including (but not limited to) collaborative tools through the UrbanLeap platform, the project's dedicated Slack channel, monthly webinars, content (blog and podcast) sharing, the fall ELGL regional conferencing event the week of September 23, 2019, and participation in the #ELGL20 annual conference in May 2020.
The program runs for one-year and is limited to 25 organizations from U.S. cities, counties, and towns. An application is required, and applicants must engage at least one FTE or its equivalent as primary stakeholders in the project.
Final selection will favor participants from towns with populations under 30,000 (although other applicants are encouraged to apply).
Detailed information about program costs, benefits, deadlines, and more can be found in the program summary. If you have questions about the program, reach out to Emily at [email protected] for more information.
We hope you'll join us for a year of learning, collaborating, and solving public problems together!
FAQ: Updated May 8, 2019
Q: Does the $2,500 program cost cover the cost of vendor services for pilots?
A: Regarding vendor costs, some vendors may decide to charge for a pilot, but many will not - and it would be up to you whether to select a vendor that offers a pilot at a cost to you. The cohort will discuss this during the initial kickoff meetings this summer; many cities set a policy that pilots cannot have a cost, and we may decide to set that as a rule for the cohort once we have discussed it as a group.
Participants will also have the ability to test process ideas or solutions from other cities that don't have a cost attached; in other words, the pilot doesn't necessarily require an outside vendor. Controlling those costs would be up to you as you decide which solutions to test in your own community.
Q: Will travel costs be included in the program cost? 
A: Currently, travel costs to the primary in-person event (the #ELGL20 conference in Oregon) are not included in the program cost. We are exploring sponsorships that may assist with those costs and will make funds available to cohort members as they become available. We do not anticipate any significant costs associated with regional road trip events in September, as those are designed to be within close driving range of participants. However, if that is a make-or-break issue for your organization, please don't hesitate to contact
[email protected]
to work out a solution.
Q: What's the cost of the platform if I'm not in this program? 
A: UrbanLeap's platform is an investment for cities and counties, who pay an average of $15,000 per year to manage up to 10 projects concurrently - the subscription allows for an unlimited number of proposals and users. This cohort reduces the cost of the platform for your organization down to $2,500, which also includes all the training provided by vendors and mentor cities; the collaboration work with ELGL and the ELGL network; amazing swag; and presentation and networking opportunities.
Q: What are the overall benefits of applying to this program (so I can convince my community to sign up)?
A: Essentially, for what you would pay to attend a single three-day "smart cities" or innovation conference and cover travel expenses, you'll receive an entire year of the software platform use (at over 85% off); the opportunity to collaborate with other similarly-sized communities; the knowledge and resources of ELGL vendors, members, and mentors from larger cities; introductions to new technologies, process improvements, and tested innovative solutions; and pooled resources to help you actually select and implement projects that improve your community directly.
Q: I can't afford an all-in membership, but we really want to apply.
A: We've made a new Small Communities All-In Membership just for folks under 10K population, with five employee spots for $150 annually. You can register for that here. We want you to be a part of this and don't want cost to be a barrier, so if you have further questions, reach out to [email protected] and we'll work something out!
Q: I'm a council or conference of governments. Can I apply on behalf of my member communities?
A: You can! We'd love to see COGs support smaller communities this way. Please reach out to [email protected] to set up a time to discuss the expectations and logistics for this type of application.
Q: Yikes! June 1 is awfully close to the end of the fiscal year. When are payments due?
A: Recognizing that the end of the fiscal year is close for most communities, we'll send the first invoice, for half of the amount due, on June 15, payable by July 30. We'll send the second invoice 30 days later on July 15, payable by August 30. If you need additional assistance with payments, please reach out to [email protected] and we'll see how we can help.
Q: Yikes! I'll need a special resolution and even with this extension I won't be able to get a payment authorized by then.
A: Please reach out to [email protected] to review options for other payment agreements!