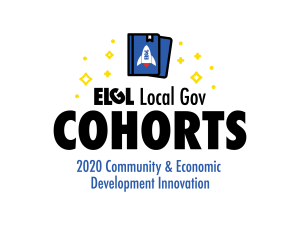 2020 Innovation Cohort
2020 Innovation Cohort


ELGL and UrbanLeap have partnered to create the 2020 Innovation Cohort Program, which brings together innovators from cities, counties, and towns across the country to utilize UrbanLeap's innovation management platform to facilitate collaborative innovation projects.
The 2020 Innovation Cohort is bringing together organizations from across the nation this year. Participants include: 1) Aurora, IL, 2) Irving, TX, 3) Kansas City, MO, and 4) Third City Coalition, CA.
Together, the group will identify an issue within community and economic development to address, discover potential solutions, select a subset to pilot, and then share results, learnings and best practices garnered from the development, implementation and evaluation of these pilot programs.
Finally, a special thank you to our mentors and training hosts who make this possible! Thank you to:
Rafael Baptista (Raleigh, NC), Jordan Hillman (Jackson, MS), Maggie Jones (Trrant County, TX) Jim Lenner (Johnstown, OH), Michelle Riske (Irvine, CA), eCivis, mySidewalk, Balancing Act, Bang the Table, Pause for Change, and the Centre for Public Impact.
2019 Cohort
These cohort members will present their findings at the #ELGL20 Annual Conference in Portland, OR.
A huge thank you to the partners and volunteers whose knowledge, experience, and willingness to share their time and resources have made this happen. We couldn't have done it without you amazing ELGL members:
Josh Edwards & the whole i-Team (City of Durham, NC), Steve Pleasant (City of Hillsboro, OR), Brent Stockwell (City of Scottsdale, AZ), Ashley Trim (Davenport Institute at Pepperdine University), Judi Brown (CivicMakers), Eric Keck (ResourceX), Laura Chandler (ClearPoint), and all the attendees at the #ELGL19 Innovation Summit!