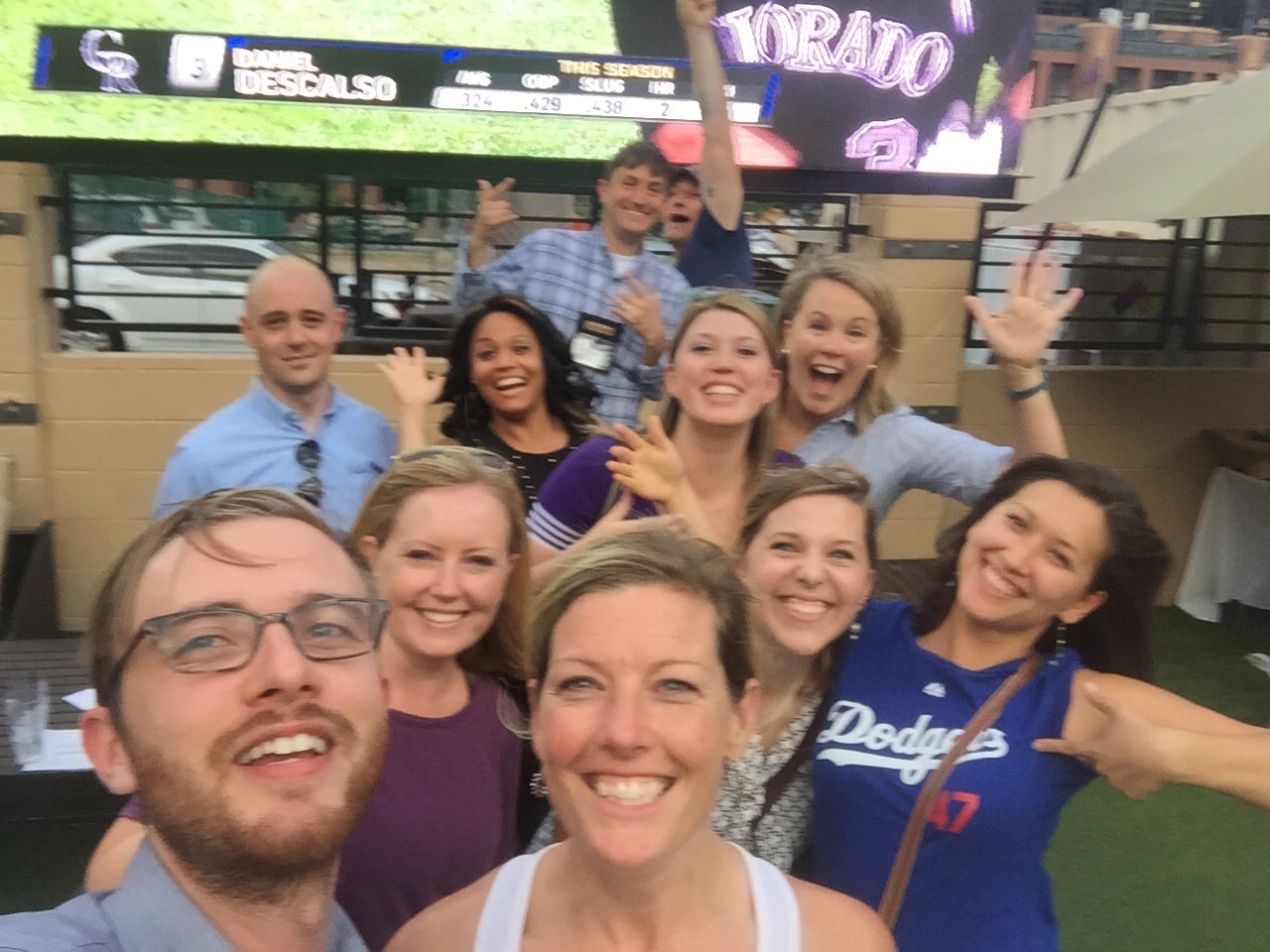 Hat tip to the Center for Priority Based Budgeting for inviting us back for a third straight year. Kent Wyatt will update this post with all the action. Let's go!
Thursday, August 4
Hat Tip
Kudos to CPBB for inviting us to the party. Let's do it again.
The Unofficial CPBB Picture Book
You may not know this but you might be in the photo album.
Taste of the Rockies

Baseball and brews — a perfect cap to #CPBB16. You can tell by the pictures that a fun time and selfies were had by all. While no one caught a foul ball, no one got knocked out by a foul ball either. A classic win-win.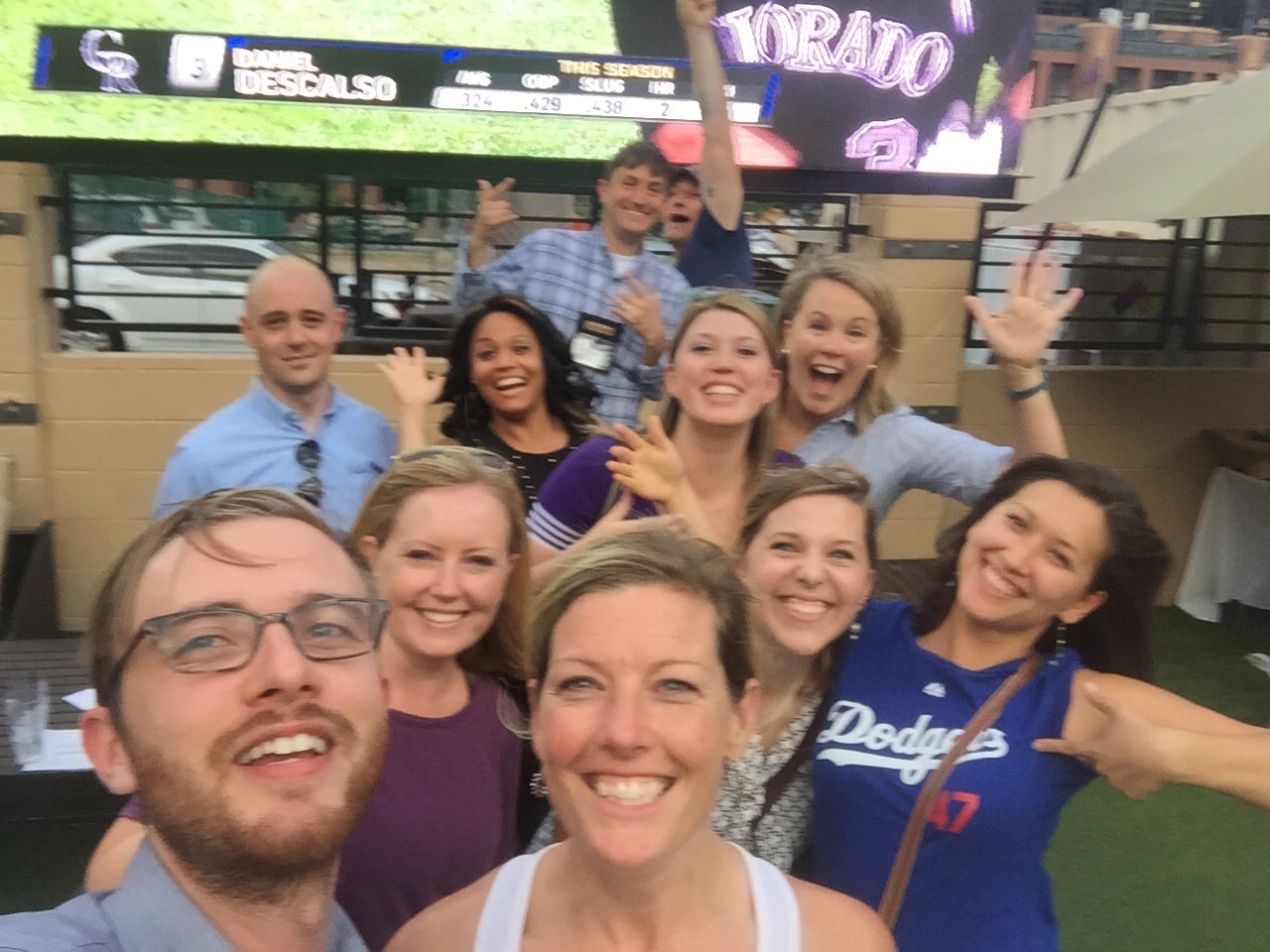 Something that you won't read about in the newspaper but Angelica Wedell, NRC, Inc., possess the longest selfie stick in North America. In a few of the pictures, she captured at least half of Denver.
So, basically if you're reading this and you weren't there, you missed one of the best evenings in ELGL history.
How many times in life do you take a picture with a world famous author/Daniel Craig and your hair looks like it was ripped from a Dawson's Creek episode?
How many times in life do you meet the Rockies Employee of the Month?
How many times in life do you take a 5-minute survey, spin the prize wheel, and win a crappy prize like party beads?
How many times in life can you snap a "camera see camera" picture?
How many times in life do you tell your wife that she's walking in the wrong direction, into a bad part of town, and she continues in that direction?
How many times in life does your friend walk a mile to the train station only to realize that she forgot her wallet?
How many times in life do you meet two people – Kirsten Wyatt and Chris Maddox – who like the new credit card chip?
Looking forward to creating more special memories at the ICMA Conference in Kansas City, MO.
Daily Spill
Santa Fe City Hall posts job for 'fat cat' – "Santa Fe needs workers to pull weeds, fix sidewalks and curbs and answer the phone in busy city offices," stated the editorial, which was published Wednesday. "The city does not need more fat cats."
New managers in Aumsville, Sublimity – "Not knowing what to expect, I found (Sublimity) and the local area to be attractive, almost entrancing, especially cycling out on some of the rural roads east of town," Marshall said. "The history in this small city is remarkable, and the residents have been helpful and welcoming."
Daytona Beach leaders leave it to city manager to find housing for homeless – "I had the great task of having to tell them all that we're going to wind this program down in 11 days, and try to be sure that we take care of everybody that's in the city currently," said City Manager James Chisolm.
Latest pay raise makes Las Vegas city manager highest paid of region – Fretwell's new salary is larger than her peers' pay in Clark County, Henderson and North Las Vegas. Clark County Manager Don Burnette's base salary is $264,846, and his responsibilities include oversight of McCarran International Airport, University Medical Center and other regional services not provided by municipalities.
Reno spending up to $50K for Clinger investigation – "The scope is of interest to me," said Brekhus, who's concerned that she hasn't seen the complaints against Clinger. "Are there other allegations beyond these (three made public)?"
Wednesday, August 3
Daily Spill
Budget battle: Disagreements flare at Killeen council meeting – Killeen City Council members engaged in passionate budget discussions Tuesday — with members disagreeing at some points during the workshop meeting, and agreeing at others.
City council adopts transparency policy – The Columbia City Council voted 6-0 to approve a new transparency policy Monday night. The policy calls for city employees to handle any request for information — electronic, written or verbal — as a formal Sunshine Law request even if it is not referred to as a "Sunshine request" or simply is asking whether specific data or information exists.
City considering $100K investigation into Clinger for misconduct – Clinger also demanded an immediate open meeting, calling the accusations "utterly ridiculous" and wanting the results of the independent investigation to be brought "into full public view," according to a statement Clinger released Saturday.
Fort Worth council considering lowering property tax rate by two cents – Fort Worth has one of the highest property tax rates in the Metroplex, currently at 85.5 cents per $100 assessed valuation. City Manager David Cooke Tuesday proposed to the council lowering the rate to 83.5 cents per $100 assessed valuation.
Cupid to blame for Riverbank city manager's exit – After 4 1/2 years at the helm, City Manager Jill Anderson is leaving to take the same job at Chehalis, Wash., between Seattle and Portland, Ore. It's much smaller – 7,268 people, compared with Riverbank's 23,485 – but it's closer to her boyfriend.
Applause, Applause
Join us in welcoming Daniel Craig to #CPBB16 Conference.
Fun-damentals
Our session is finished. You can relive the excitement via Periscope.  You can watch it once, then watch it again, and then a few more times.
Let's Do This…
We're back for another day at #CPBB16. We kicked off the day with a speech from Governing Publisher Mark Funkhouser. Jon Johnson introduced Mark by mentioning that Mark made the top 10 list for the recent Traeger Awards.
A clip of Mark's speech. Check. It. Out.
Hat tip, hat tip…
Thanks to Julia Novak for treating the ELGL crew to a tasty dinner at ChoLon Modern Asian Bistro. I believe we tried everything on the menu.
Early Nominate for Tweet of the Day…
@GovWalker reacts to the news that I am #14 on the @ELGL50 "Traeger List" of the top 100 #localgov #influencers 😉 pic.twitter.com/FVHfPguhaW

— Josh Schoemann (@joshomen) August 3, 2016
Picture Book
The #CPBB16 picture book is growing. We'll be updating the book throughout the day.
Rewind
We went live with Brian Elms from the Denver Peak Academy yesterday. We recording the interview for a future podcast, but because of the wonders of technology, you can watch the Periscope recording of the interview.
Spoiler Alert: Former Gov. Ed Rendell, Daniel Craig, and Mean Girls were part of the conversation.
My favorite part of the interview was learning that Brian dedicated the book to his 15-year old daughter, unbeknownst to his daughter, she posted on Instagram about her dad writing a boring budgeting book.
Tuesday, August 2
Tweet of the Day
Good luck topping this one.
#ELGLdues – Wow @ELGL50 ! This is phenomenal! Of all the orgs I've been a part of, the camaraderie and value of this membership is #1!

— AJ Fawver,AICP,CNU-A (@planning_guru) August 2, 2016
White Belt
So I am feeling good about this afternoon's interview with Brian Elms, Denver Peak Academy. Brian is in the business of black belts and my 4-year old is a white belt in karate. This should provide some good common ground to start from.
Let's hope that Brian either can't read or can't login onto to his ELGL account because I am about to reveal a few of the hard hitting questions that are coming his way.
Three facts about Peak Academy that you won't find on their website.
A recent Black Belt graduate described the program as "fun, intense, and changed my way of thinking." Tell us specifically what makes this "fun."
Mount Rushmore: Top four accomplishments of the Peak Academy
Define soft cost vs. hard cost savings…
Is the goal to work yourself out of a job?
What is the easiest process improvement tool is to implement?
You've talked about making government more like Zappos or Amazon, what could the private sector learn from government?
Rapid Fire
Most famous person on your cell phone.
Favorite bureaucrat from McKinney: Trevor Minyard or Michael Quint?
Are you a better runner or snowboarder?
Denver vs. DC?
Better writer – Brian or J.B
Legalization of marijuana – good or bad for Denver?
How many times have you read your own book?
Tardy Slip
Pardon our late arrival to #CPBB16. We'll be there in spirit this morning and via Twitter.
Zach Markovits, What Works City, gave us a glimpse into his speech during a recent GovLove podcast episode. We have a favor to ask, if time allows for questions after Zach's talk, ask him about his life goal of becoming a professional cellist.
If You Could Go to One Restaurant in Denver, It Would Be….
Please tweet us @ELGL50 with your best Denver restaurant recommendation. And, while we love Chick-fil-a, we're looking for places that are unique to Denver.
Daily Spill
The Confidential will be combined with this post while we are in Denver. Here are a few interesting local government headlines from around the country.
Waco city janitors, councilman push back on privatization – "I take pride in what I do," said Harris, a tall man who towered over his mop in the City Hall basement. "This is my building. I tell people if they need something, come to me. If there's a toilet overflowing or they need paper towels, I'll try to take care of it."
In troubled times, key Petersburg decisions being made with little notice  – "They show a lack of commitment to open government by scheduling, during the workday, in rooms with scant public seating, and or without adequate notice, just about every meeting other than the regular bimonthly Tuesday night council meetings," said Barb Rudolph with Clean Sweep Petersburg, a group of local activists and a Facebook group with more than 600 members.
Council chooses Nevada county manager as new Des Moines City Manager – "None of the other candidates did that," Kaplan said, and that Nichols sat down and talked with residents at an open house, who "spoke highly of his ability to communicate."
City manager, Blasters spar over team's future, stadium issues – Joplin's city manager and the president and chief executive officer of the Joplin Blasters exchanged email barbs recently over whether the professional team will stay in Joplin for a third season under a renegotiated five-year contract to lease Joe Becker Stadium.
Upland's Butler will serve no longer — but why was city manager fired? Girls, they say, don't like nice guys. Neither does the Upland City Council, which broke off its two-year relationship with its friendly, well-liked city manager, citing irreconcilable differences.
Hard Ball
This afternoon, we play hard ball with Brian Elms, Denver Peak Academy. That's right, we'll be recording an episode of GovLove with Brian. We'll ask about the new book, the impact of the legalization of marijuana in Denver, and whether he knows any good budgeting jokes. It's gonna be good.
Monday, August 1
Breaking News
One of our panelists Michelle Holder, City of Aspen is a television star.

Happy Belated Birthday, Colorado!
Save us some cake because we're coming to celebrate 140 years of Colorado and to pick up our Super Bowl ring.
#CPBB16 Twitter List
Whether you are in Denver or not, you can follow the action via this Twitter list.  
Play Ball
Three-Peat, Three-Peat…
We're headed back to the Center for Priority Based Budgeting Conference in Denver, Colorado for the third straight year. Last year, ELGL left good luck in Denver which played a major role in the Broncos Super Bowl victory. The downside is Peyton Manning left town so that's one less person to attend our conference session.
Live from Curtis Street
AirBnb won our business again. We're staying at Tyler Smith's place this year. You probably know Tyler. He lives in Denver. His first name is Tyler; last name is Smith. Here are the deets on Tyler's pad.
This is a brand new, beautiful, spacious, and comfortable loft in the heart of downtown Denver. This is the perfect home away from home whether you're traveling on business or pleasure. The loft sleeps 8 adults with a queen plus pillowtop bed in each of the three bedrooms. You will have access to a queen size air mattress. Linens are provided for all beds.
The apartment has new furnishings and is kept immaculate. It has all the amenities that you will need for a comfortable stay including a fully stocked kitchen; brilliant granite counter tops, hair dryer, soap & conditioner, towels, a washer & dryer, cable, and high speed internet.
We expect this year to exceed last year's AirBnb experience. Let me refresh your memory – Ben McCready and I returned to our AirBnb pad one day to find a note on the door admonishing the real renter of the place from sub-renting the place on AirBnb (again). On the bright side, the complex owner noted that the renter had perfect feedback from AirBnb guest.
The Ghost of CPBB Past
Rocky Mountain Ramblings: CPBB, Bob Clark, and Jorgen
ELGL Presentation
Local Government is Fundamental – This is a new session for us. Check out the details.
Panelists:
Angelica Wedell, NRC
Carly Lorentz, City of Wheatridge, CO
Chris Maddox, Seneca Systems
Justin Cutler, City of Westminster, CO
Shannon Haynes, City of Breckinridge, CO
Angelica Wedell, National Research Center
Michelle Holder, City of Aspen, CO
Stacy Schweizhart, City of Kettering, OH
Moderators:
Kent Wyatt, ELGL Co-Founder
Kirsten Wyatt, ELGL Executive Director