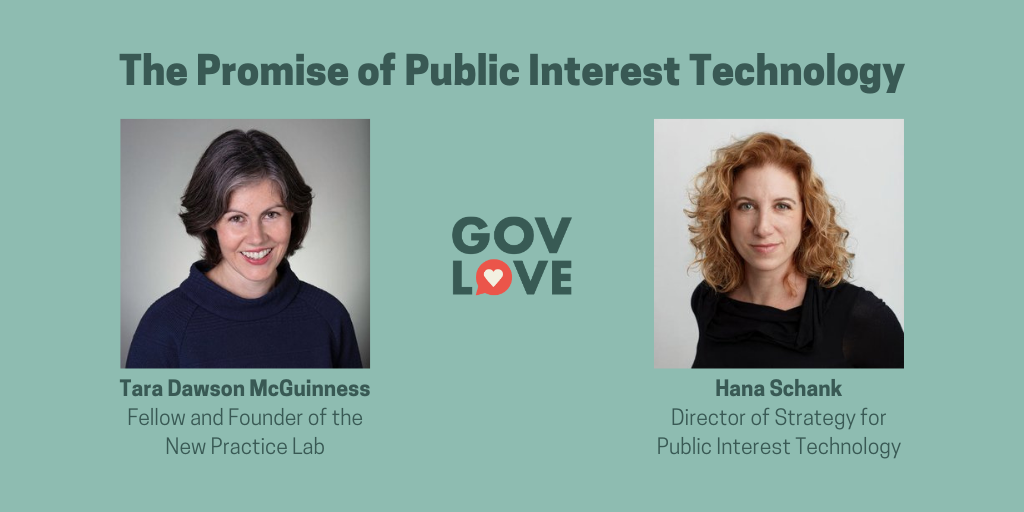 ---
Tara Dawson McGuinness
Fellow and Founder of the New Practice Lab
New America
Bio | Twitter | LinkedIn
Hana Schank
Director of Strategy for Public Interest Technology
New America
Bio | Twitter | LinkedIn
---
Power to the public. Two guests join the podcast to talk about their new book, Power to the Public: The Promise of Public Interest Technology. Tara Dawson McGuinness, Fellow at New America and Founder of the New Practice Lab, and Hana Schank, Director of Strategy for Public Interest Technology at New America, explain the process of writing their book and explain public interest technology. They shared the importance of data, design, and delivery to public services and in implementing policies in government. They also discuss what must happen for successful change to occur as well as the role of technology.
Host: Ben Kittelson
---
---
Keep Reading
Power to the Public: The Promise of Public Interest Technology
Power to the Public – A Discussion about the Promise of Public Interest Technology
Podcast: What Government Innovation Really Looks Like with Hana Schank
Getting tech right in Iowa and elsewhere requires insight into data, human behavior
The New Practice of Public Problem Solving
Georgians scramble for vaccine slots on day 1 of expanded eligibility
---
Episode Transcription
Ben Kittelson  00:14
Hey y'all coming to your from Jacksonville, Florida. This is Gov Love, a podcast about local government brought to you by Engaging Local Government Leaders. I'm Ben Kittleson, consultant at Raftelis, and Gov Love co-host. We've got a great episode for you today we're gonna be talking public interest technology. But first, the best way to support Gov Love is to become an ELGL member. ELGL is a professional association engaging the brightest minds in local government. And ELGL Pop Ups are coming. Pop Ups are our approach to regional conferencing, and are going to be hosted virtually on May 21, 2021. Tickets are on sale now. So you can go to ELGLPopUps.com to save your spot and check out the agenda. Now let me introduce today's guests. First Tara Dawson McGuinness is the founder of the new practice lab at New America. A research and Design Lab focused on family economic security. She teaches public policy at Georgetown University's McCourt School of Public Policy, and then returning Gov Love guest, Hana Schank is the strategy strategy director for public interest technology at New America, where she works to develop the public interest technology field by research, storytelling, and hands on project work. She founded and edits The Commons, a publication for people working in and around government innovation efforts. And they're here to discuss their new book, which I'm very excited about. And I believe when we release this episode, will be available for folks to purchase. Welcome to Gov Love both of you, thank you so much for joining us. So we have a tradition on Gov Love to start with a lightning round to get to know our guests a little better. So, Tara, why don't we start with you as the as our first victim? What's the first album you bought?
Tara Dawson McGuinness  01:51
The first album I bought was she's, She's So Unusual by Cyndi Lauper which I will confess to still listen to with a greater frequency than you might expect for a person of my age.
Ben Kittelson  02:03
That's awesome. Hana, what about you?
Hana Schank  02:08
I had a really hard time remembering this because I am old enough that like we used to buy the individual like single records and I have very vivid memory of wanting to get Gloria by Laura Branigan, which was like the the hit thing at the time and I went into the record store in the mall. And I just asked for Gloria and they gave me I think Gloria by The Doors, which I feel like was just this they were like oh, let's totally destroy this 14 year old child. And then I got home and I was like, what is this? But I think album I would have to also go with Tara on, probably, it was probably She's So Unusual.
Ben Kittelson  02:56
Awesome. Very cool. I, mine was definitely like a boy band. I can remember like 98 degrees or Backstreet Boys like cassette tape in my youth. That was definitely one of the first. Not nearly as cool. But so my next lightning round question , Hana, we'll make you go first on this one. What book about government, policy, do you give as a gift most often?
Hana Schank  03:16
I'm not sure I've ever given a government policy book as a gift. But the one that I I recommend Reinventing Government a lot. We reread it actually in, as we were about to start writing this book. And it's still really relevant and really interesting. So yeah, Reinventing Government. 
Ben Kittelson  03:39
Cool. Tara, what about you? 
Tara Dawson McGuinness  03:42
I am a somewhat notorious book purchaser and sender among my friends and colleagues and so I may very well actively in the last quarter have sent out a lot of copies of Heather McGhee's The Sum of Us. I think it's really, really mission critical for everyone working in local or federal government to just understand the history of centering race and policy and she does a brilliant job.
Ben Kittelson  04:05
That's one I have on my list that I've heard her in like a bunch of interviews and it sounds like a fascinating book. So good to hear. That's a good gift too. Alright, then my last lightning round question for y'all. Where do you go for inspiration? Tara, why don't we start with you?
Tara Dawson McGuinness  04:22
I really love Krista Tippett, not as a physical place but as a kind of semi-spiritual place she, her interviews in On Being get me out of my proximate, technocratic problem solving into some bigger philosophical space.
Ben Kittelson  04:42
Hana, what about you?
Hana Schank  04:44
I live a couple blocks from, I'm in New York, and I look up blocks from Prospect Park. And I especially as things are started warming up and coming back to life I took, Oh, I always, I'm always in Prospect Park and I have started doing headphoneless walks, which are amazing.
Ben Kittelson  05:07
Headphoneless, that's, that's very impressive. I have to have a podcast on or something if I'm walking the dog or whatever. Awesome. So. So we have you on to talk about your new book Power to the Public: The Promise of Public Interest Technology, which I read, and I'm very excited about. So, but I'm curious for folks that maybe, you know, don't know, like me that don't know the process of, you know, writing a book or kind of what led y'all to this. Can you tell us a little bit about kind of what what led to it and what what the process of kind of writing this book is?
Tara Dawson McGuinness  05:40
I'm happy to jump in. I think Hana and I are both in the work. And we, in our experience in government, it felt like there's a way people are working, that's having a profound impact, but it's really not as visible and accessible to everyone. So that's a key part of it, I really teach a course on this topic. So I was curating a bunch of interesting materials for my students. And at the time, there was no book that was like a single place where you could kind of say, this is what it looks like. So in part, really wrote this book for my students at Georgetown, rather than scrambling a bunch of essays and cases, to have something to really show what the practice looks like.
Ben Kittelson  06:24
That's, that's smart. Now you have something you can assign. Like, Hana, I feel like I saw or as I was going through it, I sound like that's, I remember that for one of her articles, or I remember that, from her innovation in government report. Is that fair? That's kind of like this is a summation of maybe some of the things you've been reporting on for a while.
Hana Schank  06:41
I think that yes, I mean, I think the in, in starting the public interest technology program at New America, one of our so our charge is to grow the field of public interest technology, and you kind of can't have a field without books. So I definitely you know a lot, I think we kind of had to work up to it, to having a book. So yes, I think a lot of the articles and things that have been said before in reports, and you know, all of that work, definitely factored into the book.
Ben Kittelson  07:21
And I kind of know the answer to this already, but I'll hear you guys kind of frame it. So who should read this? Who did you guys kind of write this for?
Tara Dawson McGuinness  07:30
Well, obviously, we wrote it for really the type of folks who listen to Gov Love. This is a book for people who are or will be in a position to solve public problems that's in local governments and county governments and the federal government, if you are a brand new head of an agency, or you've been there for 20 years, or you're a program manager at a nonprofit, this book is for you.
Ben Kittelson  07:54
Awesome. So that means go pre order or order it right now. So let's kind of get into some of the topics ya'll cover. So maybe let the start because I think for a lot of folks, maybe the term public interest technology might might be new. So can y'all define and maybe Hana, you can you can kick us off? What is public interest technology?
Hana Schank  08:15
Sure. So public interest technology is an approach to solving public problems in the digital age, it is confusing, because and I should also say, public interest technology is an approach, it's a methodology. It is also an emerging field. So we use it in both ways in the book, both as a methodology and as a as a field. And it is a little confusing, because technology is in the title. And one of the things that we spent a lot of time in the book talking about is how it's not about technology. But it really is about that we're in this, this moment where technology is a tool, and it is a tool that many, many people expect to interact with government, to use in their daily life. And so it's really about solving public problems today, given the tools that we have now.
Ben Kittelson  09:16
Yeah, I really like that. And it's a, it's kind of, I see what you guys are trying to do, you're kind of trying to summarize this like civic tech field and this innovation field into like something that's actually a little more practical, and like understandable and can be turned around and implemented without needing that you know, innovation title or like to know how to code. So, one of the things I really like about the book is he has kind of frame these, this field and kind of the process around kind of three tools, the design data, and delivery. So how does, can you talk a little bit about that kind of what how do those tools sort of inform and support one another?
Tara Dawson McGuinness  09:52
I can jump in. We make the case in the book that it is not make your own salad situation. You can't do data or design or delivery. is the combination of the three that is where the magic is. That, you know, when we say design, we really mean in a broad sense, like speaking to the, the individuals, the people who assist in more program serving. That's both the folks who are applying for, you know, rental assistance who are using rental assistance, it's landlords, it's also the frontline adjudicators who work in an office and say, this person should receive some rental assistance. It's it's really digging in with the people who are serving and are being served is that when we say design. It can be Human Centered Design but this is kind of an old science or, for the organizers out there the idea of understanding what people need before you help them it's kind of core we there's a long tradition on the design side. The second is data. And there's a ton of data out there and at the city level we're decades into how data can be used to help solve public problems. We really make a push in the book for real time, good enough instrumentation data, how can you see a population and tell in real time how you're serving them through a public program. And then delivery, you know, it's the cute three Ds, but when we say delivery, we mean really a culture of learning, testing small, seeing if something works, if it doesn't, ending it, perhaps the hardest part in government and improving and iterating. And those three parts taken together are what we really kind of spell out as the public interest technology practice.
Ben Kittelson  11:31
Hana, anything you want to add to that, or Tara kind of nailed it?
Hana Schank  11:35
Yeah, I think that I mean, that was a good description. I will also say that there are many, many other pieces. It's not like we, in writing a book, we didn't want to spend the next 10 years writing the book we're like, how can, what's something that we can get out that will be easy for people to grasp. And so we really narrowed it down to here are the three critical pieces, which is not to say that there are many, many, many other parts. And we talked, we allude to some of them in the book. But the focus is really on on the data, design, and delivery.
Ben Kittelson  12:12
So let's start with maybe the the data piece, because I know that's one that we hear, I heard about it when I worked in government and still hear about and recommend as a consultant and, you know, lots of local governments are, are asked to use data or make data driven decisions. So for y'all, how does talking with users kind of inform this data? And maybe, or maybe what do you guys mean by data? And then I noticed like in the book, you also talk about like, you can't just use data in a kind of in a in a silo? So what can you talk a little about that and kind of how talking with users informs sort of data more generally.
Tara Dawson McGuinness  12:48
Yeah, I'm happy to jump in. I think there's a really great example that's a lot, truly alive. And part of what we attempt to do in the book is just like lift up what it looks like when it's really working and we tell the story about Rockford, Illinois. City in the Midwest, which is one of the built for zero cities, cities focused on taking some type of homelessness, not improving it, not addressing it but ending homelessness, something that over 75 cities are doing in partnership with a nonprofit called Community Solutions that just amazingly, recently won the MacArthur 100 million change award for this work. And I raise up Rockford and Community Solutions because data is one of the core aspects of how they tackle ending homelessness. We have a ton of data, the federal government is a big producer of data. In homelessness in cities, cities, you may work in, there's a point in time count where people go out and one day every year count all of the unhoused people. That's really unhelpful data. There's a lot of effort into getting that data it's really unhelpful for if you're, if you're really trying to solve and end homelessness and what cities like Rockford did was create a real time By Name List Who are the people in Rockford who are unhoused? And and also creating the ability to marry up inflow and outflow data. So, boy, many cities have seasonal increases in homelessness, being able to see that actually and a 5% uptick is typical every September allows you to know where you are and actually move towards getting to zero. So data that really allows you to know not not kind of generalized statistics, but having a list that you can work down until everyone has a home. And making this data requires collaboration across hospital systems, shelters, nonprofits, because everyone encounters people in a different capacity. And so it's only through collaboration across organization, that a city like Rockford could really get their arms around who are the people we need to serve if we're trying to end, which they did, veterans homelessness and chronic homelessness, which they did in 2017.
Ben Kittelson  15:05
Um, yeah, no, I love that example. And that was one of those where I like I need to dig, I want to learn more about that, that City and kind of and their work. And I think it gets to the point that I think you made earlier where it's like, the data is, is up to date enough that you can use it to actually make decisions. It's not just like a point on a on a chart or something. And then you have like more of a story. So you can kind of understand, it's not just, you know, again, like a number on a spreadsheet, it's this person is homeless because of this reason. And if you solve this thing, maybe maybe that can, that could that can help them. So I, Hana, anything you would kind of add to that, or?
Hana Schank  15:42
Yeah, one of the things that I love about this story is that, you know, we say in the design world, often that data will tell you the what, but not the why. And this story just really brings that to life, which is, you know, once you have, when you have a list of actual people and names it really, it's such a difference than just looking at a number or just, you know, I really, it makes the problem real and personal. And I don't want to, I don't want to give away the kind of what what we learned in the book about what they what they learned in Rockford about ending homelessness, but this, the solution, the intervention was a small intervention. And I think a lot of the time when you do work in that way, it's always there are a lot of it turns out that there are a lot of small interventions often and not one big intervention. 
Tara Dawson McGuinness  16:40
There's also the effort back to like level of effort, the level of effort and collaboration that went into even being able to have this baseline data that Rockford has, and dozens of cities does is is formidable and complicated, and not without real data data we describe as being kind of powerful for good or evil in the book. And I think, you know, in a couple of the stories we explored, having a city or county rely on a single data source, like 311 data really gives you the story of a problem only according to the people who 311 call 311, which it turns out is not everyone. And so I think with data is both the opportunity to amplify the voices of people who are more vulnerable, or to miss really critical things. Because even in how we capture data, there are implicit biases, and we spend a fair amount of time unpacking you know what it takes to do data, right. Part of that is building diverse teams, in our opinion, because you see things in the data, you wouldn't see if you didn't have members of the community immersed in how data is used and and the work of Rockford I mean, a binding list unto itself. Doing this in a way that protects people allows allows the governments to serve them, but doing data in a safe way that has that proper protections. And security is also really important.
Ben Kittelson  18:09
Yeah, that's that equity piece. I think you mentioned that book. And I love the, I think it was an example from was it Brooklyn where the guy who's like, I know, there's rat problems in my neighborhood, but like it wasn't showing up in the 311 data. So it's asking that next question of like, who's not being represented in this dataset? Or who are we missing here? Awesome. So one of the things that I found interesting, and it's, again, something that we heard a lot, or I hear a lot and kind of the local government field is kind of the use of pilot tests and kind of pilot projects. So how do you guys think the government should use that? And what is kind of the role of pilot testing something as part of public interest technology?
Hana Schank  18:51
So one thing that we heard from policymakers is that well, and we quote, Cecilia Munoz was the who is our boss, I will, I will add, but also it was formerly the, ran the Domestic Policy Council under Obama, and she talks about how a lot of the time policy decisions or policy work is just educated guessing. So one of the things that so of course in, in the private sector, pilots and pilot test pilot tests are used to make sure that the thing that you build is going to do the thing that you want it to do, in part, I think, because that's a natural offshoot of how systems design works. You know, a wonderful thing about working with people is that you never know what you're going to get. You can design a system that you think is going to produce result A and then it produces Q or it produces a letter from a totally different alphabet. So it's a critical piece of design, when you design a thing you have to test it. What we have seen is that I on the local government, front, and Tara, you can correct me if this is wrong, because we haven't talked about it. But I think we've seen generally at the local level, it's easier to run a pilot test than at the federal level. That's a big that's a that's a challenge. And that is something that we actually are we want to start working on is how to bring pilot, how do you get a pilot test running in Congress, for example? That's, that's a challenge. But the what you learn from a pilot test is so mind blowing. And, you know, you it's, you can always say, well, in theory, this should be the right thing. Well, it turns out actually, that, you know, anyone who has run a pilot test is used to seeing like, oh, that went completely sideways. So there, that's really, really important, especially when you're delivering critical critical services, where it's not like if you test it, and someone doesn't get what they needed. You know, they, they're fine. It's, we're talking about, you know, they, then they can't pay the rent, or they're facing addiction, or they are going hungry. So these are really critical areas to be piloting things.
Ben Kittelson  21:32
Tara, did you want to add anything that?
Tara Dawson McGuinness  21:35
I think Hana nailed it.
Ben Kittelson  21:36
Yeah. Yeah. And I think the thing I wanted to ask about pilot tests is it seems like it's a, maybe microcosm is the wrong word. But a good example of kind of the type of delivery that y'all are talking about in the book and that you want to test it, you want it to inform and then you want to kind of make corrections based on what you see. It's not just, you know, set it and like, and hope for the best, which I feel like often is, like you said, the way we do programs.
Hana Schank  22:02
Yeah, that's a good point. I mean, we have, but I certainly in my time in federal government, saw pilot tests that were people would say, we're running a pilot test. And they had actually just they had a thing that had been running for a year. And they had not really been tweaking it. And they hadn't really been looking at what was coming out and trying this and trying that. So the whole, the whole point of a pilot test is not pilot this so you don't get yelled at it's pilot it so you can learn and iterate.
Ben Kittelson  22:36
Yeah, I think that's best case, I know, we've my former job, I know, we implemented some quote, unquote, pilot tests, they're really just like a small scale, like compromise of implementing some new policy, right? It wasn't, you know, there it was to see if it failed miserably, maybe, but like you weren't, like truly doing kind of a back and forth on like, the best way to do or solve the problem or deliver a program. Awesome. So one, one of the things that I really enjoyed that y'all y'all made this point several times in the book is that how much time it takes to kind of do this, this work. And many examples you have or kind of, this didn't happen in six months or years, like many, many years long. So can y'all talk about a little bit a little bit about that, and maybe what the balance is between, you know, testing out new approaches, and implementing pilots versus like, actually taking the time to, like, figure out the best way to do do things and figure out the culture and systems within an organization.
Tara Dawson McGuinness  23:31
Yeah, we, there's a real tension right between people are waiting and need help. And you want to act especially, you know, in many governments, you have some folks who serve serve for short term and some folks who it's their life's work to be a career official in a city or agency. And so managing the tension between getting things done because because, boy, the public needs help, and moving at a speed that allows you to be mindful and, and effective in the work. It is an active tension. And I think we've seen, you know, really profound change the type we describe about ending homelessness, or transforming the ability to get emergency assistance, does take time, if this isn't done, move fast and make transformational change is not how it works. On the other hand, I think you need to be able to demonstrate in short periods of time, progress, to keep teams engaged, to have momentum to allow the resources to continue to flow while you make the long change and we talk a fair amount about work. We try to be explicit for, you know, for young up and comers and for policymakers, to be honest about the timelines for the things that we're doing, big things. I think in in my career, I've been on both sides of this embedded in an agency and been a political appointee and I think the humility I have exiting some of my former roles, having learned from career officials who dusted off documents of a similar deck about agency integration from 25 years before, and then from 10 years before that I wasn't first person who thought this thought, you know, I think really the collaboration of career officials, as well as political appointees on this kind of tension on timing is really important. And, you know, there's no special sauce for what is right. But in my experience, especially on fixing broken things in government, I spent a fair amount of time on crisis management, at any given time, you know, someone knew something wasn't going to work and creating a culture inside agencies that allows people to be truth telling and candid about when things aren't working and surface troubles to managers, without problematizing things is a real important part of getting big change happening.
Ben Kittelson  26:03
I think one of the things that I've found interesting, in my like, role as a consultant now is that like, often we go into places, and the ideas have already existed, or someone is saying them, but like, this is an opportunity to like, highlight something or like, make something happen. And like, it seems like sometimes, you know, the role of a public interest technologist is like, similar in that, like, Hey, I have the momentum to make this idea happen, or make this, you know, work that you guys are already doing, like elevate it. And it's kind of getting into the getting integrated enough to understand what those are, what those ideas are, and, you know, understand kind of the needs of the organization, but at the same time, taking advantage of the, you know, the momentum that you're kind of positioned, or that, you know, the policy, you know, environment of the day creates. I don't know what you guys think of that, but. Hana, anything you would add on kind of the the time it takes and kind of that tension between, you know, getting things done and showing your work versus actually kind of being more integrated in the organization?
Hana Schank  27:04
Yeah, I think that, the only thing I would add is that the culture change piece is real, and probably the hardest of absolutely everything. And that one thing, so actually, in the report that I was on, years ago, talking about, which has now kind of sort of evolved into this book, one of the things that we found was that without permission from the top, it doesn't happen. And that is still true. We still in writing this book, we continue to see that. That it really and I think that nationally, we are starting, we're seeing that a bit as the pandemic unfolds, and vaccination, the vaccine rollout happens. And that it's, it's really, you need someone in charge who is giving permission to do things differently. And to fail, and that. And that, that process of trying a thing and failing and doing it a different way. takes time. But that in the end is it is truly a time saver, because you are putting things into place that are truly going to affect change.
Ben Kittelson  28:26
Yeah. Do you guys have any like perspective on kind of what what that leadership looks best? Or how, how it best looks? Because Because I know, there are places where like, you know, they're saying the right things. And the leader is like saying that they support it, but at the same time, it's not necessarily like they're gung-ho and they're gonna, like move every obstacle or boulder in the way of like making this kind of stuff happen. So what does that I guess that good leadership from the top look like?
Tara Dawson McGuinness  28:51
You know, maybe I'll tell a story about my, I'll tell a story that was told to me by one of my former bosses about one of his former bosses. Shaun Donovan, who was the Director of the Office of Management and Budget, now a candidate for the mayor of New York City, and he worked as the housing director under Mayor Bloomberg. And he recalled the story of having made a policy decision that ended up on the front page of the New York Post in an unhelpful, or in a in a light that most people would say, as a agency head, "uh-oh." And he got a call from Mayor Bloomberg who said, I know that was tough. I know you're taking heat. Do it again. Like just like we don't not basically like, we don't make change without, you know, taking heat and energy. And I have your back to do that. And in the book, we quote Jim Anderson, who now helps, is running Bloomberg Philanthropies is running work with cities, and I think Hana and I heard him say this and we were both like, yes, that's the thing. He says. If you want to get big things done in the public sector, you need serious sustained executive leadership. The mandate for change comes from the top, the push to keep working through bureaucratic resistance and turf wars comes from the top. But tiresome unsexy slog implementation, evaluation and iteration requires encouragement and sunlight from the top. And I think we heard them were like that. Yeah. And when you don't have it, you can't make up for it. You know, you can have a ton of it, you can't do it just from the top. We talk a lot about that, too. We have you need it in both directions. But it's really meaningful. And I think we heard resonance with that from folks we talked to in all different types of government positions.
Ben Kittelson  30:40
No, that's, I like that you had added that there at the end that, although from the top is very important, you also need kind of that the front the buy in from the frontline folks to to make things happen as well. And I've definitely been in organizations where you have one of those and not the other and vice versa. So what does that buy in from like the bottom look like? Or how do you build that from the bottom up? Do you have any perspective on that?
Hana Schank  31:01
Yeah, well, we actually, one of the stories we tell in the book is about a project that was in Vermont that Nava was the consultant on the project, and it was to improve how people apply for benefits in the, in the state of Vermont, and the team had built a document uploader, basically. So that you don't have that was the start was so that you didn't have to mail your documents in when you were applying for benefits. And the team worked really hard to get by and they sat in the they they found an office that actually in the in the book, we talked about how they had started their work in Barre, Vermont, and I Vermont is a state that I know and so I asked the team. Oh, is that because berry is like maybe has more people who are applying for benefits because it's sort of like an old, they have a a I just think I'm thinking granite. And I can't think of a…. quarry!
Ben Kittelson  32:08
Like a granite quarry. Yeah, yeah.
Hana Schank  32:10
Yes, they have a quarry. And so therefore, the town's fortunes have like risen and fallen. And I said, Oh, is that because it's Barre? And they said no, it's because they had Jimmy, who was a civil servant in the Barre office, who was excited about the project, and sat down and worked with them. And they spent countless hours sitting there and going through how in order to figure out metrics actually around who is, how many people, how long the process took from applying to being approved. So we love that story. Because I think, I think find find the Jimmy. And then he was able to really bring the rest of the office along with them. And they were excited about the project.
Ben Kittelson  33:10
Yeah, that that resonated so much with because we definitely had that experience when I was in the city of Durham, where like this department or this person, like, they will say, yes, they'll be, they're. they're open to new ideas, and like, so you're the, they're the ones you're always going to for, with some new ideas, some harebrained scheme that you're trying to try. So you guys touched on this a second ago, but the culture change and that the the impact of, you know, changing culture in an organization. I noticed that there were a couple comments kind of throughout the book that, you know, they wish some folks in kind of public interest technology, wish they had spent more time on that one. So what what is kind of that cultural, you know, in the cultural status of an organization, how does that impact the work of you know, public interest technology, or kind of impact this work generally?
Tara Dawson McGuinness  33:56
I think we, we are glad you noticed it, then because we did it by design, I think as a field grows up, I think in the earliest stages of a field, you can have a role or a person or project that's like, especially in public interest technology, that's the new app or this kind of no more digital data person. And for the person inside the you know, housing department or the police department, who's been there like banging their head against the wall for ages to make change, to not be seen and be part of this team. I think we really believe that this is everyone's work. It isn't like a special new CEOs role and those roles are helpful and but they're kind of 1.0 and 2.0 is to have a an organizational cultures where anyone can bring good ideas and anyone can flag you know, risk or you know, chances that things will go sideways. And so I think we didn't find any examples of just really, teams that were crushing it that didn't have a culture that was inclusive. And that allowed space. And just back to you're like, oh, in Durham, you go to the office for someone's really going to get something done. You know, you can only run for a period that was the Baltimore Public Health Department when I was in the federal government. You know, the level of innovation out of this one city department, at the time run by Dr. Leana Wen. It's tremendous, but at some point, you know, you need innovation throughout the whole city, really. So, they were doing violence prevention, but we're like, I think we're gonna need everybody on board with this one. And so, culture change. And it is a mistake of reform, government reformers of whom I think Hana I would be, you know, in that set, to not create space for people who don't have technologist in their title or who haven't, aren't working in some of these new ways. And so it really matters. And we heard from all different in our interviews, from all different types of people, looking back at how much this is the thing that truly matters, and and that they wish they figured that out sooner?
Ben Kittelson  36:20
Yeah, yeah. And that's one of another one of those things that takes like a lot of many years to like, start to shift and bend the curve on right. Like, that's not happening, you know, six months or a year? Hana, anything you kind of add on the culture piece? Or?
Hana Schank  36:38
One thing that I'll say is that, you know, we're, we're stressing that all these things take a long time, but I think some of it, people shouldn't be put off by that. I think that some of the, there is some hope that as you know, as new generations come in, to government, and as the workforce changes a little bit that there is also, at least from the tech fluency perspective, people come in just naturally being a little bit more tech fluent, and also coming in, possibly for other reasons. Not just because like, this is a something that I can do and not, you know, have to go too far, but also being invested in the community and which is not to say that that's how people are today, but just the culture, I think, of Oh, we're in government, and it's exciting would be a change, so.
Ben Kittelson  36:52
Yeah, yeah.
Tara Dawson McGuinness  37:41
And sometimes that happens pretty fast. We talked about Charlotte, North Carolina, where there was like one or two people in the in the new data team, and they found it's a big city, like, they just created an opportunity for anyone to raise their hand and train other people, they built what's called the OP x Academy training data. And within a year, people raise their hands on we're training their own peers, like hundreds of courses were offered. So I don't want to say overnight, but a pretty short string for people from many, many different city agencies, to themselves become part of kind of cultural shift. That wasn't just new people, there were folks who have been in the city for years who who are great hackers with some kind of tricks for Excel. And so yeah, there are opportunities for short term wins or even lifting up what's, what hasn't been visible, creating space as a leader to hear the voices of other employees can make a really big difference in a short time.
Ben Kittelson  38:44
Yeah, because there might be some of that stuff just underneath the surface. If you you know, if you spend the time to like, kind of elevate it and tell the stories like that'll that'll have impact
Tara Dawson McGuinness  38:53
Hiding in plain sight.
Ben Kittelson  38:56
Yeah, exactly. Exactly. So, Hana knows that I think I probably ranted to her when she was on the podcast last time. But one of one of the things you guys touch on is kind of the role of technology. So what is the role of technology in kind of all this?
Hana Schank  39:11
So as I alluded to before, technology is one tool in a very large toolkit. And I just over the weekend, got my second second COVID shot and was recovering, because it kind of really knocked, or vaccine, and kind of totally knocked me for a loop. And while I was doing that, I read Marianne Bellotti's book, Kill it with fire, which is about modernizing very old systems. And it's so interesting, too, because she, first of all, it's a great book for I think anyone, even if you're not a tech person, but she talks time and again, about how people need to be really cautious. Do you really need technology, you know, think about it as a tool, and it's fascinating to me that the technologists are always the ones who are like, wait, maybe you don't need tech. So it as opposed to I think people who maybe aren't as tech fluent, or don't really have an understanding of of technology are like, well, let's just get the blockchain thing and then everything will be fine. So we and we see examples of that time and time again. I mean, New York State just signed on for some blockchain powered vaccine passport, and I was like really, really, who do I mail the book to? So it's, it is, technology is not going to fix it ever, period.
Ben Kittelson  40:47
Yeah, it doesn't solve like a broken process or, or, you know, some something that needs to be improved that isn't technology, right? Like, yeah,
Hana Schank  40:55
And even worse, it can speed up a broken process or a discriminatory process. So you before you apply technology to any solution, it needs to be really thoughtful about what is this? First of all, do we have the system in place that we actually want to be that we want to have? is it doing the things that we want it to do? And, okay, now we're ready to consider is there a piece of this that perhaps technology could handle better.
Ben Kittelson  41:27
Um, so one of the examples from your book that I really liked was that there was like a form that they were trying to digitize, but like, actually, like, it kind of slowed them down to digitize it, because they had to develop the process to like, find the right section or the right information, they needed just flipping through the stacks of paper. So that was another piece of this or like, technology may not may actually slow things down. And if you don't understand kind of how the process currently works, and kind of the tools that folks are currently using without kind of integrating that into your into your new, your new your new way of doing things, right.
Hana Schank  41:59
Yeah, in in the book we talked about, we start with the story of LS, which was a system that I worked on when I was at the Department of Homeland Security. With USGS, and it's a it's the immigration system for the nation. It is how people, if you want to get a green card, if you want to become a citizen, all of the that is handled through the system, and through LS. And one of the big challenges actually was, so first, there are a lot of things that went wrong with that, with that project, and it took years and years. And it's finally on a better track. But basically, what they did was they said, when we digitize this system, what we're going to do is this go form by form and put it online. And they didn't think about all of the things that happen to the form. All of the hands that touch it, all the people who work with it, all the information that so so one of the so these, um, when you're applying to become for a green card, or to become a citizen, obviously you have, you could have a very, very thick stack in your application. And so the adjudicators who were reviewing these forums had become really adept at just thumbing through, they put like the little rubber thingy on your finger and thumb through and finding exactly the right place that they needed to be. And there isn't really a tech version of that. And in fact, by digitizing everything and putting it on, putting it online, they the system prevented people from doing exactly the thing that they did and with a little rubber thingy and making it so much more cumbersome. And I think that that that was a real wake up call for the people who are on that project that like, Oh, actually, if you just take the whole thing and move it online, like lift and shift, that actually doesn't result in faster that actually resulted in significantly slower. So it's really, really important to look under the hood, and pick apart exactly why everything is the way that it is. And if it is meeting the intended goals before applying technology.
Ben Kittelson  44:32
Awesome. Well, one thing that that I'm curious about your guys's perspective on, obviously, you touched a little bit on the COVID 19 pandemic in the book. I mean, that wasn't the focus of the book, obviously. But how do you think kind of the pandemic and has impacted public interest technology? Do you think there's lessons that we can learn from this experience or what's kind of your perspective on that?
Hana Schank  44:56
Well, one thing that will hopefully be The positive for the field, even though it's been very challenging to live through is that everybody now sees the role that government plays and what government actually does and where your tax dollars go. And also how technology and government currently mix. And when we assure our members when we started this program, we were like, how will we ever get anybody to report on anything public interest technology related? How will we ever get a, you know, an op ed somewhere? Little did we know that it was, I mean, we see all the, a lot of the tech failures related to the pandemic as being squarely in this space. And, you know, we have been saying for years, like, things are bad, it's gonna, something bad's gonna happen. And here it is. So on the one hand, I think it would have been better to not live through unemployment databases crashing, people not getting stimulus checks, people have struggling to sign up for vaccinations, all of the all everything that we're seeing would have been better to not live through, but at the same time, at least, think it did shed a light on Oh, this is actually why we need to invest in government and invest in government technology and government processes and government service delivery, like you are seeing the results of neglect of service delivery in all of these areas. And maybe now we can start talking about why why we need to invest in actually serving people well, serving people well. 
Tara Dawson McGuinness  46:52
Yeah, just say like Mike Brackens, from the UK is famous for saying like the policy is delivery. And there's no no better demonstration of that this year than it doesn't, it's really important for Congress to have appropriated $1.9 million for rescue, I'm really proud to have worked on that. But it is only as good as it is shots in people's arms and checks in everybody's pockets, not just folks who have an accessible bank account. So the visibility of the importance of delivery, I think helps us and Hana and I make a strong case that that isn't somebody else's job. That is part of how we need to think about policy design.
Ben Kittelson  47:30
Yeah, well into the culture piece earlier. Just anecdotally, it seems like those local governments, especially that have embraced kind of public interest technology, or some of this more this approach to problem solving and program delivery, they were able to adjust on the fly and to the pandemic in ways that organizations had not had that culture built into their kind of organization, were able to and it just seems like, you know, if you have this new approach to kind of thinking through problems and delivering programs, like you're going to be able to kind of deal with anything that comes your way, including a global pandemic that hopefully we never see again. Awesome. So the last chapter of the book is kind of about growing the public interest technology field. So what do you think it'll take to grow the field and kind of continue to spread this word?
Hana Schank  48:20
You know, I think you can't get to this is how we do this everywhere, where like this is in the water until you make it accessible to everyone. That means it's part of how we get trained in schools and graduate schools, part of what you get rewarded for being part of, but I think a big part of that is not making it something just for some special people. This is the work for all of us. It doesn't matter whether you're in a big key policy role or an agency head role, or you're a new data analyst, kind of really growing the tent of who, who's in the work is a big part of that. 
Tara Dawson McGuinness  48:53
One thing we work on at New America is we have a public interest technology University network, which is really to encourage, well, it's, it's to stoke the pipeline. And we work with universities who have set up their own PIT Labs. And they pull in computer science majors, political science majors, policy people. So the idea is to give policy people an understanding of the approach that we, the approaches that we talked about, and some tech fluency and then to also give tech people an understanding of actually, you don't have to build a burrito delivery app, you could be working on some really interesting problems in government. So and I also think just to go back to the pandemic piece that the pandemic is going to galvanize a lot of people to work with their communities and in government and I think that's, you know, again, painful To live through failures, but it is, I think sparking a whole new generation of problem solvers with a whole different skill set to come into government and work in their communities.
Ben Kittelson  50:16
Not that we don't want burrito delivery, but there's some some better problems to be working on here.
Hana Schank  50:21
We are all for burrito delivery. But I feel like maybe we're at max capacity for the number of people working on burrito delivery, and maybe some of them can work on policy and things like that.
Ben Kittelson  50:34
Definitely. How do you think local governments, what's kind of the point, like if I was a local government leader out there, you know, I'm a city manager somewhere listening to y'all. How do you think, you know, what, what can I do maybe in my organization to help grow the field?
Hana Schank  50:48
Wow, that's a big question. I, so one of the issues, actually, that we see in part because of our university network is, we know that there are really a lack of entry level jobs, there are not people with this skill set, and who have been trained in or who are eager to, like, come in and make a difference and rethink things and do stuff differently, but there's no place for them to go. So I think that an easy, well, I don't know how easy it is great new job classifications in local government. But assuming that it is perhaps easier than the federal government, I think that is one place is just to create a pipeline to bring people in. To do this, bring new people in who want to do this work. And give them the freedom to do it. 
Tara Dawson McGuinness  51:41
A lightweight start might be show up at your data science program in your local college community college university, and telling people, I know, you could, you know, there may be better benefits packages, but I am here every day helping people find a home, bring clean water to your door, and we want you. You know, really show up. And it's amazing, I think the depth of how meaningful the work is for people goes a long way. You know, we need paid internships so that they're available to everyone, but also just them, the work is deeply gratifying. And so really showing up and competing for young talent, I think is really important.
Ben Kittelson  52:28
Yeah, that's well said. And hopefully that inspires some some city managers and county managers out there to, to start doing that stuff. So we have a traditional on Gov Love, as Hana knows, but if you could be a Gov Love DJ, what song would you pick as the exit music for this episode. And with two guests, it's sometimes contentious. So you guys can come to a consensus, you guys can each pick one and you find a way to do both. But what do you guys think?
Hana Schank  52:54
Oh, we didn't even think about, we should have talked about one, agreed on one. We were just like, why pick this and I pick that and then I forgot that you actually play it right? So yeah. 
Tara Dawson McGuinness  53:04
Should we form some consensus live here, Hana? You want to make a pitch, I can make a pitch? 
Hana Schank  53:10
Yeah. All right. Well, I will make it so I actually told my family because I felt like I flubbed this question last time, because I just I don't know where I was. And so in my, the only kid who was available at the moment was my 12 year old who was like, Welcome to the Jungle. And like, I feel like that's not that's not a good choice. So I vetoed that. And I went with a song we've been listened to a lot, which is This Year by The Mountain Goats, which has the line I'm gonna make it through this year, if it kills me. And I feel like that just speaks to lots of people.
Tara Dawson McGuinness  53:49
I was like, I'm always back and forth between whether you know, like, what's the thematic you're, you're in your office, what's the theme for the for your listeners? And so I'm going to, I'm going to go with you know, from, Let it Bleed by Rolling Stones. Just great song, can't always get what you want, but if you try some time, you get what you need. I feel like that's basically is still useful. That was pretty useful to me and in the ups and downs, my experience in government. You got to try some time if you're going to get to get what you need. So that's my pitch. I think I'm an aspirant Gov Love DJ as my future.
Hana Schank  54:30
Gotta give it to Tara, she sang it, so. 
Tara Dawson McGuinness  54:33
I may regret that. I think I already regret that.
Ben Kittelson  54:37
Her pitch was stronger because of the singing.
Tara Dawson McGuinness  54:42
Anyway, it's really I hope that work wherever people are listening, you know, I certainly am a person who needed some jams to get me through those moments of the work. So we'll put it back in your hands, DJ Ben.
Ben Kittelson  55:00
We'll get that we'll get those. I think we'd probably get both queued up. But with that, that ends our episode today. Tara, Hana, thank you so much for coming on to talk to me. I really appreciate you taking the time and talking about the book. So thank you.
Hana Schank  55:12
Thanks again. 
Tara Dawson McGuinness  55:12
Thank you.
Ben Kittelson  55:14
Gov Love listeners can get the new book Power to the Public for 30% off. Tara and Hana, have a discount code exclusively for our Gov Love audience. You can use the code TDMHS for 30% off the book until the end of june at press.princeton.edu/books. That code is TDMHS. We'll we'll also include a link directly to the book where you can order it in our show notes for today's episode. And again, that code is TDMHS. Gov Love is brought to you by Engaging Local Government Leaders, you can reach us online at ELGL.org/GovLove or over on twitter at the handle @GovLovePodcast. The best way to support Gov Love is by joining ELGL. Membership is $50 for individual, $25 per student or you can set up your whole organization. Get ready for ELGL Pop Ups on May 21st. These regional events are a great way to learn more about local government topics in your area. And you can visit ELGL Pop Ups to learn more and register. And lastly, subscribe to us on your favorite podcast app. And if you're a subscriber to tell a friend or colleague about this podcast, help us spread the word that Gov Love is the go to place for local government stories. With that, thank you for listening. This has been Gov Love, a podcast about local government.
---