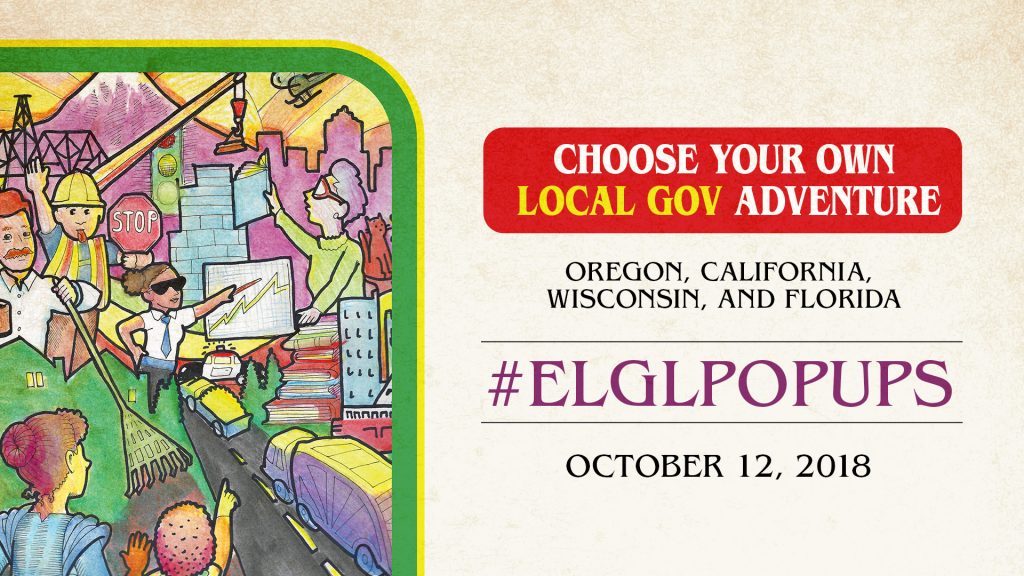 #ELGLPopUp conferences are multiple conferences, held on the same day, in multiple cities.
Join us on October 12, 2018,  in Portland, Los Angeles, Milwaukee, or Miami!
These opportunities allow ELGL members to choose a conference location that is convenient for their travel and budget, while still uniting our members in a conference experience across the country.
Registration for #ELGLPopUps opened on August 1.  The cost for the one day conference is $50 for ELGL members, and $90 for non-members (includes ELGL membership).
The 2018 #ELGLPopUp theme is "Choose Your Own Local Gov Adventure."
Agendas for each location are different, but they are united across the same theme. Sessions will focus on the wide variety of public service challenges and opportunities at the local level. Each location will have a very diverse agenda focusing on everything from policing, to elected service, to libraries and everything in between.
Portland agenda | Los Angeles agenda | Milwaukee agenda | Miami agenda
Conference locally, connect nationally.
The unique format of #ELGLPopUps means that ELGL members are conferencing nationwide on the same day. No matter which location you pick - you'll feel connected to a nationwide network when you participate in an #ELGLPopUp.
"Plan the conference of your dreams."
We charge of our #ELGLPopUps organizers to plan the local government conference they've always wanted to go to, but haven't yet encountered. That means you'll find sessions that are immediately practical and helpful, lunches that are actually edible (no chicken and rice banquets at ELGL events), and plenty of opportunities to build your professional resume through sessions, add-on events like professional headshot photos and resume review, and authentic networking.