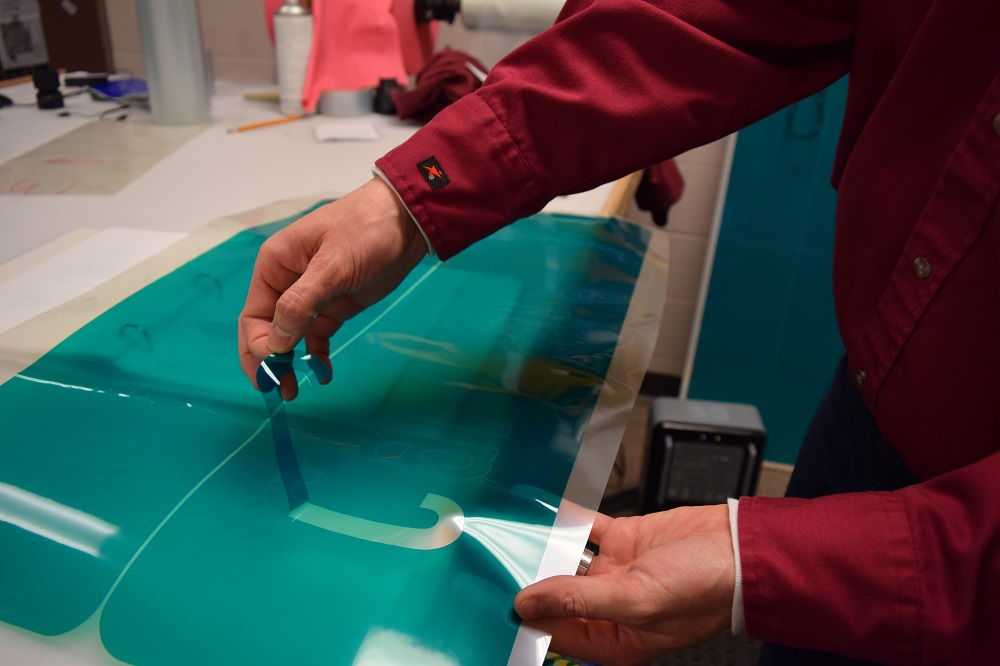 Today's Morning Buzz is brought to you by Jessica VanderKolk, Communications Manager for the City of Battle Creek, Mich. Connect with Jessica on Twitter/X and LinkedIn.
What I'm Baking: This Best Vegan Pumpkin Bread for Halloween at the office. It's a new recipe for me, and baking as I type, so look for my judgment on Twitter/X.
What I'm Listening To: Whatever Keeps You Going by Donovan Woods featuring J.P. Robarts P.S. Music Project on repeat. It's keeping my struggle bus's wheels rolling.
What I'm Reading: Pageboy by Elliot Page
---
One of my favorite activities as a local government communicator is going behind the scenes, and creating something interesting and exciting for our community.
I mean, my favorite childhood video clip is when Mr. Rogers visited the crayon factory. I remember a similar clip from Sesame Street. Learning about how something is created or accomplished has always fascinated me. 
I feel the same awe and respect when I film a crew replacing a fire hydrant or watch Signs and Signals staff create a new street sign, ride along in an airport snow blower, or listen to our City Clerk explain all the laws, rules, and dates around elections without scanning notes or a website.
Many local government staff balk when I inevitably gush over their skill and talent, but learning is exciting! What you do for our community is important and impressive! And I want to show other people! We can laser-focus so hard on our own jobs, that perhaps it doesn't seem as heart-pounding as when we started. 
I'm glad I'm here, in a position to bring to light the great work in every one of our city departments, and other community projects we work on in collaboration. I want to share some of my favorite BTS projects over the years, in hopes of inspiring you to show your communities how it's done.
Total bridge replacement
From July 7 to Sept. 30 this year, a bridge completely closed on one of our major north-south roads. A state project, our Michigan Department of Transportation set up the cameras and supplied us with requested photos and time lapse videos at regular intervals during the closure (part of a major state project on a section of I-94 through Battle Creek).
We didn't create the images, but we did share them on our social media channels, as part of our goal of providing as much information as possible about the major project in our community. They were popular reels with the community on our Facebook page and Instagram feed.
Remember when I talked about the importance of collaboration? This is a great example of doing that to provide meaningful information to your community.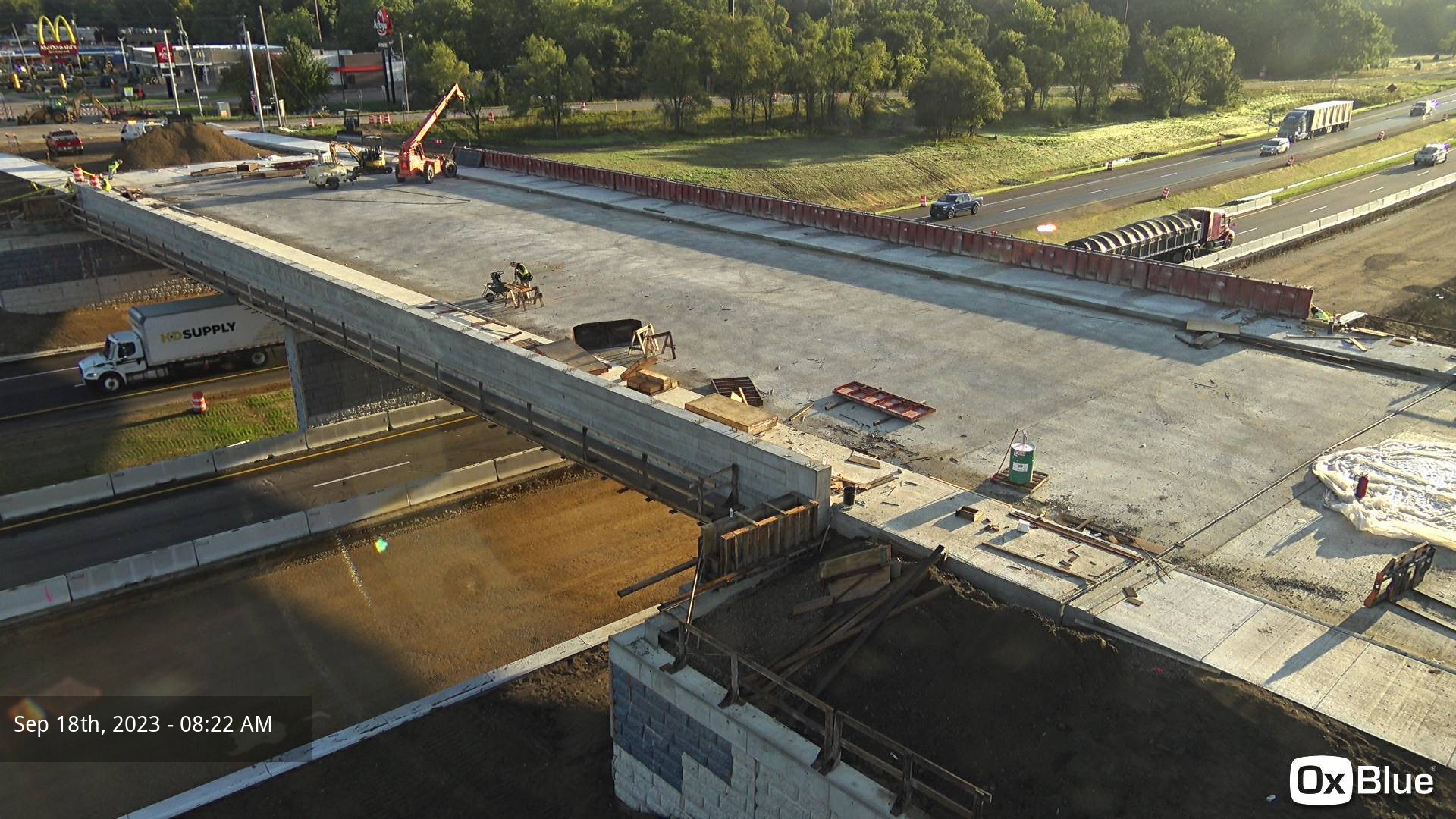 The Heritage Tower ➡ The Milton economic development
Probably the biggest project in the city during my tenure has been the rehabilitation – starting in 2018 – of the vintage-1931 Heritage Tower, now known as The Milton. It was a bank building, weddings were held there, and then it sat vacant for about 10 years. Today, it has 85 apartment units and 32,000 square feet of commercial space.
And I got to tour it during construction, once that was safe to do. I recorded some Instagram stories, and have a YouTube playlist of about nine months of the process. I posted the videos on Facebook, and they were quite popular. It helped our community also feel invested in this immense, $32 million project. I have snapped more than one #CityHallSelfie with and from the building. It is a point of pride in our community, as the tallest building in our skyline, shining bright once again.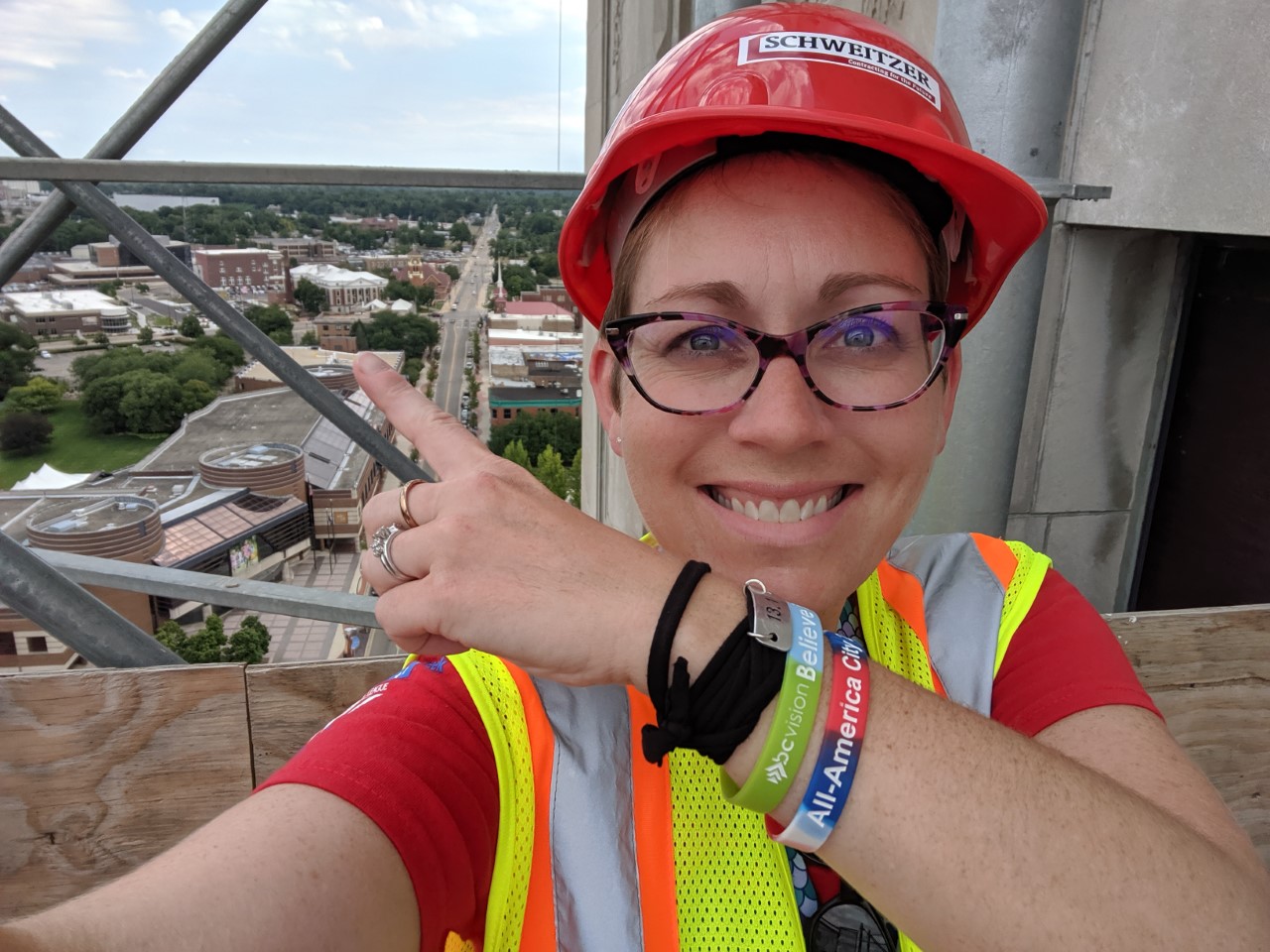 C&C Landfill tour
Our city staffs an incredible environmental services team, and they are also curious and interested in how things work. As such, in 2021 we took a tour of our local landfill, in nearby Marshall, where our solid waste vendor takes our trash, and where neighbors across the county can recycle.
I really enjoyed riding in a truck along the garbage cells … is a sentence you might not expect to read. But this is ELGL, and it is a true statement. We got some positive engagement from Instagram stories during our tour, which is great to see, and our staff had a great experience seeing and learning.
Mock roundabout
In late 2020 we were in the midst of developing a roundabout project. While it did not receive final approval, we worked hard to create educational opportunities. 
Two examples of showing how it would work were, first, a mock roundabout in a local Meijer parking lot. It was measured to be the correct size, and our Public Works team recruited semi-trucks, snowplows, fire vehicles, and buses to practice driving it. We showed the community the way these vehicles could maneuver the traffic circle with Instagram stories. 
The following spring, I was traveling close enough to make a quick detour to a roundabout almost identical to our project. I set up my phone to record from the dash and drove through it a couple of times, producing a video of it when I got home.
Police Week and more
The best BTS projects feature members of Team Battle Creek, displaying the skills and talents they use to serve the community every day. I love spending time with staff on their beats, or interviewing them about what they do, how, and why – a throwback to my newspaper reporter days.
We recently started a COPS program in Battle Creek – Community Oriented Policing Services. It assigns police officers to specific neighborhood areas for longer than the typical six-month police assignment. They are able to build relationships with neighbors, hear and observe issues, and work with the neighborhood to provide solutions. 
We featured those eight officers during National Police Week in May, a series that was received with open arms by our community. 
We feature our Department of Public Works staff during National Public Works Week, also in May. It is fun and rewarding to spend more time with our staff, shadow them at work sites, and ask them questions about their work and our services.
We feature our Fire Department staff when they teach our children during Fire Prevention Week in October, when we renovated and reopened a fire station earlier this year, and when we are recruiting new firefighters. This week, candidates are taking the physical agility test, and we were there with current Fire staff last week to walk through the test for future BTS features. 
Sneak peek!