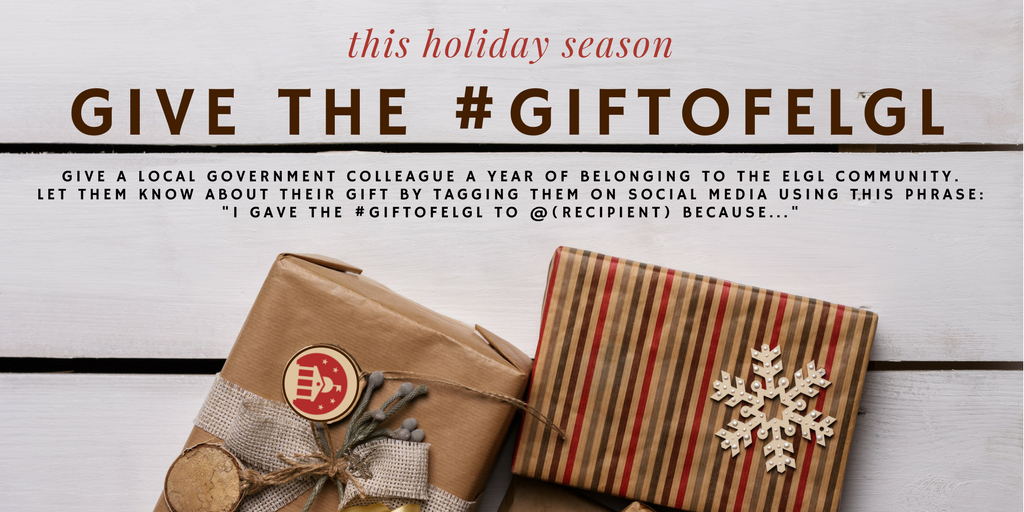 As you make your holiday list, consider giving the #GiftofELGL to your colleagues. ELGL is the fastest-growing, most affordable, high-quality professional development network for public servants. Starting now, you can give the gift of membership – $15/students, $30/students, $300/organization.
The strength of ELGL is the expertise of our diverse membership who cover every area of local government. Our members bring an unmatched energy and desire to collaborate with each other. This is evident in all of our offerings from the exclusive Facebook group to the annual conference and Pop Up events.
Who might be perfect for the #GiftofELGL?!?!
Current city managers/administrators who want to stay current with the latest in local government.
A colleague who works for a rural city, township or village. Leaders from these organizations often express the need for additional professional development & networking opportunities. ELGL membership provides this by offering webinars, Supper Clubs, knowledge sharing, the Vendor Directory, content from practitioners in rural areas, and our annual conference and Pop Up events.
A mentor who helped to shape your career. City managers, department heads, elected officials, and leaders from the civic technology.
Entry and mid-level professionals. Someone who may not be in the top office, but is a critical part of your organization.
A graduate student. Don't limit your list to MPA's or MPP's. Remember local government needs a wide range of skill sets from engineers to criminal justice majors.
ELGL is all about encouraging diversity in #localgov leadership.  We would love new members who bring their unique identity and perspectives to enrich the ELGL family.
Purchasing the #giftofELGL is easy. Use the link below to purchase the membership for a colleague or your organization, let them know about the gift by tagging them on social media with the phrase "I gave the #giftofELGL to @(recipient) because…"
---
Supplemental Reading
Oregonian: ELGL works for gender equality, collaboration
Tigard Times: ELGL spreads across country
Government Technology: Podcast: From Emerging to Engaging, GovTech Highlights ELGL
StateTech: StateTech names ELGL a must-read state and local IT blog.