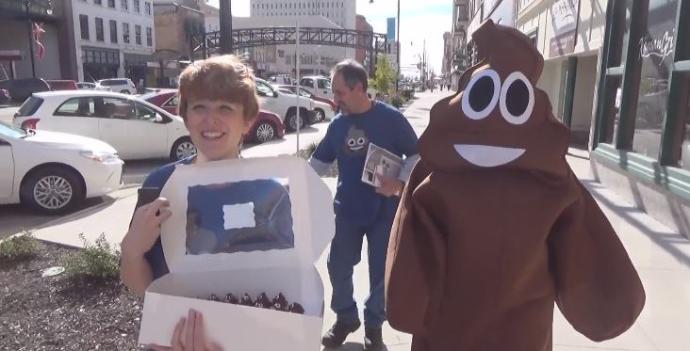 ELGL co-founder Kent Wyatt is making you Laugh, Cry, and Think while dishing out the #BigLocalGovBaller designation.
---
January 17, 2018
In advance of the ELGL & Cartegraph webinar today, I am highlighting examples of effective storytelling in local government. Tell me what I missed by commenting or tweeting your examples.
---
Downtown Topeka flush with poop … emojis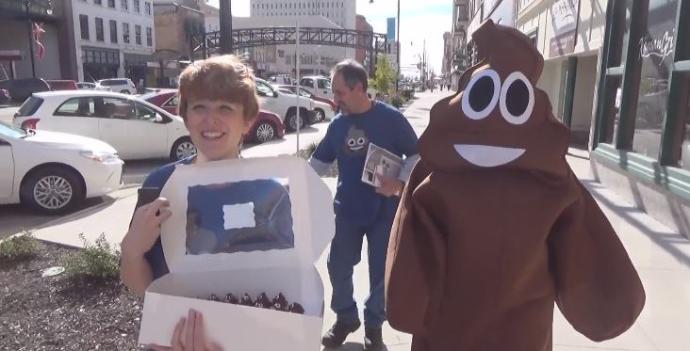 While the Emoji movie was a rotten tomato, Aly used an emoji (specifically the poop emoji) in Topeka, Kansas to "taboo out of poo." Topeka's campaign drew national attention and raised awareness to their waste water treatment plant which cleans 20 million gallons of water.
---
Ideas Worth Sharing: A Community Effort in America's Most Diverse City

With newspapers cutting back, local governments must find other outlets to communicate their message. Nick Smith, City of Gaithersburg, MD, spread the word about Gaithersburg's diversity in the ELGL series, "Ideas Worth Sharing." You'll also find clear storytelling on the City's Twitter account.
---
John Lisle Is The Man Behind DC Water's Amazing Twitter Account
---
Podcast: The City Hall Challenge – Peoria vs. Vancouver 
---
The City of Peoria, IL and the City of Vancouver, WA squared off last week in the championship round of the ELGL City Hall Challenge. This March Madness style bracket asked cities from across the country to compete for the best City Hall in the nation.
---
The Rest of the Story on the Whitehorse Council Meeting Ad
---
January 11, 2018
It's Thursday, January 11 and I'm officially a self-appointed "very stable genius." I am also the funniest man alive and best dad ever as voted by my children. I'll know that I'm on the downside of life when my kids disrobe me of the best dad ever crown. While I am a genius, I will not be using the word s-hole.
'Cue our theme music…

Today's theme music comes recommended from this week's GovLove guest, Aaron Foley, City of Detroit's Chief Storyteller.
---
Laugh
January is a rough month to be in the Pacific Northwest. Every day is drizzle and gray clouds. I am sure that I'll have a few tough days this month but I've made a mental note to myself – Kent, please don't ever do this to yourself….
This man is filling a chicken bucket with soda at KFC

---
Cry
A ray of light? Public Works is traditionally a male dominated field. I am making an educated guess that less than #13Percent of PW directors are women. One of the biggest cities in the US, Houston is bucking the trend by naming their first female public works director.
And there is another reason for happy tears...

---
Think
A couple of years, as part of a new member feature, I asked respondents if they could get rid of any state which state would it be? Turns out, ELGL members are more compassionate than me and refused to answer the question.


I remembered this response when I saw this article, "Which Online Platforms Do Americans Want Killed Off? [Infographic]" For me, this is an easy question. I would use my deathblow on SnapChat. I have tried to use Snapchat and I've failed each time. I don't understand why I want something to disappear after I post it. People complain that Twitter is hard to figure out. Snapchat is whole another level of difficulty.
---
#BigLocalGovBaller
It's time to check-in on the original Big Baller…
LaVar Ball served with lawsuit over Big Baller Brand products, It doesn't pay to get into business with LaVar Ball, Fantasy Football Loser Gets LaVar Ball Tattoo on Leg… okay maybe we shouldn't have done that.
Back to the item at hand — who is this week's #BigLocalGovBaller? This one is easy. Mariel Reed earned her stripes with two recent contributions to the ELGL website. Her articles are spot on and highlight issues that we need to be talking about. Luckily, you haven't seen the last of Mariel. She'll continue to contribution throughout the year.
How a "Partnerships as Delivery" Approach to Civic Innovation Works in San Francisco
These aren't just questions for San Francisco. Local governments can have incredible impact on the lives of their residents; but they face daunting barriers to addressing civic issues. Like San Francisco, cities around the world – from Tel Aviv and Toronto to Mobile, Alabama – have created innovation teams to help cities tackle big problems and deliver results for residents. Still, these teams take different approaches to addressing civic challenges and thinking about what it means to innovate in local government.
Doubling Down on Partnerships to Deliver Innovation
Make government staff – not the innovation team – the stars of the show. Innovation teams must beware the unintended and sometimes undermining impact of the team's existence on city colleagues. (Does the innovation team's work with this agency mean that agency is failing? Will the team audit staff work? Do only innovation staff get to do the "fun creative" stuff? And who gets the credit when something goes right?) Partnership programs dispel these dynamics. The department champion and executive are the stars of the show, guiding the scope of the work, managing progress each week, and presenting the final results at our program Demo Days.
---
#ELGLTwitterChain
Give me back my chain… Mountain ELGL takes back the Twitter chain from NW ELGL. Team Mountain – Carly and Noor vs. Team NW ELGL – Madison and Nic has been the most talked about battle of 2018.

---
January 4, 2018
Have you heard, have you heard… it's 2018! No more "top ten" or "best of" features. Of course, ELGL would never participate in this click bait material. Link: ELGL Top 10 Articles of 2017
January, February, March, April and…… May! May is an important month because it brings #ELGL18 in Golden, Colorado. Early registration indicates attendees will be coming from Florida to California.
If you were worried that #ELGL18 would be one big camp out in the woods, you can stop worrying because we have lodging.
For the award-winning readers of this blog, I have a spoiler alert. One of the presenters will be David LaFrance, AWWA Chief Executive Officer and GovLove podcast guest.
---
Laugh
Oregon is under attack and rightfully so. Oregonians' worst nightmare is coming true….. they have to pump their own gas. When I moved here I was told that job creation was the reason for requiring gas station attendants. Here's a hot take… this is not a job creation strategy.
I hated pumping my own gas when I lived in Virginia. I now yearn for those days after I've wasted too much time idling in my car watching the gas station attendant finish their cigarette or chat up another customer while I stare at the gas pump mere feet from my car.


Oregon is similar to me. We're both stubborn. Oregon refuses to ditch antiquated policies such as banning fluoride in the water and requiring gas station attendants. How can one of the first states to employ vote-by-mail refuse to adjust with the times and science.
I've been tagged in a number of Facebook posts and tweets on the gas pumping issue. My response is please go ahead and make fun of Oregonians. They deserve it especially the ones who hold these beliefs…
"Many people are not capable of knowing how to pump gas and the hazards of not doing it correctly. Besides I don't want to go to work smelling of gas when I get it on my hands or clothes. I agree Very bad idea."
"I don't even know HOW to pump gas and I am 62, native Oregonian…..I say NO THANKS! I don't want to smell like gasoline!"
"I've lived in this state all my life and I REF# to pump my own gas. I had to do it once in California while visiting my brother and almost died doing it. This a service only qualified people should perform. I will literally park at the pump and wait until someone pumps my gas. I can't even"
---
Think
I could be in trouble. I own a "Detroit vs. Everyone" and "Detroit Hustles Harder" t-shirt. My lovely wife purchased these at #ELGL18. The shirts are comfortable, the neckline has withstood multiple washes without getting wrinkly or weird looking.
It turns out that I do have a problem with the shirts. I was pre-gaming for a GovLove interview with Aaron Foley by watching his TedTalk where he gives his take on the shirts…. 

---
Cry
NIMBY! NIMBY! NIMBY! There a said it. Not in my backyard. NIMBY's are everywhere but YIMBY's are making a surge.
Our favorite New York Times reporter and #ELGL15 speaker Emily Badger dives into the How 'Not in My Backyard' Became 'Not in My Neighborhood'
Zoning effectively invited homeowners to look beyond their properties in ways they hadn't. And it helped create the expectation that communities would change little over time — or that homeowners would have a say if they did.
"Prior to zoning, you didn't ask yourself if you were buying a piece of property, 'What's the use of the land next to me, or down the block, or half a mile away?' " said William Fischel, an economist at Dartmouth. "Zoning becomes an opportunity for you to think outside the box of the lot lines of your own property. And people definitely start doing it."
---
A bright spot in 2017 was the increase in the number of women seeking elected office. The uptick has continued into 2018 where we'll begin to find out whether the candidates will be successful.
A seismic shift in government is coming, and here's who will drive it
In DC-speak, our government is pale, male and stale. There simply aren't enough women in power to join their male allies who are holding perpetrators accountable. We cheer when we see a room with more than a modicum of female officials trying to make sure women's experiences inform policy-making. Less cheery are the many long tables with dozens of chairs that ought to be filled by women leaning forward over stale coffee, pen in hand.
---
#BigLocalGovBaller
The first #BigLocalGovBaller of 2018! The distinction goes to Brian Ligon (aka Ron Pitchman). Brian worked for the City of Round Rock, Texas where he was instrumental in developing clever videos about property taxes and bonds.

Brian and Ron are moving on. Brian accepted the Director of Communications and Marketing position with the City of Mont Belvieu (Texas). First order of business for Brian? Bring the city into the Twitterverse.
---
#ELGLTwitterChain


We're adding more gold to the Twitter Chain for 2018. It'll shine from sea-to-shining sea in 2018.
ELGL Sconnie and Mountain ELGL played hot potato with the chain for the last part of 2017. As each increases their follower total, I predict that we'll see the other Twitter accounts snatch the chain.
This week, the Twitter Chain ships out to the Pacific Northwest. H/T to Madison Thesing and Nic Westendorf for kicking out the jams from the NW ELGL Twitter account.
---
December 22
ELGL Twitter Chain goes back to the Mountains. ELGL Sconnie nabs second place. CAL ELGL takes the bronze.

---
December 19
There's only one way to catch the Christmas spirit….

See Foo Fighters Turn 'Everlong' Into Christmas Medley on 'SNL'
Foo Fighters transformed their hit "Everlong" into a Christmas medley on Saturday Night Live, where the band served as musical guest on the 2017 finale.
---
Laugh
I would take the second approach….
There are two types of people … ? pic.twitter.com/hei9ngH6Oc

— PGA TOUR (@PGATOUR) December 16, 2017
---
Cry
Police departments are in the spotlight again. This time, police departments in Oregon are being scrutinized for their handling of police officers who are fired.
The Oregonian rarely produces anything worth reading but I have found an exception.
Police officers in Oregon can stay eligible to carry a gun and a badge even after being fired for chronically inept police work. Or worse.
---
Think
Warning! This is my favorite topic – the intersection of the media and local government. (Spoiler: communication professionals will be the next leaders in local government.)
Fewer reporters, more government
Despite the advent of social media and government communications teams — such as Eudaly has — public officials still have an obligation to talk to the press, McBride adds.
"There is really very little excuse for a public official being unresponsive to other organizations just because they have their own news organization," McBride says. "Open government is open government."
She adds that government has an obligation to communicate with the public despite smaller newsrooms.
Many ELGL members have strong opinions on this topic. Join the conversation in the ELGL Facebook group.
---
Tiny is trendy. Ireland's leader shrunk. Matt Damon is tiny in, "Downsizing."  And, tiny homes have grown into small communities.
First tiny homes, now small communities
Offering a more rustic experience, White Hawk Village is a "homesteading village" with permaculture gardens and farm animals located just outside of Ithaca. Second Wind Village, in Newfield, is a non-profit, small cottage community developed as transitional housing for formerly homeless men.
In Brooktondale, the colorful Boiceville Cottages has grown into a thriving community of 140 colorful small rental houses, plus a meeting house and two dog parks. Also owned by Schickel, Boiceville Cottages' design was inspired by a children's book and attracts a wide demographic of tenants, from college students to young families to retirees.
---
#BigLocalGovBaller
The Hometown Summit was very, very good to us. Ben and I made numerous connections which benefited ELGL by appearing on the GovLove podcast, writing articles for our website, and encouraging their colleagues to join ELGL.
One of those connections is Matt Lawless, Boones Mill, VA town manager. We shared a few laughs and drinks with Matt and he showed us around Emancipation Park, formerly known as Lee Park, a park in Charlottesville, Virginia.
Matt earns our love today for the announcement that he's moving onto a new opportunity.
Lawless to leave post as Boones Mill town manager
During his tenure, the town has continued its efforts to revitalize the property now known as the Village Park at Boones Mill, where it renovated a vacant building that now houses two businesses, with room for more. A produce auction located in another building on the property and a year-round farmers market is also in the works . The town also has welcomed new businesses and has significantly grown its budget.
You've done a good job when reporters like you.
Currently wishing there was a "dislike" button for this news @regeslawless

— Carmen Forman (@CarmenMForman) December 19, 2017
---
December 14
Onward, upward… we're moving closer to the weekend. The Wyatt Family is headed to Sunriver, Oregon, which means the swimsuit is coming out again.
On a more visual appealing note, the ELGL Board of Directors met yesterday and expressed continued support for the #GiftofELGL initiative. A number of ELGL members have gifted membership to their co-workers, mentors, and friends.
I spread ELGL joy by gifting memberships to:
Ben Brown, North Carolina League of Municipalities
Mike Cully, League of Oregon Cities
Julia Glanz, City of Gaithersburg, Maryland
Well said @novalsi "From first to last, every person in @ELGL50 wants to help me. They want to help you. They want to help people like you, and people who aren't like you…" https://t.co/uIjb57hbLY

— Brent Stockwell (@brent4cities) December 12, 2017

I challenge you to gift at least one ELGL membership to someone who's made a difference in your life. It's so much fun that your heart will hurt.
---
#ELGLTwitterChain
What a week for Wisconsin! Aaron Rodgers returns and ELGL Sconnie takes the #ELGLTwitterChain. Congrats to ELGL Sconnie Twitter account administrators – Chad Doran, Josh Schoemann, Mitch Foster, and Zach Navin.
It was an incredible three week run for Mountain ELGL but it's time to take off the chain. (Let's hope the plastic links on the chain remain.)


Also, kudos are in order for CalELGL. Their Twitter account gained the most number of followers this week.
---
Laugh
Teach me how to dougie
T-teach me how to dougie
Teach me how to dougie
T-teach me how to dougie…

---
This makes me laugh. The NBA in 80's and 90's was a beautiful thing.

---
Cry
The robots are here! The robots are here! San Francisco is drowning in robots. Is this a good thing? Are they taking jobs from people? Are the robots funny? So many unanswered questions.
I am more confused after reading a couple of articles this week.
San Francisco animal shelter hires robot to keep homeless people away
Rather than using physical force to remove homeless people and their belongings, the robot uses a system of lasers, cameras, a thermal sensor and GPS to alert the authorities. At five feet tall and weighing 500 pounds, the robot can read up to 300 license plates per minute and send alerts when it identifies people on a "blacklist."
San Francisco sours on rampant delivery robots: 'Not every innovation is great'
Lawmakers pass regulations to cut down on delivery robots as pedestrians tire of sharing sidewalks with 'aggressively entrepreneurial wet dreams'.
---
Think
When Ice Cube speaks, I listen. He was in one of my top five movies, Friday so I defer to him on all important matters including tax reform.

---
Government is always last to embrace the hottest trends. It took a while but we've finally embraced blaming the #Mwords for our staffing shortages.
Millennials Partly To Blame For Police Officer Shortage, Dallas Police Chief Says
"We have nights, weekends and holidays, and those are some of the things that are not necessarily attractive to millennials who want all days off and to be the chief in six months," she told the city council. "We recognize that is a challenge."
---
#BigLocalGovBaller
Before we dish out the #BigLocalGovBaller designation, we check-in with the original big baller. We assume things are calmed down, right?
Moving right along… tough to follow that dynamite trio of articles.
GovTech earned its big baller stripes. You might remember GovTech from their podcast episode featuring ELGL. Doesn't sound familiar?!?! Check. It. Out.

This week GovTech returned with praise for the GovLove podcast.
Putting Government Podcasting on the Map
Beyond Dews' list, we have been listening to a number of state and local podcasts. Engaging Local Government Leaders (ELGL), the people who brought you the #cityhallselfie, also produce GovLove, a podcast that introduces listeners to the people who do the work of local government.
---
December 11
We're starting the week like….
Man this is never going to get old. pic.twitter.com/EhN9Qnbiuw

— Mark Ennis (@MarkEnnis) December 10, 2017
---
After a failed attempt at making a gingerbread house with my kids, it's time to head back to work. I repeated myself more than ever when my eight-year old continued to ask whether she could eat the candy from the gingerbread house kit. The answer is no. Unfortunately, I hope those candies are suitable for a dog because Michael Jordan cleaned the floor of gumdrops and sprinkles.
It wasn't all gingerbread houses this week. Kirsten and I attended a dinner with ICMA board members who were in Portland for a meeting. We enjoyed connecting with David Johnstone, Lee Feldman, Heather Geyer and others. I also had a brief conversation with Craig Honeyman from the League of Oregon Cities. We agreed that, with a new LOC executive director starting, it's an ideal time for LOC and ELGL to find common ground.
---
Laugh
The mean streets of the North Pole?!?! Santa vs. Santa? There's a war brewing in this country involving professional Santa's. If senior management analysts can beef with other senior management analysts, I guess Santa's are allowed to beef with each other.
Inside the Cutthroat World of Today's Professional Santas
Not all Santas are created equal. A self-proclaimed "second-generation Santa," Cook started dressing up as Saint Nick for a local fire department, as his dad had done. After realizing he could grow an impressively full beard, he worked fraternity events to make extra money in college. Now a veteran, he literally hands out bonuses to employees at lucrative holiday parties for businesses. But one surprising thing he refuses to do is sit.
---
Think
Katy Tur is my new celebrity girlfriend. I read "Unbelievable" by Katy and I'm in love. How good was the book? I read it in two days which is a PR (personal record). Katy provides "inside baseball" information on covering the Trump campaign.
I love learning about the daily routine of professionals (in a non-creepy way) in other fields. Katy writes about finding time to sleep in-between on-air demands, eating a ton of bad food, and how to dress when you are on the road constantly. This may be old news, but she drops this interesting tidbit of the Australian journalist who wore the same outfit for a year.
Male TV presenter wears same suit for a year
---
I have strong feelings about public libraries. My feelings revolve around the large percentage of libraries which haven't adjusted to the realities of technology and how people consume information. One of the libraries which I frequent has a large area devoted to compact discs and DVDs. Why? There are so many better uses for the space – community meeting rooms, computer docking stations, new releases, or classroom spaces.
When I read about public libraries renovating themselves, I get warm and fuzzy. The latest example is from the Illinois Valley.
'JUST LIKE BORROWING A BOOK' – Libraries offer Wi-Fi to be taken home
She said an estimated 10-15 percent of their regular patrons don't have internet access at home, which she learned through word of mouth. She said this percentage spans all ages, and the reason for the lack of internet isn't just because of economic reasons, such as a family choosing to bring their children up without lots of technology in their home.
---
"On a scale from 1 to 10, what much do you want this job?" That's one of the most creative questions I've been asked in my job search. I'll be asking this question next time I'm on an interview panel.
For the most creative interview questions, we must look toward the private sector. Time did the work for us. My favorites:
33 Questions That Were Asked at Apple Job Interviews
"Are you smart?"
"What's more important, fixing the customer's problem or creating a good customer experience?"
"What was your best day in the last 4 years? What was your worst?"
---
CRY
Take away my "man card" if you must. I read the "Cat Person" article and I was enthralled. It's only been a few hours so I am unsure of my takeaways. I even unsure why I read an article that is outside the topics that I normally read about it. I couldn't stop reading it once I started. (Spoiler: the article is super long.)
Flirting with her customers was a habit she'd picked up back when she worked as a barista, and it helped with tips. She didn't earn tips at the movie theatre, but the job was boring otherwise, and she did think that Robert was cute. Not so cute that she would have, say, gone up to him at a party, but cute enough that she could have drummed up an imaginary crush on him if he'd sat across from her during a dull class—though she was pretty sure that he was out of college, in his mid-twenties at least. He was tall, which she liked, and she could see the edge of a tattoo peeking out from beneath the rolled-up sleeve of his shirt. But he was on the heavy side, his beard was a little too long, and his shoulders slumped forward slightly, as though he were protecting something.
---
#BigLocalGovBaller
It's true. One of ELGL's favorites is leaving city management. Matt Horn, city manager of Geneva, NY, has accepted a new position in Washington, DC. While in Geneva, Matt contributed numerous gems to the ELGL community including:
Never stop learning. Charles Hartgrove has taken this quote to heart. Charles graduated from the VCU Wilder School this weekend. He is currently the deputy city manager in Lynchburg, VA and previously served as the city manager of Ashland, VA.
Fun Fact: Charles interviewed me for a job while I lived in Richmond, VA. He did not hire me. No hard feelings about the job, but I have some hard feelings about his love of UVA.

---
December 8
We're back…. live bloggin' from the Willamette Coffee Shop (great pastries) using the McDonald's WiFi. Another reason America is great. Rollin' into the weekend like….
Now wait a minute ??

(via IG/23.eraa) pic.twitter.com/mVbaAsrVIW

— Bleacher Report (@BleacherReport) December 7, 2017

First of all, I must admit the ELGL website has been a train wreck this week. Not to point fingers but if you're really angry about it, share your feelings with Members365. Spin zone: the benefit of website difficulties is that we realized people actually read our content. Hang in there… we'll get it fixed. Consider it our holiday gift to you.
This was a horrible week for website difficulties. One of the most important articles in our site's history was published. Alyssa Wolverton provided a wake up call to all boys and girls in local government.
---
Laugh
I am sure that I've listened to Chance the Rapper. I am positive that I have follow him on Twitter. He's a great follow. Today he dished out the local weather on WGN in Chicago.
I won't judge his performance. I have a long held belief that the local weather should be brought to you by robots. That said, here we go…

---
When a major network fires hundreds of staff…. this happens

---
Cry
Full disclosure: I have not read any of the seven-part series. In fact, the first article won't be publicly released until Sunday. I am recommending the articles before I read them because the Spotlight Team by the Boston Globe wrote them and there's much buzz about the series.
Been waiting for this: Spotlight, the Globe's moderately famous investigative team, starts a seven-part series on racism in Boston beginning this Sunday. https://t.co/rn3X5mfYAR

— Astead (@AsteadWesley) December 7, 2017

BOSTON. RACISM. IMAGE. REALITY.
Spotlight reporters analyzed data, launched surveys, and conducted hundreds of interviews. Reporters focused solely on the black community, the group that has the longest and most difficult history of racism in the city. That decision, by no means, is meant to minimize the discrimination faced by other minorities here.
The team examined the core of Boston's identity: our renowned colleges and world-class medical institutions, the growth that keeps expanding our skyline, business and politics, and our championship sports teams. They even turned their gaze inward, and looked at how the Globe can do more to ensure more diversity in the news reporting process.
They also did something decidedly old-school: They visited a number of iconic Boston locations and simply counted the number of black people they saw.
In the end, what ​the Spotlight Team discovered wasn't all pretty.
We invite you to be among the first to see this investigation by subscribing to a daily email newsletter that will deliver each report to your inbox. Sign up here to receive the first installment on Sunday, Dec. 10.
---
Think
ELGL member Josh Dukelow hosted me during my visit to Wisconsin last year. I'm forever grateful for Josh's hospitality which went above and beyond except for Josh's inability to stop the Seahawks from losing to the Packers.
Josh been a contributing ELGL member for years. He's appeared on the GovLove podcast. He's been a guest columnist.
His full-time gig is serving as a radio personality in Appleton, Wisconsin. Today he made the decision to publicly discuss sexual misconduct in his past. I urge you to listen to the interview before making any judgement.
Coming Clean About Sexual Misconduct
As victims across the country continue to come froward with tales of mistreatment by powerful men, American society is reckoning with the legacy of toxic masculinity. Previously "untouchable" perpetrators are losing their jobs. Men in positions of power have abused those around them going back generations. It has been said, "that's just how men are," but that excuse is gone. No one, regardless of position or title, should be enabled to abuse anyone, regardless of status or industry.
However, it isn't fair to expect that victims will always come forward with allegations of wrong-doing. Speaking out can be a painful and costly experience for male or female victims. Instead, the men who committed these predatory actions should examine their own past and admit to them. By taking the initiative, the burden is removed from victims and an honest reckoning can take place.
Never one to expect from others what I am not willing to do myself, in this special Takeaway I explain why it is so important for the guilty parties to speak up, and I admit to my own past misconduct. It wasn't easy, but it was important to advance the progress of this cultural movement. Listen for yourself, and let me know what you think by emailing [email protected].
---
I am a fan boy of Scott Lazenby, not Scott Lazenby the city manager, but Scott Lazenby the author. I became a fanboy while reading Playing with Fire for a city management class during my days at the UNC MPA program.


After a long hiatus, Scott returns with another fiction book about the life of a city manager. I provided comments on the first draft of "State of the City", and now, the soft launch of the book is here. Kent, Kent, when is the official launch? You'll be happy to know that Scott will be debuting the book at #ELGL18 in Golden, Colorado. He'll be talking about the writing process, how he developed the story lines, and his expectations for the book.
#ELGL18 attendees will receive a FREE copy of the book in return for leaving a review about the book on Amazon.
---
#BigLocalGovBaller
Chris Haas, City of Nashville, TN and Alyssa Wolverton earned their baller status this week.
In case you hadn't heard, one of the best and brightest mayors in the country Nashville Mayor Barry will record a GovLove episode in mid-January. Chris, who is an ELGL member, Traeger winner, and New Media Manager in the Mayor's Office, was a huge asset in scheduling the interview. I am taking a wild guess but if I cold-called Mayor Barry is not picking up.
Alyssa (mentioned above) brought it this week by writing I Have to Ask You: Is Local Government Inviting to Young Professionals?
I don't know if I am allowed to honestly answer the question "is local government inviting to young professionals?" It would help my odds at getting a job in local government if I wrote about the great times I had working in government and how local government can attract millennials. I mean, what do I have to gain from telling people about my real experience? The story where my boss cried to me because she told me I was too optimistic, or I'd be so bored at my desk sometimes I would cry? Is it worth explaining how it felt like my work didn't matter or how didn't get honest feedback?
How many people read the article? Great question, more than 600 people have viewed the article so far.
---
December 7
It's a three-peat for Mountain ELGL!


Midwest – 0.09%
Southeast – 0.11%
Southwest – 0.18%
California – 0.34%
Northwest – 0.17%
Northeast – 0.69%
Ohio – 0.31%
Sconnie – 2.19%
Mountain – 7.32%
---
December 3
Boom goes the dynamite!
Pontiac Silverdome still standing after implosion fails, officials investigating
---
We're rolling into December. Que the "this year should has flown by" comments. I am confident to report this year was similar in length to every other year (except leap years).
---
Laugh
The Pacific Northwest is not the place to be this time of year. Gray clouds and drizzle are an everyday occurrence. Just how dark and miserable is it, you ask?

---
Scattered, smothered, and covered… I love the Waffle House. The Waffle House does not love Portland as they don't have a single location. Similar to Great Clips, when you visit the Waffle House, you don't know how you'll look when you walk about.
A Waffle House location in South Carolina is trying a new angle. They are letting customers cook their own food. You'll have to wait until the Waffle House staff is sleeping but once they are you have free reign of the place.
This Drunk Guy Making His Own Food At Waffle House While Employees Sleep Is All Of Us

---
Squirrels and cats are ruling the day in local government news. (Still waiting on a unicorn or dragon to intersect with our work.) I give the slight edge to the cat due to the library card.
The Star Tribune reports that the conundrum has caused a stir on Twitter and Reddit, where people have been posting Max-inspired artwork. Someone even made a library card for Max, who has been grounded by his owner over his naughty behavior.
Squirrels continue to show that they bring lil' value to the table of life.  A squirrel destroyed a New Jersey town's Christmas lights
---
Think
Sorry Wisconsin, I am moving to Pittsburgh. Pittsburgh has answered the prayers of parents everywhere. You know the struggle…. Your child's school has a random teacher workday on the Wednesday after Thanksgiving break, leaving you without childcare. If you live in Pittsburgh, you no longer have to curse your child's school under your breath, make snide comments about another teacher workday, or comment how your job doesn't provide work days away from the people that you serve.
You want innovation? How 'bout providing childcare during city meetings. But what excuse would we have for no one attending our community meetings? As the job listings in local government grow, cities like Pittsburgh will win the battle of talent. I'll take less money to work for an organization where childcare is no longer a concern.
You want gender diversity? Free childcare is your answer. Ask any parents. We'll take free childcare over almost any perk including additional pay or benefits. Offering free childhood is a tangible benefit that employees will appreciate every time there is a school holiday. This beats the 1.0% COLA that we take for granted and complain that we spent it all buying a latte at Starbuck's.
Pittsburgh is ballin' with this latest announcement.
City Will Offer Free Child Care for Employees and During Public Community Meetings
"Data shows that family-friendly workplace policies reduce costly turnover and boost productivity. By offering at-work child care to our employees, the City is investing in its employees and ensuring that we continue to provide a high level of service to the residents of Pittsburgh," said Councilman Dan Gilman. "As a city where the input of all residents is valued, we must ensure that family needs do not stand in the way of community involvement and enable more Pittsburghers to become active members of their neighborhoods. I thank Mayor Peduto and his administration for their work on this critical initiative."
Bonus points: French fries are a staple on most sandwiches served in Pittsburgh.
ELGL members, let's unite and move to Pittsburgh. I'll get you started with the latest job openings from the City.
---
My Little Pony, Sing, Secret Life of Pets, Frozen, and the list goes on and on…. I've suffered through a myriad (my favorite word) of movies with my children. Parent tip: Go to the 3D showing of movies. The glasses make it easier to fall asleep without your kids noticing. The extra couple of dollars is worth it.)
For many reasons, I am thankful that I have children, with the latest being that I would have never seen "Coco." The movie is incredible. While Hollywood tends to be very white, "Coco" provides insight into Mexican culture. Both of my daughters are in Spanish immersion so I'd heard about the Day of the Dead. I hadn't a clue about its significance until watching Coco.
My criteria for judging a movie is whether I can guess what's going to happen next. If I can, it's not a very good movie. Coco is unpredictable with numerous storylines that come into together in the last 20 minutes. You'll leave the movie theater pondering the meaning of life and how you can keep alive the legacy of your family and friends.
An early holiday gift — skip the Frozen short shown before "Coco." It's not interesting and lasts too long. Need I say more?
---
Cry
Rejoice! Tears of joy! Gender balance has been achieved on the Raleigh (NC) City Council. Humble brag: one of the new councilors is married to one of my UNC MPA classmates. I'll keep you in suspense by making you guess which one.
The wave of women running for elected office is real. We know so because the New York Times tells us so. The New York Times also tells us about a "gay, gay government."
---
And now deep thoughts…..
I am not a "motivation quote" guy. There isn't a single quote that would kick me in the pants and get me to produce more and better work. This is partially due to the overuse of motivational quotes. There is a motivation quote for everything. It's like having a birthday every day. You aren't excited when your birthday rolls around for the 300th consecutive day.
If we're forced into relying on motivational quotes, let's make sure that they are as deep as this one….

---
#BigLocalGovBaller
While the original Big Baller fights with Trump, we take a positive spin by awarding the designation to Alexandria Kenyon, City of Redwood City, CA, Communications & Marketing Multimedia Analyst. Alexandria is a member of the newly formed membership committee. She is helping guide ELGL to new audiences and improved communications on the benefits from membership.
Show appreciation for Alexandria by giving the gift of ELGL membership.
---
November 29
#ELGLTwitterChain

Mountain ELGL retains the title. ELGL Sconnie wins the silver and ELGL Ohio takes the bronze.
Region/% Change
Midwest – 0.13%
Southeast – 0.06%
Southwest – 0.12%
California – 0.20%
Northwest – 0.25%
Northeast – 0.46%
Ohio – 0.79%
Sconnie – 2.70%
Mountain – 5.81%
---
Boaty McBoatFace, you're on the hot seat! Gritsy Bitsy Teeny Weeny Yellow Anti-Slip Machiney and David Plowie are coming for your title. The public has (again) proven incapable of behaving themselves during a naming rights opportunity.
---
Think
Rigmarole. Here's a word that needs to make a comeback. Many people found humor in this news clip of the "Black Friday" crowds. I found humor and delight in the "rigmarole" drop early in the clip. I challenge you to use rigmarole in your office today. Tweet me and the context in which you used and my lil' elf might have swag for you.

---
#BigLocalGovBaller
How to exit gracefully… Dating back to parties at Elon University, I've employed the Irish Exit. The Urban Dictionary defines irish exist as the "departure from any event without telling any friends, associates or acquaintances that one is leaving." Side note: Referencing the Urban Dictionary in a council presentation is on my bucket list.
If you're thinking, Kent, is Irish Exit an offensive term? Google says no. They also tell me that using the Irish Exit is a mark of high moral character. Pat, pat, pat on my back…. I've always said that I'm a character guy.
I prefer walking out the door (usually the side door) and heading home. My lovely wife keeps me in check now and fights back against my urge to Irish Exit. At the same time, I battle her desire to linger and say goodbye to everyone in the room. No need for goodbyes or promises that won't be kept.
I do not endorse the Irish Exit when departing from an employer. While your lame duck period might be awkward, resist the temptation in turn for the high road. Kent, Kent, what is the high road? I am a "specific examples" guy so I point to Laurie Hokkanen's approach as the model.


(Note: I also endorse Laurie's Twitter bio – Love my 3 boys, travel, technology, amazing parks, local government and food. Not always in that order!)
---
Cry
I am starting to doubt my faith in humanity. I woke up to this tweet….
So now that Matt Lauer is gone when will the Fake News practitioners at NBC be terminating the contract of Phil Griffin? And will they terminate low ratings Joe Scarborough based on the "unsolved mystery" that took place in Florida years ago? Investigate!

— Donald J. Trump (@realDonaldTrump) November 29, 2017

And this headline…. Graphic, Disturbing Details of Matt Lauer's Alleged Sexual Misconduct
These events transpired sometime during my eight hours of sleepy time. Really, a secret button in your office….
Matt Lauer and Garrison Keller added their names to naughty list. Others will sure follow. The list will ultimately grow to include local government leaders. The possibility was addressed in this article…Preparing Your Local Government for "the Reckoning"
If you witness a colleague or elected official behave in an inappropriate manner, do not sit quietly and let it happen.  This doesn't necessarily mean activating the giant red alert, filing a claim or calling the media.  I get that these situations in the workplace are complex and a little touchy to handle with discretion.  This is true for anyone who witnesses this behavior, but especially true for those who directly experience it.
While the list grows, I have to think that many women remain hesitant to step forward. It might be "easier" to speak out now but it never really is easy. For those coming forward, they realize that it likely won't help them professionally – it might not hurt but it won't be a net positive. Kirsten and I discussed this reality when she was going through her discrimination lawsuit.
As always, ELGL is willing to post (anonymously or not) your thoughts, comments, and/or experiences on our website.