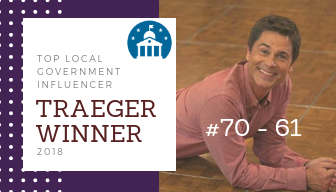 The Chris Traeger List recognizes the top 100 influencers in local government. Chris Traeger was the city manager for the fictional City of Pawnee, Indiana on the show Park and Recreation. He was known for extreme energy and commitment to improving local government.
The Traeger List is not based on title or longevity. It's based on an individual's influence in their community and professional associations.
Nominations were submitted from local government professionals from across the country. ELGL members selected the top ten of the Traeger List. The ELGL Evaluation Team reviewed and selected the remainder of the list.
All Traeger List influencers will be honored at #ELGL19 on May 16 and 17 in Durham, NC. The Top Ten Traegers will be invited to speak during the #ELGL19 conference.
ELGL members can continue the conversation about the Traeger Award in the ELGL Facebook group. Need the perfect holiday gift? Try an ELGL membership.
---
61. Sarah Medary, Public Works Director, City of Eugene OR
Word on the Street: Sarah is a unique local government unicorn. She's creative, funny, smart, and a great manager of people. She motivates her team to accomplish more, always has a creative approach to try, demands empathy, and builds real and authentic relationships with her coworkers and peers. She also goes out of her way to mentor and support people working in local government. She's never too busy to offer her help or assistance. 
Learn More: My Life in Presidential Terms with Sarah Medary, City of Eugene, OR
---
62. Rick Usher, Assistant City Manager, City of Kansas City, Missouri
Word on the Street:  Rick is everywhere! He's doling out advice on Twitter, helping to unveil new transit options, and connecting with tech leaders in Kansas City.  Most importantly, he's willing to share what he's learned whether strategies for working with Google Fiber, partnering with co-working spaces or reflecting on leadership lessons from L.P Cookingham. Not that I think about it, Rick and Chris Traeger might be the same person?!?!
Learn More: Podcast: Talking KCMO with Asst. City Manager Rick Usher
---
63. Aaron Rouse, City Councilor-Elect, City of Virginia Beach VA
Connect: Twitter
Word on the Street: From the Green Bay Packers to the city council, Aaron Rouse bringing a new leadership vibe to his hometown community of Virginia Beach. Aaron has raised in public housing and without a father figure. He worked his way out by earning a football scholarship to Virginia Beach. Once his playing days were over, Aaron quickly sought to give back to the community by running for public office. In November, he was elected to the Virginia Beach City Council. This will be the first time a pair of African-Americans served on the Virginia Beach City Council at the same time.
Learn More: Running for the Future with Aaron Rouse, Virginia Beach Council Candidate
---
64. Pete Haga, Community/Government Relations Officer, City of Grand Forks, North Dakota
Word on the Street:  In some ways, Pete has put North Dakota on the map for innovation in local government. He's successfully worked with the Knight Foundation to bring funding to key projects in Grand Forks, including the 'New Flavors' food truck. At the same time, Pete is helping the city to collaborate and push back against the opioid crisis.
Learn More: Podcast: Somebody is Everybody with Pete Haga, Grand Forks, ND
---
65. Ken Clark, Chief Information Officer, Indianapolis/Marion County Information Services Agency
Word on the Street: Winning! It's been a year of winning for Ken. He recently was selected the 2018 CTO of the Year by the Indianapolis Business Journal. He's won over staff, the community, and local government by tackling problems head on.  Ken has been a key player in creating a "Digital City Hall," a effort that would allow citizens to take care of more business online than visiting city hall.  
Learn More: 2018 CTO of the Year: Ken Clark
---
66. Katie Nelson, Public Relations & Social Media Coordinator, Mountain View (CA) Police Department)
Connect: Twitter
Word on the Street: Katie is well known nationally for her drive, passion, and progressive approach towards connecting government with residents in both the digital world and in person. As a much sought after speaker, teacher, and blogger, Katie's approach to social media strategy has helped many in the public sector take their engagement efforts to the next level.
Learn More: The Vital Role of the Public Information Officer
---
67. Gail Sumi, Member Engagement & Communications Director, League of Wisconsin Municipalities
Word on the Street: Gail is a great representative for local government across the state. She has become an essential resource for local government representatives and no matter what is asked of her you will find her with a smile of her face. The State of Wisconsin is lucky to have her!
Gail understands the issues local governments face and she helps put a spotlight on them through her work with the League of Wisconsin Municipalities. She connects people to form groups of problem solvers and understands how vital good communication between local governments and the people they serve can be.
Learn More: What I Am with Gail Sumi
---
68. Phil Smith-Hanes, County Manager, Ellis County, Kansas
Word on the Street: Phil is one of the brilliant minds behind CivicPride, he's become a strong advocate the work of counties, and he's even willing to take time from his busy schedule to be interviewed by a second grader for a podcast. Phil has been successful at every stop in his career and impacted numerous professional associations. 
Learn More: 2nd Grader Interviews a County Manager about Local Government with Phil Smith-Hanes
---
69. Steph Scafa, 2021 Project Lead, City of Eugene, Oregon
Connect: LinkedIn
Word on the Street: It's only one of the biggest events to come to the United States and Steph is one of the driving forces dedicated to making sure the IAAF World Championships goes off without a hitch. Over 2,000 athletes from 214 countries and 3,000 media will descend upon Eugene in 2021. Steph shared what she's already learned from the planning process with #ELGLPopUp PDX attendees. 
Learn More: 3 Ways Your City Can Break the Mold
---
70. Robert Blaine, Chief Administrative Officer, City of Jackson, Mississippi
Connect: LinkedIn
Word on the Street: Dr. Robert Blaine is a thoughtful and strategic leader for the City of Jackson, Mississippi. He has helped Mayor Lumumba adopt and start implementing a visionary strategic plan, has worked with the Jackson Public Schools to support every child in Jackson, and he's also a trombone player. He made the leap from academia to local government and has a great story of leadership.
Learn More: Podcast: Running Jackson with Dr. Robert Blaine, CAO
---
Supplemental Reading