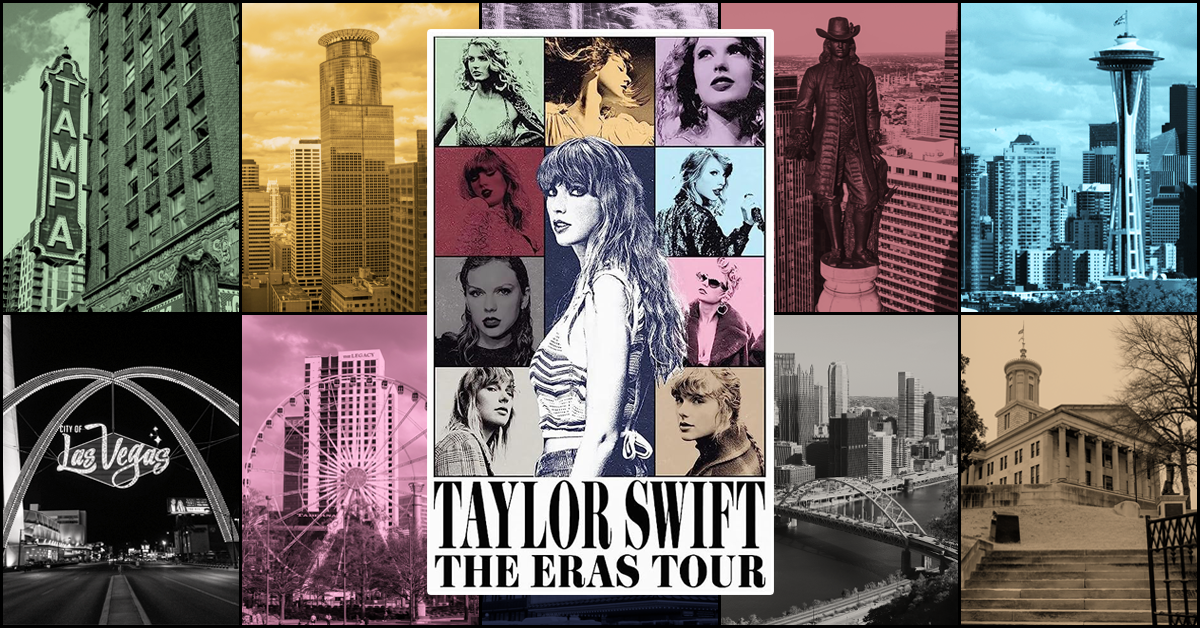 Today's Morning Buzz is brought to you by Warren Kagarise, digital engagement manager for King County, WA. Connect with Warren on LinkedIn and Twitter.
What I'm Reading: The Washington Post's retrospective featuring 70 years of readers' national park photos. (Our need to document experiences on public lands is even older than the concept of public lands.)
What I'm Watching: Catching up on "Hacks" — a boomer/zoomer buddy comedy about a legendary stand-up comedian and the writer with the unenviable task of clearing out the cobwebs in the material.
What I'm Planning: #CityHallSelfie Day, happening on Aug. 15! Get started with a guide, toolkit, and award categories.
---
For many cities, 2023 is the Taylor Swift era.
In March, Swift launched The Eras Tour, a color-coded journey through the superstar's catalog with stops in 20 U.S. cities.
With the tour's first U.S. leg set to wrap on Aug. 9 following six sold-out shows at Southern California's SoFi Stadium, the impact is apparent. Taylormania buoyed the cities' economies along the way, saturated news coverage and social media, and inspired perhaps the biggest crossover ever between pop culture and local government.
Cities, both tour stops and nearby communities, rolled out a lavender carpet (or red or blue or green, depending on the era) to welcome the artist. The recognitions for Swift ranged from pro forma — proclamations packed with song titles and lyrics — to inspired — ceremonial titles and tributes on landmarks.
Call it "Reputation" management.
The decision to seek common ground with legions of fans is a no-brainer and, as pop culture fragments into more targeted niches, such a shared moment is rare. With each tour stop approaching the economic equivalent of a Super Bowl, the event is also difficult to ignore.
Depending on your feelings about Taylor Swift, you can thank or blame the City of Glendale, AZ for starting the trend. Before Swift kicked off the tour at Glendale's State Farm Stadium the mayor ceremonially renamed the municipality to Swift City. (The runner-up: Taylor Town.)
View this post on Instagram
Wherever Swift landed next, public agencies and elected leaders extended a friendship bracelet in greeting.
View this post on Instagram
Tampa named Swift as honorary mayor for a day. Las Vegas lit up the landmark Gateway Arches in the Eras color scheme. In Houston, Harris County renamed the concert venue from NRG Stadium to NRG Stadium (Taylor's Version). Minneapolis begot Swiftieapolis. At least three cities — Arlington, TX; Bellevue, KY; and North Kansas City, MO — rechristened streets for Swift.
We're "flexing like a Vegas acrobat" to welcome @taylorswift13 & the #Swifties to @vegas this weekend ✨

We're "Ready For It." Are you, @taylornation13? #VivaLasEras#TSTheErasTour #VegasTSTheErasTour pic.twitter.com/5RXF82KISR

— City of Las Vegas (@CityOfLasVegas) March 22, 2023
In Nashville, a city Swift calls home, leaders chose a more personal tribute. The mayor dedicated a bench in Centennial Park, a place Swift references in the song "Invisible String" with the line: "Green was the color of the grass where I used to read at Centennial Park."
Welcome home, @taylorswift13. As of today, you now have the perfect place to read at Centennial Park. Nashville is READY for this weekend. #NashvilleTStheErasTour #TSTheErasTour pic.twitter.com/Z2kzZv5QOX

— Mayor John Cooper (@JohnCooper4Nash) May 4, 2023
Though our focus is on how local governments marked Swift's arrival, state governments also poured on the official proclamations and greetings. The best mashup of regional pride and pop stardom: New Jersey's governor declared the Taylor Swift Ham, Egg, and Cheese Sandwich as the state sandwich. (Something about whether a ham sandwich is known in the Garden State as a pork roll or a Taylor ham sandwich.)
Welcome to New Jersey. We've been waiting for you, @taylorswift13.

In honor of Taylor Swift bringing The Eras Tour to @MetLifeStadium, I am declaring the Taylor Swift Ham, Egg, and Cheese the official state sandwich. pic.twitter.com/ilOSvUVGl6

— Governor Phil Murphy (@GovMurphy) May 25, 2023
While I do not claim to be a Swiftie — I know the hits from "Red" and "1989" but not much else — I am a proponent of creative community engagement. And I have some experience in the arena: In 2014 and 2015 I was on the team responsible for renaming the City of Issaquah, WA to 12SAQUAH in celebration of the Seattle Seahawks' back-to-back Super Bowl appearances.
Governments, especially local and regional governments with lower profiles, cannot afford to miss opportunities to connect. Why fight the zeitgeist when you can instead find a way to redirect the spotlight for a moment?
In some locations the backlash to the accolades has been, forgive me, swift.
Not everyone is a fan of official recognition for entertainers in general or Swift in particular. I understand the reasons why. Governments face significant issues and systemic problems. Confidence in public institutions is on the wane. Swift, like almost all celebrities in our very online age, is a polarizing figure.
I also understand the challenges government agencies face to capture attention and the even steeper climb to build trust among constituents. Data shows the job is not getting any easier.
Building relationships between City Hall and residents comes down to more than sharing service updates and safety reminders. In government we often forget a key ingredient when we engage with the community: fun.
Celebrations like those surrounding The Eras Tour offer public agencies a way to take mundane rituals associated with municipal governance — proclamations, resolutions, rights of way — and add some gloss.
Yes, such efforts raise awareness and show personality, but perhaps most importantly, they also demonstrate how public servants are just like you. Cities on the second U.S. leg of Swift's tour, scheduled to start next fall in Miami, can start preparing now.
A key part of public service is getting constituents interested in issues affecting the community. Maybe renaming a street, stadium, or city marks the start of a new era.