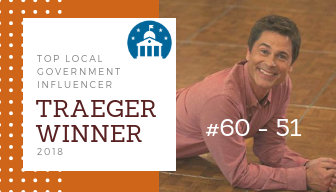 The Chris Traeger List recognizes the top 100 influencers in local government. Chris Traeger was the city manager for the fictional City of Pawnee, Indiana on the show Park and Recreation. He was known for extreme energy and commitment to improving local government.
The Traeger List is not based on title or longevity. It's based on an individual's influence in their community and professional associations.
Nominations were submitted from local government professionals from across the country. ELGL members selected the top ten of the Traeger List. The ELGL Evaluation Team reviewed and selected the remainder of the list.
All Traeger List influencers will be honored at #ELGL19 on May 16 and 17 in Durham, NC. The Top Ten Traegers will be invited to speak during the #ELGL19 conference.
ELGL members can continue the conversation about the Traeger Award in the ELGL Facebook group. Need the perfect holiday gift? Try an ELGL membership.
---
Chris Traeger Award — In the Headlines
Grand Forks Herald: Grand Forks' Pete Haga recognized with Traeger Award
Macon Telegraph: We have a Chris Traeger in Macon
---
51. Allison Scheck, Public Engagement and Operations Manager, City of Lakewood, Colorado
Word on the Street: From the get-go, Allison Scheck has been a champion of innovation, creative problem solving, forward thinking, and teamwork. As the Public Engagement and Operations Manager for the City of Lakewood's Community Resources (CR) Department, Alli is responsible for the oversight of an exceptional team of 16 marketing, communication, graphics, planning and administrative professionals. Alli is charged with the growth of program and facility attendance, the department's public image, the development and implementation of the department's strategic plan, partnership development, process improvement, capital programs and budget. Lest one thinks that's enough for one person, not so for this dedicated and energetic professional! Allison has made an impact on numerous boards and committees across the metro area and the state of Colorado.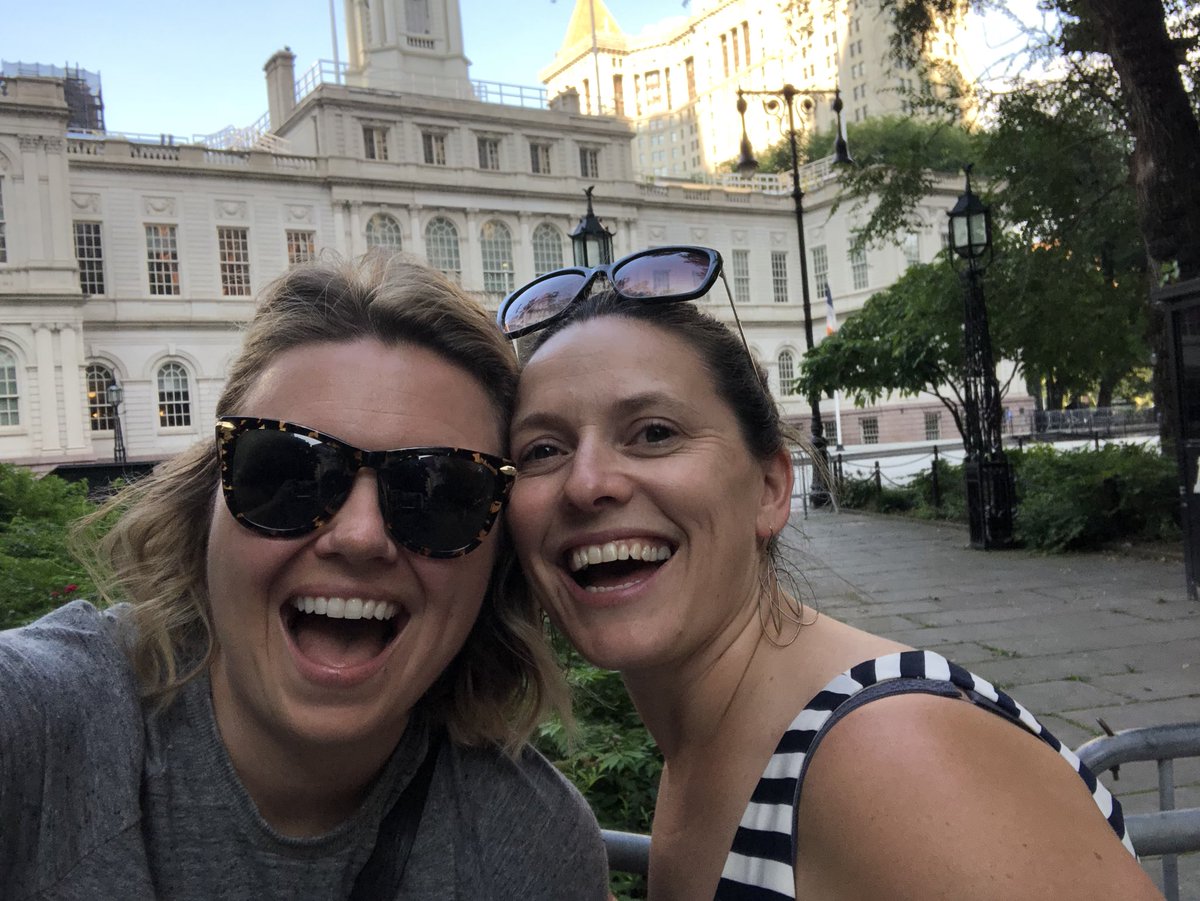 In addition to her annual involvement in Leadership Jefferson County, Alli is a long standing board member for the Colorado Business Community for the Arts (CBCA), and she recently played a key role as part of the leadership team that worked to ensure the reauthorization of the Colorado Lottery through 2049. Additionally, Allison earned her Master's in Public Administration from CU Denver and remains heavily involved in their School of Public Affairs.
Alli has an uncanny ability to assess situations and quickly identify ways to improve efficiencies and processes. She doesn't stop there though; she is gifted with the skills of putting strategic steps in place by which those improvements can be implemented. During her tenure with Lakewood, she's made major impacts in several of the department's business areas.
The most recent example can be seen in the CR Department's 2017 Imagine Lakewood! master plan. The previous master plan had been in place since 2008, and the time had come for a new version. Allison volunteered to take the lead on this project from the start and, as you will see in the attachment, the results speak for themselves.
Allison's first step was to work closely with the National Research Center to create specific questions and then conduct a survey so that Lakewood residents could provide feedback regarding the services we provide. Simultaneously, she utilized an online platform to solicit additional feedback from residents who did not receive the mailed survey. From there, Allison directed the master plan steering committee in identifying common themes from the feedback. Those themes were then presented to the community via three public meetings that she organized, promoted, and guided. Nearly 200 Lakewood residents attended these meetings and helped narrow our focus to six specific goals. Allison took the streamlined information and worked with her creative services team to produce a comprehensive draft of the master plan. Finally, she presented the proposed plan to our City Council, answered questions, and gathered their feedback in order to put the final touches on eight months of hard work and dedication. The plan was adopted by City Council through a unanimous vote in October of 2017, and the department now has a well-vetted, publically guided plan to direct our operations for years to come.
With a department that spans everything from transportation to museums, and from golf to building maintenance, managing the budget and prioritizing capital projects can be a daunting task. By working in concert with the managers and the director, Allison has streamlined both our annual budgeting process as well as tracking our capital projects and all of the planning updates. Rather than having tedious long meetings with all of the managers, Alli has narrowed down the meetings to only three key people and she then reports back to the entire team of managers. Time is being saved across the board and we now have a much better handle on our upcoming priorities and how they will be implemented and managed.
A new and innovative program within Community Resources is the Lakewood Possibilities Fund. The goal of the program is to remove the financial barrier many residents face when considering whether or not to participate in a class, league, or activity. The Lakewood Possibilities Fund was birthed from Allison's vision for a scholarship fund that was easily accessible, equitable, and promoted healthy lifestyle choices. She has taken the lead on this project from its inception and has worked tirelessly to secure the necessary funds to ensure its long-term viability. 2017 marked the first full year for the program with 1,293 individuals receiving scholarships totaling just over $57,000. There is no doubt that the Lakewood Possibilities Fund has opened doors for Lakewood residents who would not have been able to participate in programs in the past, and Allison has been the driving force behind its success.
In a true spirit of innovation and partnership, Alli identified and implemented a city-wide clean up event in partnership with Arc Thrift Stores, as a way for residents to get rid of un-needed stuff and for the City to continue its quest for sustainability. This is a large, two day event which requires coordination with multiple sub-contractors and an enthusiastic partner. Over the course of the last four years, Alli has directed these events collaboratively with Arc and we have received overwhelming support from both residents and partners, alike. We are rewarded by knowing our residents have a convenient way to clean up their yards each year and that we are not contributing more unnecessary waste to local landfills.
Learn More: A Taste of #ELGL18 with Allison Scheck, City of Lakewood, Colorado
---
52. Brian Platt, Chief Operating Officer/Business Administrator, City of Jersey City, New Jersey
Word on the Street: 
At just 33 years old, Brian runs the day to day operations for one of the largest cities in the country. He is helping Jersey City leverage new technology to improve city services and balancing the budget by both cutting costs and generating new revenues in creative ways.
He's also building a positive, collaborative culture inside city government (which is no small feat). He is single-handedly redefining what it means to "innovate" a city by focusing on important and practical changes that make it better to live and work in Jersey City.

You asked for specifics – his running list of projects includes green infrastructure (bioswales, porous pavement, etc), connecting small businesses to local bloggers and increasing their exposure, electrical charging stations (and creating infrastructure for smart cars), managing a staff of thousands (and making each person feel appreciated and important), increasing efficiencies in outdated processes, working with other departments to make living in Jersey City better and improving communication and cooperation between departments (ok that wasn't specific but this takes up a lot of his time), and a TON of small things that aren't part of his job description but he does anyway, like showing up at events after work hours, being a proud advocate for the city, and managing the back end of things so people can go on living their lives as if living in a wonderful city like this is perfectly normal and doesn't require any work.
Mr. Platt is an exceptional leader in the City of Jersey City. Over the past five years, he has implemented several initiatives that demonstrate true organizational leadership while redefining technological needs and the workforce environment. The City of Jersey City is a municipality of roughly 270,000 residents, on the water from adjacent to the New York City skyline. With Brian Platt as the Chief Operating Officer of the local unit, it's the organization's goal to become America's best-midsized city. Brian's leadership has aided in the expansion of services provided to communities, new digital platforms for residents voice concerns, open data initiatives for transparency, expanded pedestrian safety, green infrastructure and more, while municipal tax rates remain stable. From a workforce perspective, Brian has redefined the working culture of existing employees, while recruiting young talent and highly qualified professions alike. He is implementing a performance matrix that is viewed as a platform for employees to showcase their work product, rather than having the viewpoint of being monitored.
Learn More: Brian Platt, Director, Office Of Innovation For The City Of Jersey City
---
53. John Lisle, Vice-President, Marketing & Communications, DC Water
Word on the Street: ELGL members have benefited from John's knowledge for the last several years. He presented at ELGL events, his shared DC Water's experience in creating a new logo, and he's thoughtfully written about the departure of George Hawkins from DC Water. As an added bonus, John is constantly dropping knowledge and snark on Twitter.
Learn More: Our Fearless Leader is Leaving and It's Your Fault
---
54. Lisa Morris Hibbler, Director, City of Las Vegas, Nevada
Word on the Street: Dr. Lisa Morris Hibbler is well-known for a strong commitment to empowering the youth in the Las Vegas area. She lives by her motto: "Every child has the ability to excel and reach his or her greatest potential despite any challenges he or she encounters early in life, if we believe in them."  She has strategically worked with the local school district to improve educational outcomes and help the community to thrive.
Learn More: Social Innovation in Las Vegas, NV with Dr. Lisa Morris Hibbler
---
55. James Hardy, Deputy Mayor for Integrated Development & Chief of Staff, City of Akron, Ohio
Word on the Street: James's GSD (Get Shit Done) mantra is helping transform the City of Akron. In recent years, James has been a key player in the Akron Civic Commons project, a partnership with eBay called the "Retail Revival" initiative and the development of a joint strategic plan across three entities.  
Learn More: Akron's James Hardy: More action, less talk will get stuff done
---
56. Steve Callaway, Mayor, City of Hillsboro, Oregon
Word on the Street: Steve is my mayor in Hillsboro. Not only is he hyper accessible (he gave me his cell phone number) but he is also a leader in equity. Check out his Twitter post about the inappropriate name for Hillsboro.

Learn More: Hillsboro mayor shuts down man using a racist nickname for his town
---
57. AJ Fawver, Planning Director, City of Lubbock, Texas
Word on the Street: AJ believes strongly in building collaborative relationships, which is both influential and needed in local government. In her prior work with the City of Amarillo, she led the city's first neighborhood planning program and completed two neighborhood plans. Working in partnership with Potter County and two very different neighborhoods, this effort resulted in a vision for both, the steps needed to execute the vision, and the teamwork needed to create neighborhood organizations. A publication outlining the history of one neighborhood was finished in September of 2018. In her new city, Lubbock, she is overseeing the completion of the first Comprehensive Plan in 20+ years.
AJ also believes strongly in making the planning field and local government relatable and accessible to the public. In her pursuit of this, she has written a monthly blog called "Planning and Shaping Cities", in addition to other blogging pursuits, and has helped her organizations of employment streamline and demystify the planning and development process. She's appeared on podcasts and news specials with a focus on translating planning principles to become approachable.
Another reason she should make the list is her passion for evening the playing field between large and small communities. In her current term as Director of the Northwest Texas Section of the American Planning Association, she has worked tirelessly to include cities of all sizes, rural and urban, of the 88 county area she is responsible for. Previously largely inactive, the section under AJ's leadership has begun working to cultivate free resources and low-cost, frequent training events. She has also paved the way for collaboration with architects, surveyors, engineers, preservationists, and universities, just to name a few. Speaking roles she has been asked to perform include: her most recent, the Southern Plains Conference, a multi-disciplinary event, at which she spoke about reconciling urban and rural ideals in a way that can work together in place-making; and, her participation in a session on using community-defined thresholds to make climate meaningful in city planning. The latter led to an article on how cities were incorporating climate change in their planning, based largely on her work with the City of San Angelo.
Lastly, AJ believes in advancing the role of planning in creating and maintaining better cities and demonstrates this by her mentorship of peers and subordinates, both in planning and in other areas of practice. Her work as the Membership Director for the Women and Planning Division of the American Planning Association (APA), a group that has grown from 202 to 2002 members during her time on the executive committee, that is focused on incorporating the needs of women in city planning while promoting women in the field. She will be spearheading a new committee of the Texas Chapter of the APA focused on diversity and inclusion beginning in October, and she received the Texas Chapter President's award for her work as part of a team creating the Great Places in Texas program.
The accomplishments and work I have listed here demonstrate what I believe to qualify as an influencer in local government. AJ's sphere of influence includes her cities of employment, her region, her state, and more.
Learn More: Implementing a Plan Takes a Village
---
58. Samantha Harkins, Chief of Staff, City of Lansing, Michigan
Word on the Street: There is no one better in Michigan when it comes to understanding the details and impacts of public policy decisions. In a short time, she's accomplished so much in Lansing. I am excited to see what else she'll be able to accomplish in Lansing.
Learn More: Behind the Scene: Samantha Harkins
---
59. Midori Clark, Director of Community Relations, Pueblo City-County Library District
Word on the Street: Winner of the 2018 ELGL Knope for the Best Public Library sums up Midori's ability to get a community to rally around a library. It was heartwarming to read the personal stories of those who rely on library services from the Pueblo City-County Library District.

Learn More: Pueblo library district wins award for best in nation
---
60. Laura O'Sullivan, Chief of Staff, City of South Bend, Indiana
Connect: Twitter
Word on the Street: You might have heard of Mayor Pete, but one of the biggest driving forces behind the mayor is Laura O'Sullivan. She brought her skills and experience from working at Notre Dame to the City of South Bend. Laura's work in local government is just beginning and it's clear that many successes for her and the city are ahead.
Learn More: The Gatekeepers, Chiefs of Staff in Local Government
---
Supplemental Reading